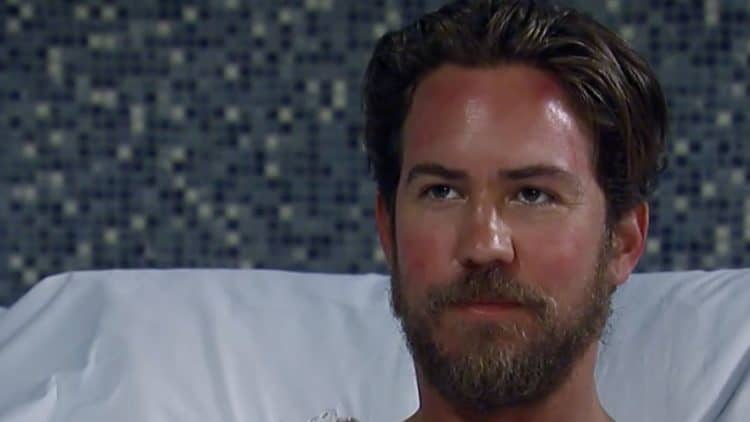 General Hospital fans were happy about a lot last week. We loved to see that Carly was able to go free and that she was able to reunite with her family. It's been beautiful to see that happen, and she's going to be in a much better place eventually. She's not entirely free at this point, but she has the chance to be as free as possible in the future, and she's got a lot of people working for her to make sure she is able to get her life in order. She's home, but she's still crushed. Her son lost his baby. And watching as her beloved son suffers the lost of his own baby has been crushing. They were told the baby died, and that there was nothing that could be done, but we know this to be a very blatant lie. The awful Nelle did something awful and horrible.
She told the world that her baby was dead, and she gave her baby to Lucas and Brad when their own baby died. But Lucas has no idea that the baby he is caring for right now is not the baby that they thought they were going to get. She made this horrible deal with Brad, and now they are both living with the consequences of that. Brad is beside himself, and Lucas thinks that it's just the sudden change of being new parents. But he has no idea that his baby actually belongs to the Corinthos family, who is suffering so much in the moment. They think the baby is dead. Their child. Their grandchild. Their family. And it's been ugly to watch that, and we want them to fix this now and keep it all under control right now so that they can be there.
What's Happening on General Hospital
It's official! I'll comment more next week as it's my boyfriends bday today. (Happy birthday @morganclellan ) check out my interview on stands now. I talk all things @lldubs @HayleyErin @josh_swickard @MauraWest etc. I love you all. Forever grateful for @GeneralHospital ❤️ https://t.co/RSt4eQvvfA

— Chloe Lanier (@chloelanier) August 3, 2018
We all know that Nelle has been making people forever miserable as she's been working her dark black magic on the entire city of Port Charles, but we are just beside ourselves that she's done what she's done with the baby. However, we are more than a little impressed with what has been going on with Chloe Lanier and her major acting skills. We know she's officially leaving the show, and she's tweeted that she's opening up about why she left the show and how grateful she is to the people at GH for giving her this role and this opportunity. It's sweet.
What's Next on General Hospital
WATCH: Nelle feels Josslyn's fury firsthand. 🤛🤛🤛 @chloelanier @RealEdenMccoy #GH55 pic.twitter.com/4E4RrDWrv6

— General Hospital (@GeneralHospital) August 4, 2018
Fans aren't sure what to expect this week, but we think that it will include a lot of drama in terms of what is going on with Nelle. She's going to go out of her way to make sure that she's able to make everyone in her life miserable and unhappy. She's going to make sure they don't feel good about their own lives, they don't have much to go on, and that they don't have a good situation to deal with. She's unhappy and upset about so many things, and she's not looking for someone to make her feel better. She's looking to make herself feel better by taunting them. She's so cavalier about the death of her baby, but we all know that they are really not mourning the loss of this child. Well, she's not.
Her baby didn't die. She knows where her baby is and what she's done, and she's going to go out of her way to make sure that no one that is involved in this situation is able to forget what happened or move on from it in any way. She's an unhappy woman with an unhappy situation to face, and we think that she will end up messing things up to an extent she just can't handle. It should be interesting, but we can't wait to see how she plans on making this happen and what she plans on doing to create this kind of life for herself and the people in it. She's on a manhunt, and everyone needs to watch out.
Stay tuned for more General Hospital and be sure to check out TVOvermind daily for the latest General Hospital spoilers, news, and updates.
Tell us what's wrong with this post? How could we improve it? :)
Let us improve this post!