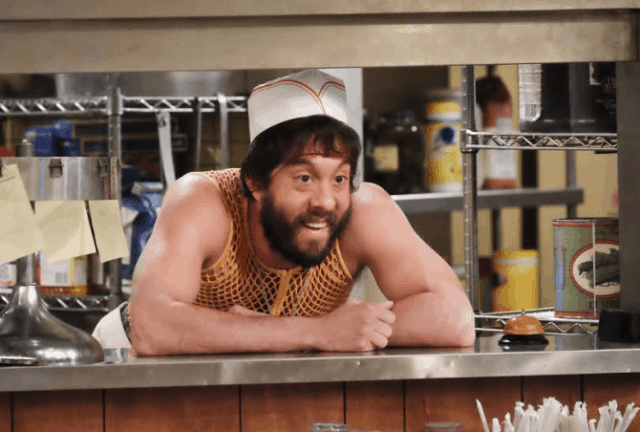 While the main actors of shows and movies tend to garner most of the attention, the best productions also feature a strong supporting cast. Without talented and versatile actors to support the lead characters, the development of the plot in these shows would suffer greatly. Often, it is the actors in supporting roles who become fan favorites and truly make the show what it is.
One actor who has experienced a great deal of popularity for his work as in a supporting role is Jonathan Kite. Although he has a long and diverse career, he is best known for his work on the wildly popular comedy 2 Broke Girls. In this show, he plays Oleg Golishevsky, the inappropriate Ukrainian cook at the Williamsburg Diner. This character is known for his sexual innuendo and offensive jokes, making him a great character for the leads to react to.
Although this show is quite popular, and Kite is featured prominently in it, many people do not know a great deal about the actor outside of this role. This is unfortunate, as Kite is an extremely talented and multi-dimensional person. In order to provide a better understanding of who he is as a person, here are ten interesting facts about Jonathan Kite.
10. He started his own improv group
While best known for his work on 2 Broke Girls, Kite is actually an extremely talented improv actor. In fact, he is so talented that he even formed his own group, L. Ron Jeremy. This group was highly successful, even managing to break records. Most notably, in 2010 the group set a record when it won the national Cage Match Competition for 52 straight weeks before retiring undefeated. Clearly, his quick wit and creative humor allow him to contribute a great deal to any production he works on.
9. He is a talented voice actor
In addition to his scripted acting and improv work, Kite's career has also included a great deal of vocal acting. Most notably, he played several careers in Black Dynamite: The Animated Series. When asked about the characters he portrays, he simply said "Call me Every White." His incredible control over his voice makes him an even greater asset to any show that he is cast in.
8. He is a private person
Although Kite is quite active and popular on social media, boasting tens of thousands of followers on Instagram and Twitter, he is actually quite secretive about his private life. His relationship history is just about a complete mystery, leading to rumors that he may be gay. Regardless, Kite is far more secretive than one would expect from a popular comedian.
7. He has formal training
While it is natural to assume that the actors in highly popular and prominent shows are extremely talented, one should not overlook the incredible work ethic required to achieve such success. While certainly an impressive talent, Kite has also spent a great deal of time and effort honing his craft.
This work ethic earned him a degree in theater from the University of Illinois at Urbana-Champaign. In addition, he developed his considerable improv skills at Chicago's Second City and The Groundlings.
6. Jonathan Kite Net Worth
Although Kite has appeared in quite a few productions, his most high profile job is his current role on 2 Broke Girls. Therefore, while his net worth is estimated to be a respectable $800,000, this number will most likely continue to rise in the future. Given the depth of his skills, from improv to voice work to acting, it should not be difficult for Kite to ride the wave of popularity from his role as Oleg to achieve further financial success.
5. His first appearance on television was on Jimmy Kimmel Live!
Funnily enough, Kite's first appearance on television was an uncredited role on one of late night's most popular shows, Jimmy Kimmel Live! This appearance saw him play the bit of Hacky Sack Hippie. He appeared on the show during the 2003 season. Although most people are unaware of this appearance, having experience working on a high-profile production certainly was valuable for Kite at the outset of his career.
4. He is known for his impressions
The list of skills possessed by Kite is almost humorously long. In addition to acting, improv, and voice acting, he is also renowned for his ability to perform impressions. The list of individuals that he can hilariously impersonate reaches nearly 100. He is best known for his impressions of famous individuals like Vince Vaughn, Tom Hanks, and Seth Rogen.
3. He has also done several commercials
While Kite is best known for his roles on popular shows like 2 Broke Girls, he has also appeared in several commercials. This pursuit has seen him appear in ads for massive companies like AT&T. Perhaps most notable of his commercial work were the ads for Muscle Milk, a protein shake. He was able to showcase his characters and talent with these popular ads, which certainly contributed to his wealth and resume.
2. He is generous
Although he is professionally humorous, there are some things that Kite takes very seriously. While most people do not know this, Kite has been active in supporting charities for breast cancer and autism. It is always heartwarming to know that some stars do care about the well-being of others. As well, it makes it far easier to enjoy Kite's performance as a rude and obnoxious character in 2 Broke Girls, knowing that in real life he is actually quite compassionate.
1. He is creating his own movie
Despite achieving considerable success already, Kite refuses to stagnate in his career aspirations. Instead, he dreams of one day bringing his own ideas to life. He has spent several months writing a screenplay for a film that will be titled The Walk On.
This film will embody much more than just his humor, however. Kite plans to act in and produce the movie as well as write it. This is indicative not only of the wide range of skills that he possesses, but also of his incredible ambition and courage.
Tell us what's wrong with this post? How could we improve it? :)
Let us improve this post!