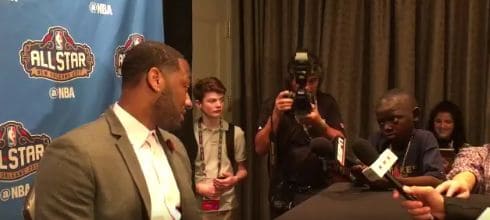 If the NBA is smart they'll somehow involve this kid in the All-Star game tomorrow. During NBA All-Star weekend John Wall was taking questions from reporters when one reporter, in the form of a very small child, decided to ask him a very serious question. "What is your favorite home cooked meal?" Wall actually sat and pondered for a moment and he responded with "Salmon and broccoli."
The kid's response is priceless. He was having NONE of it. In fact the kid just walked off and Wall actually tried to apologize. We need this kid in the NBA and we need him now. Every reporter you see for the NBA gets stuck asking these annoying questions at halftime and they always get the most obvious answers from players. We need more reporters like this kid who simply won't accept that kind of bush league answer. "How'd you dig in and grind to hit that shot?" "You know, the Lord was with me." No, unacceptable, let's talk about your weekend. Something else, give me a better answer.
I think we all know that no one and I mean no one's favorite home cooked meal is salmon and broccoli. This kid knew it too. Next time Wall runs into this piece of work you better believe he's going to come back with "Mac n' Cheese, Pizza," or at least something of that nature.
This young reporter is not fond of @JohnWall's choice for favorite home cooked meal 😂😂😂 pic.twitter.com/MzLxl930fv

– MonumentalSportsNet (@MonSportsNet) February 17, 2017
Save