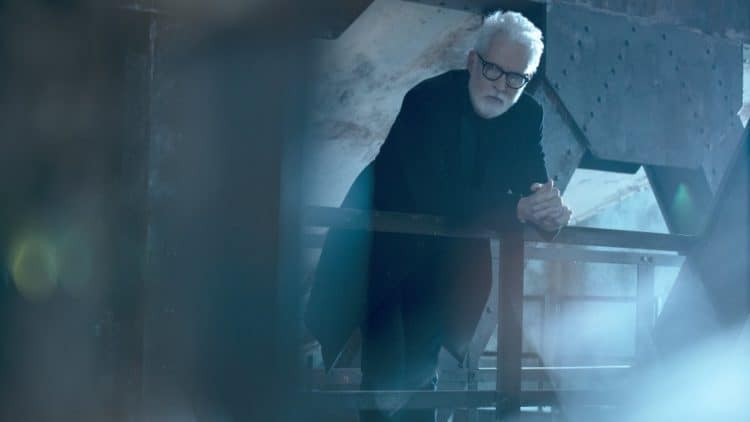 With a career that has spanned the course of five decades, John Slattery has earned his stripes. He made his first on screen appearance in 1988 as Leeds in the TV series The Dirty Dozen. Since then, he has gone to earn starring roles on the big and small screens and he has built a fan base that includes people from all over the world. His most recent role in the Fox series, Next, has shown that even at almost 6-years-old, John hasn't lost a single step. Regardless of the type of project or role he's playing, John's fans can always count on him to give a stellar performance. Continue reading to learn 10 things you didn't know about John Slattery.
1. He's A Catholic University Alum
John was raised in a traditional Catholic family and attended Catholic schools during his grade school years. He went on to continue the trend in college when he attended Catholic University of America in Washington D.C. He graduated with his BFA in 1984.
2. He Wanted To Be A Baseball Player
John developed an interest in entertainment at a young age and spent lots of time watching TV shows and movies. Still, however, becoming an actor wasn't the first thought on his mind. Instead, he had dreams of becoming a baseball player but as always, life has a funny way of working things out.
3. He's Also A Director
After spending the majority of his career in front of the camera, John decided that he wanted to get some experience behind the scenes as well. He made his directorial debut in 2010 with an episode of Mad Men and went on to direct four more episodes of the show. He also directed three episodes of the TV series, Love.
4. His Son Is An Actor
The apple certainly didn't fall far from the tree when it comes to John's only child, Harry. Like his father, Harry is also an actor. According to IMDB, Harry currently has just one acting credit for an appearance in the 2006 film, Shortbus. We weren't able to locate any information on whether or not Harry plans to do any more acting in the future.
5. He Loves Outdoor Activities
His dream of becoming a baseball player may not have come true, but that has never stopped John from being active. He has an extra special place in his heart for extreme sports and he loves to do things like surfing and skiing. John was once quoted saying, "The rule of surfing is never tell anyone where you go."
6. He's A Boston Native
He may have lost most of his accent, but John was born and raised in Boston and is proud of his New England roots. While Boston is a great city for a lot of things, it's not necessarily the best place to start or pursue a professional acting career. As a result, Harry chose to move to New York early in his career and he still lives there today.
7. He Admits That Not Winning An Emmy Has Been Frustrating
Despite being in the industry for so many years, John didn't start getting widespread recognition until he was cast in Mad Men. The show earned him four Primetime Emmy nominations, but he never won an award. During an interview with the New York Times he said, "The fourth time in a row that I lost an Emmy, I got in a fight with my wife that night at the party. And I realized, "I guess I'm angry about this." I was irritated. Mainly because it happens in the first 10 minutes of the show, and you have to sit there for three hours and have everybody tell you what a loser you are."
8. He Took Something From The Set Of Mad Men As A Souvenir
It's customary for actors to take something from a set they've worked on as a keepsake. So what did John take from the set of Mad Men? He told Deadline, "I took the desk lamp on Roger's desk. It's this modern wood and metal boxy kind of desk lamp I had my eye on. I had to have it rewired because it was rigged for TV and it had just a piece of colored plastic for a filter. But it's really great."
9. He's A Notorious B.I.G Fan
Music has the power to connect people from different walks of life. At a glance, John may not seem like the type of person who would be a fan of Notorious B.I.G, but that's exactly what he is. John loves his music and has said that he "could listen to that guy all day".
10. His Hair Has Been Gray For Longer Than People Realize
Now that John is nearing 60, no one is surprised by the fact that he has gray hair, but that wasn't the case almost 40 years ago. John's hair began to turn gray when he was only in his 20s which, as you can imagine, led to some stress in his professional life because it was hard for casting teams to pinpoint his age range.