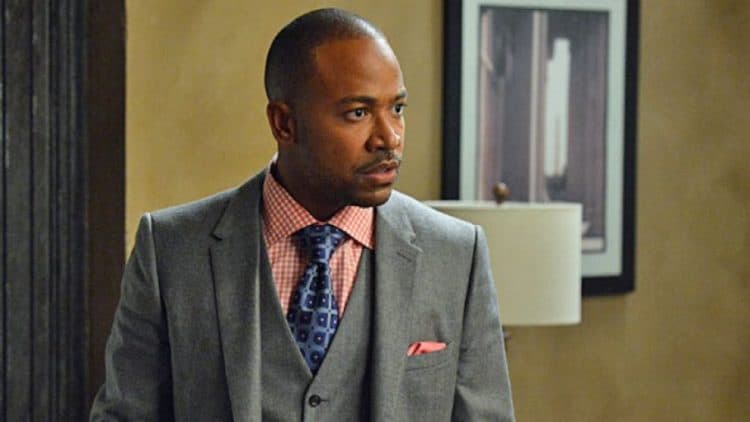 15 years ago, Columbus Short was one of Hollywood's brightest rising stars. He was young, talented, and hard working. He quickly became well-known for his role in movies like Stomp the Yard, This Christmas, and Cadillac Records. In 2012 he started getting even more attention when he was cast as Harrison in the hit TV show, Scandal. Unfortunately, personal issues surrounding drug use kept Columbus from reaching his full potential. Over the last several years, he has struggled to make a comeback, but his dedicated fans are still holding out hope that he will return to the spotlight. Keep reading for 10 things you didn't know about Columbus Short.
1. He's Choreographed For Britney Spears
Acting is what Columbus is most famous for, but he's also a really talented dancer and choreographer who has worked with some big names in the dance world. He once danced with Britney Spears and even got the chance to perform with her at the NFL kickoff in 2003. He also choreographed her Onyx Hotel Tour which took place in 2003.
2. He's A Father
Columbus Short has had a lot of ups and downs in his relationship history. He has been married and divorced twice. He is currently married to his former publicist, Aida Abramayan, the couple has one child together. Columbus also has two other children from previous relationships. Unfortunately, it looks like he doesn't have the best relationship with all of his children due to issues with his exes.
3. He's An Author
Life hasn't been easy for Columbus and he's ready to share his story with the world. He is currently working on a book titled, Short Stories: The Autobiography of Columbus Short which will go into the details of many of his experiences. The book is expected to be released in September 2020.
4. He Loves To Work Out
Most people would agree that exercising is just as good for the mind as it is the body. Although it can be hard to feel motivated to go to the gym, once you do it, you're likely to feel much better. Those reasons are a huge part of why Columbus loves to hit the gym. He spends a lot of time working out and he's focused on staying in great shape.
5. He Wants To Be Remembered As A Good Man
Have you ever thought about how you want people to remember you after you're gone? Most people will have a different answer as to what they want their legacy to be. For Columbus though, the answer to that question is quite easy. During an interview with AALBC, he said he wants to be remembered as "a good man."
6. He Was Abused By His Babysitter
Several years ago when news began to circulate that Columbus was struggling with a drug problem, many people thought that Hollywood and being in the spotlight were causing him to act out. However, Columbus has a history of trauma that began long before he became an actor. In 2019, he revealed that he had been molested by his babysitter when he was a child.
7. He Was Good Friends With Lee Thompson Young
In 2013, actor Lee Thompson Young died by suicide. His sudden passing came as a shock to his friends, family, colleagues, and fans. Young's death was especially hard on Columbus who was one of his closest friends. Columbus says that he learned of Young's death while he was on set at Scandal. The news is what initially sent him into a downward spiral.
8. He's Released Music
Despite the ups and downs he's faced over the years, Columbus has refused to give up. Although he hasn't had a major acting role since he was let go from Scandal, he has continued to express his creative side. He recently released a song called "Falling Apart" and he likely has more music on the way.
9. He's Originally From Missouri
Columbus was born Kansas City, Missouri where he spent the early years of his life. By the time he was three years old, he had developed an interest in acting. He started by putting on little shows at home for his family. His family eventually relocated to Los Angeles where Columbus started to get involved in local theater groups.
10. He Was In You Got Served
Most people didn't start getting familiar with Columbus Short until he played DJ Williams in the movie Stomp The Yard. However, he actually had a couple of minor roles before that. In fact, his first ever film appearance was in the 2004 movie, You Got Served in which he played one of the dancers.
Tell us what's wrong with this post? How could we improve it? :)
Let us improve this post!