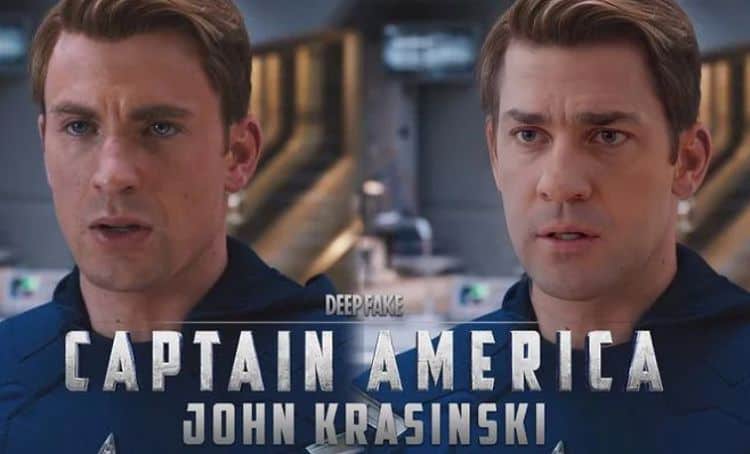 Seriously, the only thing that really might have kept John Krasinski from being the favorite for the spot of Captain America would have been his facial features, since as the guy has shown he can get pretty ripped for a role, and on top of that he's a great actor that can put a lot of feeling into his roles. But when looking at Chris Evans and John side by side it's kind of easy to see why some people would see Evans as the perfect, chiseled face of Captain America and Krasinski as someone that might be perfect to play Reed Richards, or a few other superheroes. Like it or not, appearance does matter in the comics and in the movies that are based on them, for a long time Captain America/Steve Rogers has been seen as the strong-featured, very upright-looking individual that almost anyone and everyone would want to look up to and idolize. As the Human Torch in the Fantastic Four movies, Evans was the good-looking, cocky jerk-type individual that people still liked, but as Captain America he was spot on for a lot of folks. Krasinski kind of looks like a guy that's built for comedy as well as drama and when it comes to the role of Captain America this almost feels like it wouldn't work. It has nothing to do with his acting ability, which is easily good enough, and more to do with his appearance.
There are quite a few times in movies when appearance matters since it's all about who actually looks like they could take the role sometimes since there are simply some people that can represent the characters they're auditioning for, and others just don't look the part. Plus, in this day and age there's such a thing as gender and race-swapping when it comes to various roles, which can tend to upset people since it's not a huge problem so long as the person taking the part can act. It does become a problem when the swap is made simply for the sake of diversity, which doesn't always guarantee that the actor being selected will be able to pick up the role without fail. Diversity in movies is great to be fair and it promotes a great deal of change and interesting perspectives, but there are times when change just for the sake of change can muck a lot of things up. But in the case of Evans and Krasinski, in the case of Captain America in fact, change wasn't needed that quickly, meaning Captain America needed to be given a white male actor for the role, if only to play it out as much as possible and then pass it on to the next individual, who could be someone of another color or gender, so long as that person could accept the role and act accordingly. The whole idea of 'best person for the job' is unfortunately an outdated concept with some folks, when in truth it's been how society has worked for a very long time, since you wouldn't want someone that specializes in playing a cowboy trying to take on the role of someone like the Black Panther, the ruler of an African nation. Imagine the outcry if something like that happened.
The fact that Krasinski did audition for the role is one big reason people talk about this at all, but the fact is that as good as he is, the whole look just doesn't work quite as well when comparing him to Chris Evans, who simply appears as the kind of guy that people would likely pick over John. It would be great to see him as Reed Richards, aka Mr. Fantastic, along with Emily Blunt as the Inivisible Woman and Zac Efron as the Human Torch. It's not for certain who would play the Thing since it might be best to rely on CGI for the form and an actor for the motion capture suit and voice, but that sounds like a great team to think about if someone were to put it in motion. The idea of Captain America was to put someone in the role that was going to look strong in just about every way and have the kind of looks that would impress a lot of people, and all respect to John Krasinski, but a lot of times he just looks like someone that would make people laugh unless he was playing a completely dramatic role as he's done in the past. He looks like the best friend, the guy you rely on for a laugh, not quite the shield-bearing, America for all type that is intent on kicking the hell out of those that would threaten the American way. But it is interesting to learn that he was given some consideration.