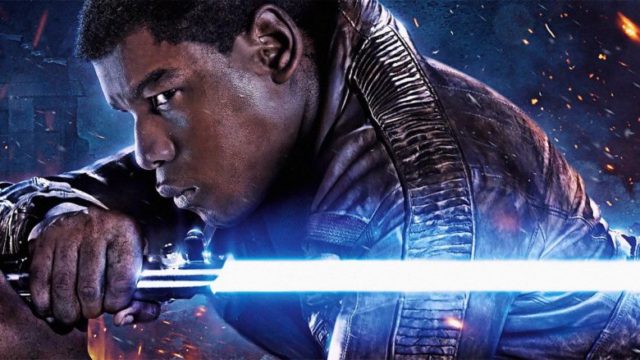 We don't have a ton of detail into the plot of Star Wars: The Last Jedi yet but obviously there's plenty of speculation. One thing we do know is that Luke Skywalker will be a central character and we can expect to see a ton of Mark Hamill. We're pretty sure he'll be "mentoring" in some kind of way in the film. Other than that it's really mostly fan theories that are going around. However, recently John Boyega who plays Finn revealed something about his character. As you'll recall at the end of Star Wars: The Force Awakens, Finn's life was hanging in the balance due to the injuries he sustained in a lightsaber battle with Kylo Ren. Boyega has confirmed that in The Last Jedi, at least in the beginning, this is still the case.
"Once it's in, it continues to burn the skin and the cells. It's not a piece of flame that whacks your body. It's not something that works like a stab wound. It's really brutal," explained Boyega. But never fear: Finn will be back on his feet before the final act. "It's a grounding injury. It's going to take him some time to get back on the ball," he added. "But when he does… oh, he does. It's Finn and Rose, they're on a massive adventure. It's a big mission they need to complete," hinted Boyega. The Resistance is under immense pressure, and it's time for them to get a bit of help. That's where Finn and Rose come in, and they're thrust into a crazy adventure."
As to what this adventure will be, we probably won't know many details about it until we're much closer to the film's release. However, you know the rules. When something Star Wars related hits the news you report on it, no questions asked.