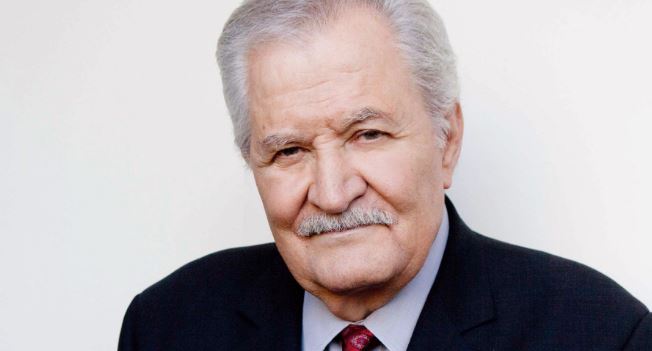 Days of Our Lives fans aren't surprised to learn that their favorite characters are often unlike the people who play them on television. Of course, if everyone on the show was like their character, it would be a bit of a mess trying to figure out what to do with all the people who are obvious criminals, killers, and crazies. John Aniston is a long-time favorite. He's been Victor Kiriakis for more than 30 years, and we want to know more about him.
1. He's Greek
John Aniston is a Greek man through and through. He was born in Crete, and he has a bit of a Greek look to him. Not that we know what a Greek look really is, but if we had to make one up, we'd give it to him. He does appear to have similar features to other Greek actors and actresses, so we always wonder if it has something to do with the heritage. We like it.
2. John Aniston is Not His Real Name
He's Greek, and that means his real name is not John Aniston. Really, it's not even remotely Greek. He was born in 1933 with the name Giannis Anastasakis. We assume it might be closely translated into John Aniston, but our Greek is lacking.
3. He Has a Famous Daughter
As if the name Aniston didn't clue you in right away, he is the father of the beautiful, talented, and very famous Jen Aniston. He welcomed her in 1969 with his first wife, Nancy Dow. They only have their once child together.
4. He's a College Grad
John Aniston did not grow up thinking he would become an actor. He grew up doing things the 'correct' way by graduating high school, and then attending college and Penn State. He graduated with a Bachelor's Degree in Theater Arts so that he could one day work in Hollywood.
5. He's Former Military
When he was done with college, he enlisted in the United States Navy. He spent many years serving this country, and he was proud of that service. He was an intelligence officer who reached the rank of lieutenant commander. He was stationed in Panama. Perhaps this is why he is so good at being Victor.
6. He's Been Married Twice
His first wife was Nancy Dow, with whom he shares Jen Aniston. They were not married too long. They wed in 1965 and divorced in 1980, making their marriage one that lasted 15 years. He married his current wife in 1984. Her name is Sherry Rooney.
7. Victor Isn't His First Days Character
One thing that might surprise you about the evil Victor is that this is not his first time on Days. He's been Victor since 1985. However, he was also Eric Richards in 1969 on Days. His role ended in 1970. He wasn't a stranger to the set when he showed up as Victor.
8. He's All Over the Place
One thing about John Aniston is that he's everywhere in terms of being an actor. He's in the movies, he's on television, and you see him making guest appearances regularly. He loves what he does, and you've seen in him shows such as Mad Men and the Gilmore Girls.
9. He's Got Two Kids
Jennifer Aniston is not his only child, though she is his oldest child. He also shares a child with his second wife, a son. He and his second wife met on a show they were filming, and that's where their love story began, their son came from, and their life went.
10. He Is the Original Victor
Did you know that he's the only Victor on the show? There has never been another, and he's been the man behind the name and the face since 1985. That's approximately 33 years to date, and he's been rocking the role ever since. We don't care to speculate or start rumors, but we would not be surprised if the character was simply written out of the show as dead forever if John Aniston decides not to come back at any point. He's the only person we can see in this role, and we think most fans would agree. Seeing someone else in the role wouldn't work for us.