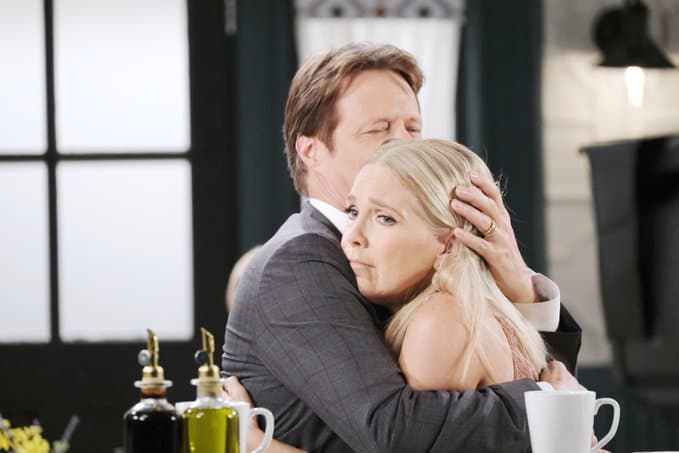 Days of Our Lives fans are worried for Ben and Jake. They have a plan to get Gabi back, but they are lying to a lot of people and things are not going their way. This is not good. Lani and Eli, meanwhile, still don't know what to think other than the fact that they know for certain that this is a kid who lied to them. They know that Jake knows more than he was telling them, and they know that Ciara is helping him stay out of trouble. He's hopeful he can find Gabi first, and that he can bring her back and be okay, but this might not go well at all. On the other hand, Eli and Lani are looking everywhere and doing everything that they can go find her. Who will make it happen first? And what will happen when she is free and they have to deal with all of that?
On the other side is Claire. She's received a guest at home, and it's a bit of a shocker to Marlena and John. They certainly did not see this coming, but we cannot say that we did not see it coming. It's a lot to handle, but they know that they are currently walking on eggshells with this young woman and all her issues. She's not someone they are happy with, but it's all we can do right now to get past this. On the other side of things is Xander. He really did think that Sarah would take him back, and he has no idea that his gestures and his grand schemes and plans are not what they seem, and she's not doing this. She's not taking him back. He robbed her of all her joy this past year, and he will pay for that.
What's Happening on Days of Our Lives
ICYMI: #Sarah found out the truth about baby Mickey and that her husband-to-be switched babies! Check out this #DOOLapp rewind featuring @linseygodfrey @greg_vaughan @PaulTelfer @Ari_Zucker @ericmartsolf #Dayshttps://t.co/3C7MdebJA4

— Days of our Lives (@daysofourlives) April 13, 2020
Still reeling over this one.
What's Next on Days of Our Lives
It's a summer of love in Salem, with weddings for four couples and a baby for Will and Sonny. Watch #DAYS, weekdays on @NBC. pic.twitter.com/5Z6YPVoRN7

— Days of our Lives (@nbcdays) May 29, 2020
The end of the week is here, and it's a big one. It's a day we hope we get some answers. For one, Nicole has some questions for Allie. She did show up on Nicole's doorstep, after all, with the news that she is having a baby and that she doesn't want the baby, and Nicole wants to know more. She's going to ask the question we are all asking, and that is all about the father of this unborn baby. We don't expect that Allie will be honest with her, though, and we almost don't see Nicole expecting that, either. This is not going to go the way that they all thought it was going to go, and that's all we have to say about that one. Meanwhile, Gwen and Jake are going to see one another again, and it is not a happy reunion. It's tense and ugly, and we get that.
Gabi is going to do all she can to find out if she can find out if Jake is really Stefan. She's given all her time to this lately, and she's convinced that his is her husband. Kate, on the other hand, is not a happy woman right now. She is frustrated and upset, and she's taking that out on someone else. That someone else is Hope, and she's not going to stand for this. She's not going to take it, and that is going to be one of those things that doesn't go well for either of them. Where is this going? We don't know, but we are excited.
Stay tuned for more Days of Our Lives and be sure to check out TVOvermind daily for the latest Days of Our Lives spoilers, news, and updates.
Tell us what's wrong with this post? How could we improve it? :)
Let us improve this post!