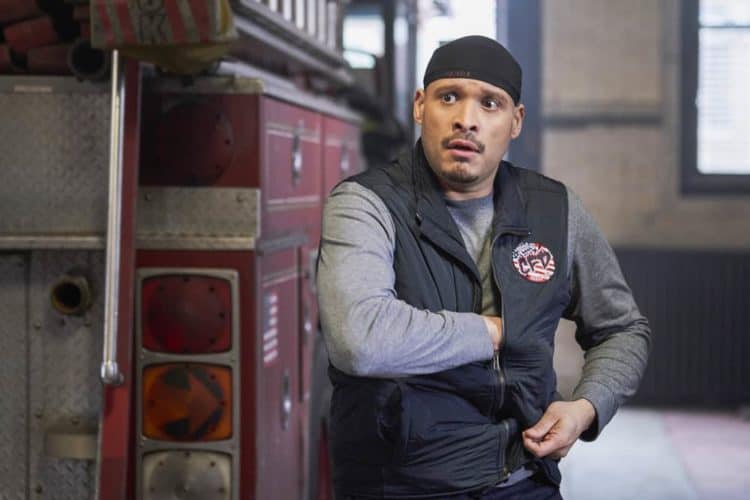 Fans of "Chicago Fire" by now know of Joe Cruz, the character played by Joe Minoso since it first premiered in 2012. He recently suffered the loss of his best on-screen friend Otis, and the incident affected him so much that filming the scene was quite a challenge. We will continue to catch Joe on season 8. However, besides his acting life, let's delve deeper into how he got his start in the industry as well as his married life.
1. He has had to call for help from the Chicago Fire Department
Twist of fate has always been an expression that mainly occurs in movies, but it happened to Joe in real life. Joe has been playing Joe Cruz, a fireman; a role that has enabled him to become a five-time nominee for the Imagen Award. You would think that the courage he shows on the screen transitions to real life, but that is not the case. Joe was trapped in an elevator in 2017, prompting him to call the real Chicago Fire Department for help. Upon arrival, the firemen were surprised when they pried the doors open only to find "one of their own" as the trapped victim.
2. How he met his wife
Everything we do impacts us for the better; after all, they say if it is not a blessing, then it is a lesson learned. Joe has been cast in "Chicago Fire" for nearly a decade, and for most of the actors, maybe one of the biggest things to be grateful for would be the pay. However, for Joe, one significant way the series has changed his life is that he met his wife. Caitlyn Murphy was a makeup artist on the show for three seasons when Joe met her. She quickly became the love of his life, and he put a ring on it not long after.
3. What sparked his interest in theater?
Most people only remember the silly things that they did when they first fell in love, but Joe has more than that in his memory. When he was with his first girlfriend, she took Joe to see her perform in the school play. Joe was captivated by the performance that by the time they left, he knew what he wanted to be, an actor. He, therefore, enrolled in Adelphi University, where he obtained his bachelor's degree in Fine Arts. With the thirst to be the best actor, Joe continued to get his master's in Fine Arts from Northern Illinois University.
4. Fellow actors support his wife's business
On Taylor Kinney Fans' Facebook page, Taylor posted a picture of himself getting a tattoo from Joe Minos's wife. Matter of fact is, the tattoo that Taylor got was the first decorative one that Caitlyn ever did. She, therefore, thanked the actor for allowing himself to be her practice dummy.
5. "Chicago Fire" presented the opportunity for his many firsts as an actor
When people talk of life-changing experiences, "Chicago Fire" comes to mind in the case of Joe. It was like a godsend opportunity that brought with it so many blessings in his life. Besides meeting the woman of his dreams, Caitlyn, the series bore most of the actor's firsts. Joe got his first red carpet moment, first photoshoot, first series regular role, first autograph, first premiere, first stunt sequence, and first pilot. Joe, therefore, considers the show as the highlight of his career and will forever treasure it among the most special moments in his life, according to his interview with Open the Trunk.
6. His character as Joe Cruz resonates with his real life
Whereas Sarah Habel complained that her role as Abby in "Atomica" presented the biggest challenge because she was so different from her, Joe's experience is very different. As Joe Cruz, Joe Minoso could see himself in the character. Joe confessed to being a fool for love all his life, and he, therefore, always fell for the wrong women until he met the right one. Joe Cruz also ends up with the wrong people since his need for love gets them to take advantage of him. However, with time, Cruz becomes smarter in relationships, as did Joe Minoso.
7. He is philanthropic
It is always beautiful to see people giving back to society, and Joe is involved in many charities. Since 2017, he has been partnering with Shriners Hospital for Children in spreading awareness about potential fire dangers and how to be safe. They do so thorough their Be Burn Aware campaign. Joe also seems to have taken his fireman role seriously; by supporting The 100 Club of Chicago, he assists the families of deceased first responders. He is involved with the Fetching Tails Foundation, which helps dogs get forever homes; he and his wife also got their two puppies from the organization. Further, after losing his mother to cancer, he is ready to support any cause that wants to eradicate the disease.
8. What he does in his free time
Joe loves video games, and whenever he has a minute to spare, he and his wife play lots of Mario on their Nintendo Switch. He also loves to keep fit with a game through golf playing, but only if the weather allows. Moreover, since he hopes to one day become a director and producer, Joe spends lots of his time developing scripts.
9. His directing prospects
Joe wants to expand his horizons and move from being known as just an actor to a director. He told Nice Girls TV that he is hoping to direct a film in the summer of 2020. He also is in the process of developing a mini-series based on a play he did years ago.
10. Theater remains his first love
Joe began his journey to the television industry after working with Teatro Vista, which is the largest Latino Theater form in the Midwest. Transitioning from theater to cameras was a massive change as he had to adapt from thinking the audience was 100 feet away. Instead, they were now only a few inches from his face. The adaptation helped him move from being a theater performer to a television actor.