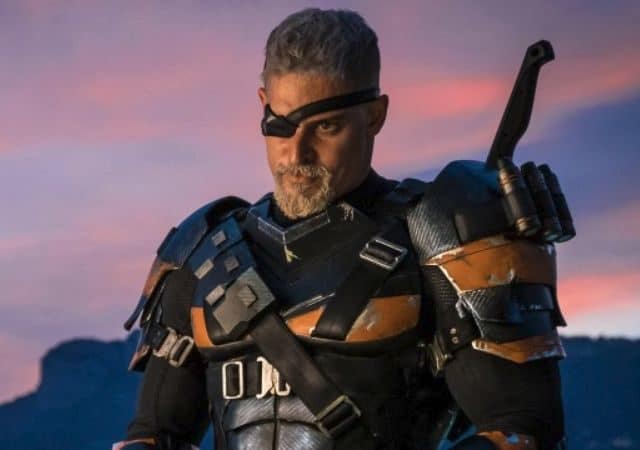 Attention all "Justice League" fans…if you think that Slade Wilson/Deathstroke is cool, then you're in for a real treat. It's been confirmed that Joe Manganiello is in line to tackle the role in a new movie that has been given the green light. He brings the character to life in the first official image of the anti-hero. Here is what we know about it so far.
An amazing collaboration
While it's good news that Manganiello is the actor taking on the character, th addition of Gareth Evans, of "The Raid" are teaming up as Evans is set to direct the film. The combining of their talents will no doubt, be a powerful match and the prospects are even more exciting for fans to imagine what the end product will be like. It's going to be entertaining at a minimum. Manganiello has to be excited that the character is finally making an appearance after the disappointment of the whole situation with "The Batman." Affleck isn't slated to direct this one, and in a double treat, it's going to be a solo movie in which Evans and Manganiello can join together to take their artistic liberty.
A few spoilers
In "Justice League," we saw that Lex Luthor was anxious for Deathstroke to at least appear in the after-credits scene. This could lead fans to make a variety of different assumptions. We're not sure if Slade Wilson is responsible for freeing the villain from the Arkham Asylum or not. Those who watched it can gather that he does have a healthy interest in developing an Injustice League though. If you haven't seen "Justice League," our apologies for that, but Manganiello has already posted a photo that supports the theory, so we don't really feel that we've done any injustices by sharing here.
Any news about the release date?
We're still keeping an ear to the ground on this one. The execs are being tight lipped about the production schedule so far. This movie is so early in the development phase that we're not certain where the creators are in the writing process or when production will commence. If we know anything about the DC Films Universe, it's that we could be in for a long wait. This film may not come out until perhaps 2019 or even the year beyond. With the creative genius of Evans and Manganiello at work, we're pretty sure that it will be worth the wait though.
Our advice
Keep a keen eye out for more information as casting completes and the creators are ready to eke out more information. Once cameras have started rolling, there will be a teaser trailer out, but we have no clue when this will be either. We join the rest of you in waiting until there is a leak of information from someone in the process that breaks under the pressure. A DC film of this importance would be hard not to talk about. In the meantime, we'll wait for the crumbs of information to fall along with the rest of you.