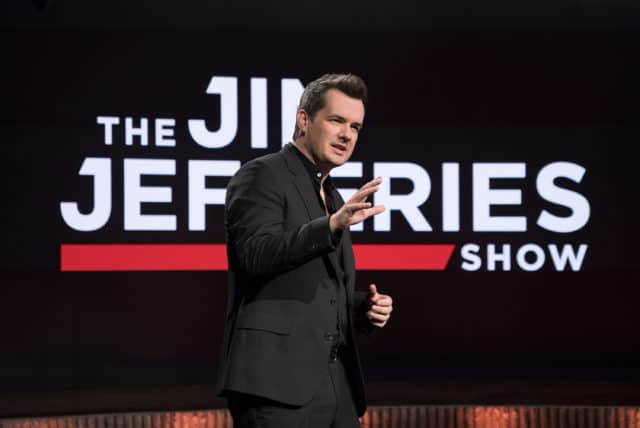 The Jim Jefferies Show covers the most controversial issues through the lens of host Jim Jefferies' distinctive brand of comedy and global point of view. The second season begins on Tuesday, March 27 at 10:30 p.m. ET/PT with Jefferies' take-no-prisoners attitude confronting a longstanding passion of his, gun violence and reform, including a firsthand, on-the-ground look at the March 24 March For Our Lives rally in San Diego. The new season will also see the internationally renowned comedian file field segments from Amsterdam, Tel Aviv, London, and more.
Upcoming field pieces and investigations scheduled for the second season include:
Ride Along with Amsterdam Police: California is the latest US state to legalize marijuana and critics claim that it will lead to more serious drug use, traffic deaths and a rise in crime. In Amsterdam, prostitution and drugs have been legal for decades yet the city was just named one of the safest cities in the world. Jefferies rides along with Amsterdam police to see how the Dutch tackle the nightlife that's made their city a worldwide attraction.
A Christian, a Jew, and a Muslim – and an atheist – walk into a bar: Jefferies travels to Israel, the birthplace of the world's three preeminent religions, to grab a drink with a Priest, a Rabbi and an Imam for an engaging panel discussion about their respective Gods, religious radicalism, and the potential for a peaceful coexistence in Israel.
White House Reporter Roundtable: Jefferies sits down with a panel of journalists at a Washington DC bar to talk about the current state of affairs and how their roles have changed in the Trump era.
The Jim Jefferies Show is a weekly, topical, late night series which premiered on June 6, 2017 and received a Writers Guild Award nomination in the Comedy/Variety Talk Series Category in its first season. The show features the Australian comedian's unapologetic, honest and international approach to culture and politics. Jefferies tackles the week's top stories from behind the desk and travels the globe to far-off locations to provide an eye-opening look at hypocrisy around the world. His sharp take on topics such as gun control, big game hunting, the National Anthem protests and sexual harassment have pushed the host into the mainstream late night conversation.
Jefferies, Scott Zabielski, Jason Reich and Brillstein Entertainment Partners' Alex Murray and Tim Sarkes are the executive producers of The Jim Jefferies Show. Adam Londy and Daniel Wolfberg are the executives in charge of production for Comedy Central.