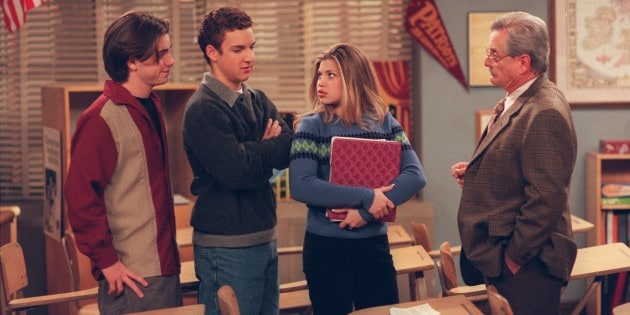 I'm sure there's always going to be those folks out there that remember Boy Meets World. You either had a crush on the best friend or on Topanga simply because the main character was pretty much a certified goof. But as of now the entire Boy Meets World series is being added to Hulu for the viewing pleasure of those who would like to wax nostalgic. Honestly I'm kind of surprised that this show is still in this high of demand more or less because it was something that was popular when a lot of us were kids but was almost forgotten once a lot of us came of age.
At some point you do have to let go of your childhood favorites, and from what I've heard from a lot of people Boy Meets World was something to watch to pass the time, not a beloved mainstay of youth. Some might rightfully disagree since the desire to watch one show over another is highly subjective and isn't based solely on opinion. But really it seems like another bit of appeasement that Hulu has decided to offer their subscribers largely because they still can't keep up with Netflix or even Amazon and are starting to grasp at straws in order to keep afloat.
That might get a lot harder still when Disney decides to finally start streaming their own network. At that point Netflix might drop a little, which doesn't necessarily mean that Hulu will start coming up in ratings or numbers. It could eventually surpass Netflix if the current superior network doesn't find another plan to execute in order to compensate for the loss. But that chance is still a long one even if it keeps adding in old favorites that people might like right up until they realize why they stopped watching.
Boy Meets World was a good show in its time, not great, and despite the many fans that might vehemently disagree it catered more to those that liked wholesome, respectable fun. There's nothing wrong with this but to be quite honest it wasn't all that intellectually stimulating and it had the same limits as any sitcom. It got old fairly quickly and didn't have as much development as people seemed to think it did. The sequel to it that came out not that long ago, Girl Meets World, wasn't any better, and in fact it might have made the original shine in a way that it wouldn't have been capable of on its own.
For those that loved the show and wanted another chance to watch it this might be just what they needed. For those that really could care less it's another show to watch and perhaps even get your kids into if you want them watching something with at least some redeemable values and not a heaping helping of overplayed drama.
For the rest of us it's just another blip in TV history that might as well have come as an add on to the fact that Hulu is still fair ways behind the other streaming networks.