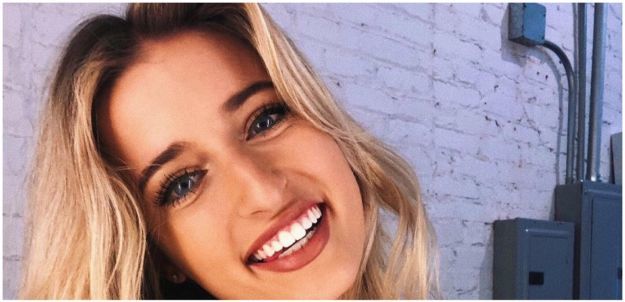 If there's one quick and easy way to get your name discussed on all the blogs, it's this: be photographed out with a celebrity. That's exactly why Jilissa Ann Zoltko has become the topic of several online conversations. After being spotted with Tyler Cameron, people couldn't help but to wonder if the two were an item. Now it seems like there may be something to the story. A few sources have indicated that there are some sparks flying between Tyler and Jilissa. Of course, this has resulted in people wanting to know more about Jilissa. Here's a hint, she's got a lot more going on than her potential relationship status. Keep reading for 10 things you didn't know about Jilissa Ann Zoltko.
1. She's A Legal Intern
Jilissa doesn't just have beauty, she has brains too. According to her LinkedIn profile, she is a law student at the University of Miami where she is expected to graduate in 2021. She is currently working as a legal assistant at a law firm in Sarasota, FL, a position she's held since 2015.
2. She's A Model
As soon as Jilissa steps in front of a camera, it's go time. She is a natural when it comes to modeling and she has found lots of success over the years. She's best known for her swim suit shots. Although she has a lot of great model shots on her Instagram, it's unclear whether or not she's done any modeling work outside of social media.
3. She Studied Business
Education is something that has always been very important to Jilissa. Prior to enrolling at the University of Miami, she was a student at Stetson University where she studied business administration and management. She graduated with a bachelor's degree in 2018. During her time at Stetson, she was on the dean's list and was also involved in several on campus groups.
4. She Supported Black Out Tuesday
Racial tension in the United States has recently reached a boiling point. After the murders of several unarmed black people, social justice initiatives were given renewed attention. A movement called Black Out Tuesday was organized on social media to help show solidarity with those working to end racism and police brutality. Jilissa participated in the movement by posting a black square on Instagram on June 2nd.
5. She's Originally From Boston
Jilissa was born in Boston but eventually moved to Sarasota, FL with her family which is where she's spent most of her life. She has enjoyed growing up in the beautiful Florida sunshine and you can usually catch her hanging out at the beach. However, she's still a New England girl at heart.
6. She's A Social Media Influencer
Having a pretty face and a beach body are two of the best ways to get a large following on Instagram, and they've definitely worked in Jilissa's favor. At the moment, she has over 720,000 followers on Instagram and she has even become a brand ambassador for a few companies.
7. She Loves Traveling
Jilissa is the type of person who loves to get out and enjoy life and and traveling is one of her favorite ways to do that. She's gotten the chance to travel to some pretty amazing international destinations. Some of the countries she's been to include France, St. Barth's, and Bahamas. She's also done lots of traveling within the United States and some of her favorite places seem to be Las Vegas, Los Angeles, and Hawaii.
8. She's Signed To A Management Agency
Having a large following on social media is a business opportunity and it should be treated as such. That's why more and more influencers have been signing to management agencies who can help them navigate their careers. As a result, Jilissa appears to be signed to an agency called InHinge which is based in California.
9. She Likes To Stay Low Key
Despite the fact that she has hundreds of thousands of followers and is on the brink of dating a former Bachelorette contestant, Jilissa appears to be a very low key person. Like most people, she likes to be in control of what she reveals on the internet, and she doesn't share much information about her personal life on social media. However, if her relationship with Tyler progresses, she may have less and less control over what gets shared.
10. She Loves To Eat
Jilissa works hard to keep her beach body all year long, but that doesn't mean she doesn't like to indulge in good food from time to time. Jilissa loves a good meal and enjoys a wide variety of foods. She definitely doesn't skimp when she goes out to one of her favorite restaurants.