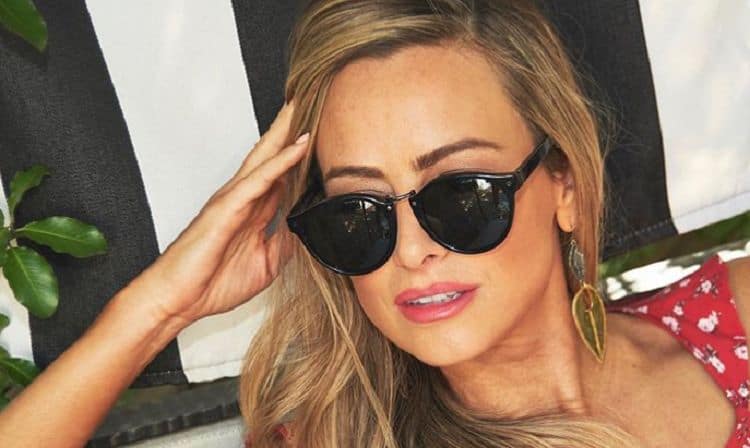 Jessica Batten was a cast member on "Love Is Blind" season 1 and did not get a lot of fans on her side, especially after she dumped her fiancé on their wedding day. She has defended herself for her behavior, and although fans wanted her and Mark to go on dating, the two had had enough of each other. Currently, she is in a good place emotionally as she continues to be a mother to her dog, Payton. From the numerous interviews she has done, here is what we have gathered so far.
1. She shared her glass of wine with her dog
Viewers of "Love Is Blind" were shocked to see Jessica giving Payton a sip of her red wine. Later on, Jessica claimed that she would never do anything to harm her dog and was also surprised that she could allow Payton to drink wine. She, however, clarified that Payton is not her drinking buddy. Still, she says that her dog loves wine, which is an indication that Jessica has a habit of letting Payton take a few sips; otherwise, how would she know the golden retriever likes to get tipsy?
2. Her father dumped her mother when she was pregnant with Jessica
While some sources publish that Jessica's mother and father divorced due to unknown reasons, Jessica went ahead to clarify that her father left her mother after finding out that she was pregnant with Jessica. That would be a bitter pill to swallow for most people, but Jessica bears no hard feelings towards her father; matter of fact is she idolizes him, as can be seen from her pictures on Instagram.
3. Why she did not want to be with a younger man
Age has been said to not be an issue when it comes to dating, but in the case of Jessica and Mark, it mattered a lot. She was not ready to be with someone ten years her junior. However, she clarified it was more than just the age difference but the specific ages they both were at with her being 34 and Mark being 24. Speaking to The Daily Beast, Jessica explained that she wanted someone she could resonate with since they were at very different phases of their lives.
4. She is not a loyal friend
Amber thought of Jessica as a friend, but when she realized that Jessica had been a hypocrite all along, she got mad and called Jessica all sorts of names. Jessica admitted that at first, she and Matt were friends, but then one night, the relationship went from platonic to romantic. They even talked about marriage, but in the end, Matt chose to be with Amber. It hit Jessica hard, and even when they went to Mexico, she questioned Matt if he really wanted to be with Amber and, of course, that upset Jessica seeing how candid she had been about her connection with Matt. Jessica, never wanting to be seen as the villain, defended herself, saying that she was only looking out for Matt as a friend.
5. She did not want to be intimate with Mark before their wedding
It would have been understandable if Jessica did not want to sleep with Mark because of maybe a principle such as waiting until marriage. Instead, what was holding her back was other people's opinions. Seeing that Mark is ten years younger than her, Jessica expected people to judge her for being intimate with him but was surprised that no one ever did, which according to Metro, confused her even more. Eventually, she gave in and slept with Mark before their wedding.
6. She is not sorry for leaving Mark at the altar
Jilted lovers are not anything new even in Hollywood; after all, people like Kiefer Sutherland, Jennifer Lopez, and Brad Pitt were dumped days before their weddings. Still, it is less humiliating than waiting for your fiancée to say "I do" only to hear her say, "I don't." Well, it happened to Mark, who was standing at the altar as his family watched, but Jessica decided not to go through with the wedding. You would think that she felt sorry for her behavior, but the reality star has no apologies to make.
7. She wanted to quit the show before the finale
Jessica described her time on the show as psychological warfare; hence felt it was time to leave before succumbing to the pressure. She had already heard that planning a wedding is stressful, and since she knew beforehand that she would not carry on with the marriage vows, she reasoned there was no need to stay on the show. Unfortunately, she confessed that she was told she had to stay, and it was harder for her because Payton was so sick that she almost died, yet the reality star could not be with her.
8. She did not date for a while after leaving the show
After developing feelings or someone who ends up proposing to someone else and then being intimate with someone you dump at the altar, Jessica needed to figure things out. Therefore after her time on the show, she kept to herself, and although Mark was mindful enough to call and ask her how she was, she did not want to talk to him. She, however, moved to Chicago and entered the dating scene, and now that she is in Los Angeles, she has fully immersed herself in the dating world again, as she told Uproxx.
9. Lessons she learned from her dog's surgery
Looking at Jessica's Instagram account, you will find most of the photos she has posted are of Payton. While she was on the show, Payton swallowed a small piece of stick and had to be operated on to remove it. It was such a trying time for Jessica, who could not be with her fur baby. The mental torture went on for ten days, but Payton fully recovered, teaching Jessica that life is fleeting and challenges can be overcome.
10. She was badly affected by backlash on social media
It is no secret that Jessica was the least favorite cast for most people who watched "Love Is Blind" season 1. She has been accused of stringing Mark along and using the age gap as an excuse. Worst of all, she was discovered to have been secretly entertaining another man, thus being labeled a player. Therefore when she saw the rude comments on Instagram, she had to turn off the comments section, especially after someone told her to go and kill herself.