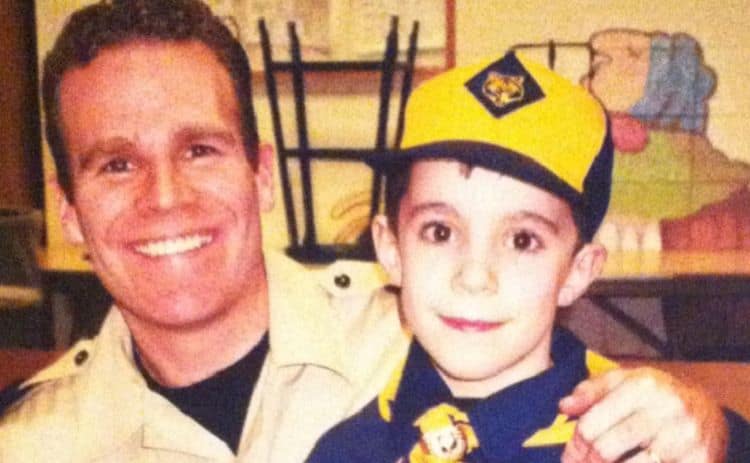 Jere Shea's acting career hasn't exactly been a straight shot, but he's always been mindful of making the most of his time. The talented actor has gotten the chance to be a part of lots of great projects and he's earned endless amounts of respect along the way. While he doesn't have the most extensive on-screen resume, Jere has made all of his appearances count. Since 2019, he has been getting a lot of attention for his role in the series City on a Hill. His portrayal of Hank Signa shows the depth and versatility he has as an actor. Although he's yet to make an on-screen appearance since 2019, his fans are hoping to see more from him soon. Keep reading for 10 things you didn't know about Jere Shea.
1. He's A Boston Native
Boston has a very long history of being home to many talented people in the entertainment industry and Jere Shea is one of them. He was born and raised in South Boston and attended Boston College where he earned a bachelor's degree in theater. Jere still lives in the area with his family.
2. He Was Nominated For A Tony Award
Many know him from his TV roles, but the stage has always felt like home to Jere and that's where he's spent the majority of his career. He was in the Broadway productions of Passion and The Secret Garden. His role in Passion earned him a Tony Award nomination for Best Actor in 1994.
3. He's An Acting Coach
Jere doesn't just like sharing his talent with viewers, he also likes sharing his knowledge with other actors. Jere is very passionate about acting and he wants to help up-and-coming actors achieve their professional dreams. He has been a private acting coach for many years.
4. He's Not Really Into Social Media
If you're one of Jere's fans and you would like to keep up with him on social media, I have some bad news for you. While he does have an Instagram account, he hasn't invested much time into building a solid online presence. He has less than 1,000 followers and he doesn't post very often.
5. He Took A Break From Acting To Focus On His Family
Being a professional actor is a very demanding job and finding success requires a lot of success. Unfortunately, that success usually comes at the expense of actors' loved ones. Jere, however, decided that he wasn't going to allow his job to take him away from his family.
During an interview with The Packie, Jere talked about his decision to take a break from acting. He said, "My kids were young, about three or four years old and I was just out of town, the more you work, the more you travel. And you have to travel to stay really busy and as busy as I needed to be as a dad. I wanted to be home but I wanted to support my family. If I had to leave town in order to act, in order to support my family, it was just not going to be acceptable to me."Once Jere's children reached adulthood, he decided that he was ready to get back in the swing of things with his career.
6. He's A Musician
The world is most familiar with Jere as an actor, but what many people don't realize is that he also has other creative talents. Jere has also been a musician for most of his life and he enjoys singing and playing the guitar. From what we can tell he has never pursued music at the professional level.
7. He Attended NYU
After earning his bachelor's degree from Boston College, Jere knew he wasn't done studying acting just yet. He decided to enroll in a graduate program at New York University's Tisch School of the Arts. From there, he went on to study at the Stanislavsky Moscow Art Theatre School.
8. He's A Trained Sky Diver
Being creative isn't the only thing Jere has to offer. He also has a very adventurous side and he loves a good adrenaline rush. Jere is a trained skydiver and in his younger years, he was involved in an accident after his parachute deployed when he was just a few hundred feet from the ground. Fortunately, he didn't sustain any serious injuries.
9. He Loves Giving Back To Others
When people work in the entertainment industry it can be somewhat easy for them to become self-absorbed, but Jere has never lost touch with the needs of others. He loves giving back to those in need and he's traveled to Haiti and Rwanda to raise money for an organization called Partners in Health.
10. He Has Less Than A Dozen On-Screen Credits
Even though Jere has been in the industry for more than 25 years, he hasn't spent much time doing on-screen work. Since making his debut TV appearance in 1995, he has only had 10 other on-screen roles. Hopefully, we'll be seeing him do much more work in front of the camera.