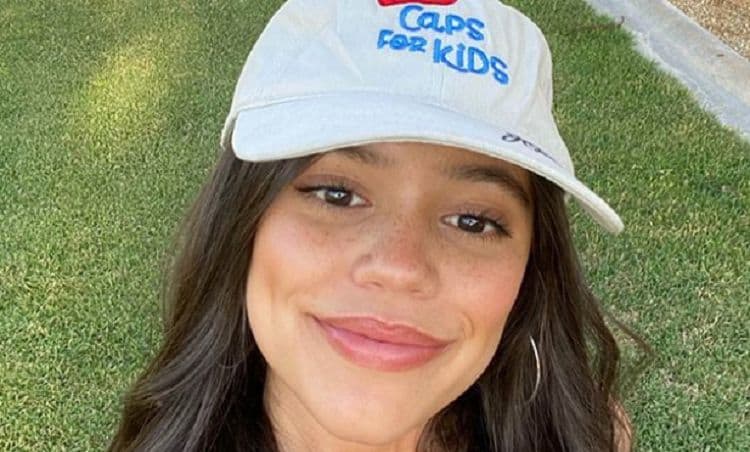 Jenna Ortega is an American actress that is best known for her role as Harley Diaz in Stuck In The Middle. Most recently she has appeared as Ellie Alves in the second season of Netflix drama You. Here are ten things about her that you may not know.
1. She Has Five Brothers And Sisters
She grew up in a large family and is the fourth child in a family of six. Her mother is of Mexican and Puerto Rican descent and her father is Mexican. Growing up in a large family gave her inspiration for her character in Stuck In The Middle, where she plays the middle child in a family of seven. Like all families, they do have their arguments at times but they can always rely on the fact that they will always be there for each other. She grew up in Coachella Valley in California and this is where her family still lives today.
2. She Became Interested In Acting When She Was Six Years Old
She first started to show an interest in acting when she was just six years old. Her family were very supportive and her mother helped her find an agent. She began to start auditioning for roles when she was eight. A few years later she began to start winning small parts in TV shows and films. Some of her first TV roles were on well-established shows such as CSI:NY and Days Of Our Lives.
3. Her First Movie Role Was In Iron Man 3
She got her first movie role when she was eleven, playing the Vice President's daughter in Iron Man 3. It was only a small role but it gave her valuable experience of working on a movie set. She also got to meet actors that have been in the business for many years and there are things that she would have been able to learn from them. After her role in Iron Man 3, she went on to star in Insidious Chapter 2. She then took a break from movies for a while as her TV career really started to take off.
4. She Was Disney's First Latina Princess
She voices the part of Princess Isabel in Elena of Avalor, making her the first Latina Disney princess. This was a proud moment for her because she has always been very proud of where she came from. The character of Isabel is also something of an inventor, just like her character in Stuck In The Middle. She is proud to be involved with both of these characters because she feels it gives a positive message to girls that are interested in STEM subjects.
5. Her Favorite Disney Film Is The Lion King
Her favorite Disney film is the animated version of The Lion King which she revealed in a post on the Disney Channel's Instagram account. The post was created before the release of the live action film and so fans are left to wonder which one she prefers. Stuck In The Middle is her best known Disney role and although this is a TV role she would not rule out being part of a film herself at some point in the future.
6. She Is Outspoken Against Anti-Immigration Feeling
Her great-grandmother was an undocumented Mexican immigrant and so she has experience of how immigrants are discriminated against in her own family. She told Teen Vogue that she believes it is important to stay true to your culture. She also believes that the fact there are so many people of different ethnicities living in the United States is something to be celebrated. She also supports Pride Over Prejudice, an organization that supports members of the LGBTQ community.
7. She Has Won An Imagen Award
She was nominated for the Best Young Actor award for her role as Harley Diaz three time, winning once. In 2019 she received two nominations for Stuck In The Middle and Elena Of Avalor. However, she lost out to Anthony Gonzalez who won for his performance in Icebox. These awards are organized by the Imagen Foundation which encourages the positive portrayal of Latinos in the media industry. The awards have been honoring Latinos for over thirty years and other notable winners include Antonio Banderes, Jennifer Lopez and Andy Garcia.
8. She Is Due To Star Alongside Jennifer Garner In Yes Day
One of her upcoming projects is in the Netflix film Yes Day in which she will play the role of Katie Torres. The film is based on the book of the same name by Amy Krause Rosenthal and Tom Lichtenheld. The character of Katie is a teenage girl who wants her parents to give her more independence. However, when they decide to say yes to all her requests for one day only, she finds that she gets more than she bargained for. This is one of the biggest movie roles that she has had to date.
9. She Would Like To Work As A Director In The Future
One of her ambitions in the future is to get involved behind the camera. She would like to learn more about the production side of TV shows and movies, and she is also interested in directing. This is something that she is likely to pursue when she is much older as she is likely to carry on acting for the next few years. If she does decide to go into directing, then the experience she has gained from her many years of acting will stand her in good stead.
10. One Of Her Favorite Shows Is Stranger Things
She told Talk Nerdy With Us that one of the main things she gets nerdy about is the TV show Stranger Things. She likes to keep up to date with the latest fan theories about the show and share her own thoughts. She and some of her Stuck In The Middle cast mates have dressed as characters from Stranger Things for Halloween in the past and she shared these photographs with her fans on Instagram.