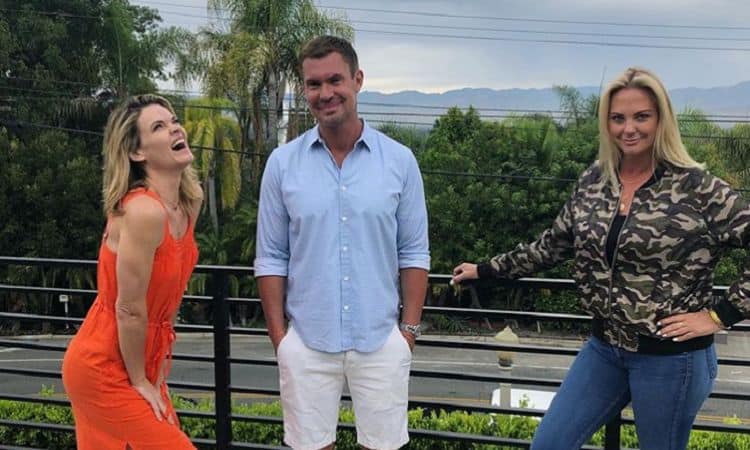 Jeff Lewis is a man who is going through a lot right now. Every news story about him is about his health and the things that he's been through lately, but some people find themselves wondering, "Who exactly is Jeff Lewis," because the name rings a bell. His face is familiar. But, who is he? He's the man who knows just a little bit about everything in the land of real estate and interior design, and you know him as the television star that he is. So, here's all we know that we think you should know.
1. He's Turned 50 in 2020
He's a good-looking man who just celebrated his 50th in 2020. He's got everything going for him. His date of birth is March 24, 1970. We have a feeling that his 50th birthday probably didn't go exactly as planned considering the fact that he was new into the global pandemic and all the things going on right then and there, but we imagine he found a creative way to celebrate.
2. He's From the OC
Born and raised in Orange County, he's a man who knows SoCal well. He graduated from high school there, he lived there, and he became a lover of real estate there. As someone who is a big fan of the OC myself, I can see why he developed such a love of real estate in his area. It's beyond beautiful, and the views are everything.
3. He's Educated
Following high school, he made it his mission in life to go to college. He attended the University of Southern California, and then he went to Chapman University. He studied law in college, and he was also a political science major. Considering he is now a real estate mogul and designer, we are shocked by his majors.
4. He's a Former Real Estate Agent
When he was done with college, he went on to go to work for a real estate broker in California. He learned about the business and all that it entails, and he did an excellent job of it. He's a man who clearly knows what is good about real estate, and he paid close attention to what he was learning.
5. He's A Flipper
While practicing real estate, he also bought and flipped homes. Basically, he did what everyone on HGTV is doing now before they knew it was cool. He bought cheap properties in less than stellar condition, fixed them up, and sold them for a profit. It's genius.
6. He's a Designer
His real icing on the cake, however, is that Jeff Lewis is such a great designer. He's been given a chance to show the world his talents and his gift, and we are so appreciative of that. He started his design firm in '09 and it was 2010 when "House Beautiful" hit him up asking him to take on the biggest project of his life. The Kitchen of the Year kitchen at Rockefeller Center was the job, and he rocked it.
7. He's a Star
Just before he began his own design firm, he started his own show in 2007. It's called Flipping Out, and it's a good one. He designs homes, decorates them, and then shows them off. That led to a spin-off, which led to other work, which led to more work, which, well, you get what we are saying here.
8. He's a Dad
Did you know Jeff Lewis is a dad? He's been one since 2016. He and his partner of more than a decade – ex-partner, now – contacted a surrogate mother, had a little girl, and they named her Monroe. She was born on October 25, 2016, which means she will turn 4 in 2020. What a fun age.
9. He's Diagnosed with OCD
He's been dealing with it his entire life, but he was not diagnosed until he was in his 20s. He is an official sufferer of Obsessive-Compulsive Disorder, but it's different for everyone. No two people suffer from the same version, which makes it incredibly difficult for some.
10. He Just Had Major Surgery
On his SiriusXM show, he recently announced that he was diagnosed with something called Cervical Myelopathy. It's a disease that affects the spinal cord, and surgery was his option. He's got nerve damage from a disc in his neck pushing against his spinal cord, which he just had fixed during surgery in August 2020. He's recovering, doing well, and he's currently just relaxing in his hospital bed while he recovers.