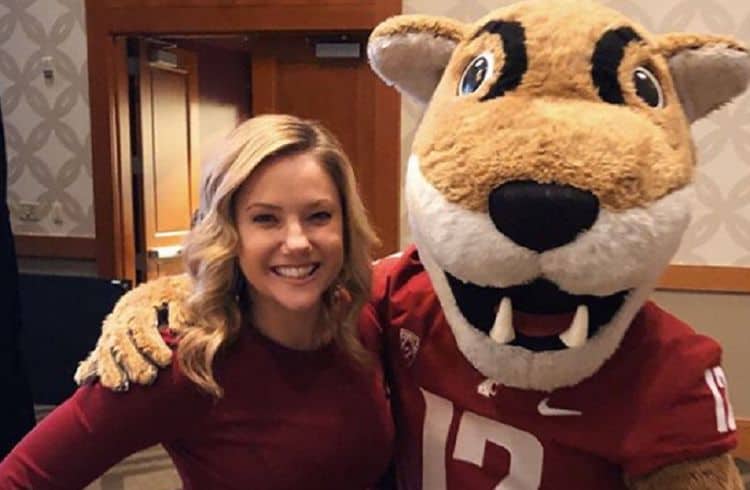 Determined to make a career on television, Jaymee Sire got a job in her high school as an audio manager and camera operator at KFBB. After graduating from Washington State University, she got her first job at KRTV, where she gained experience through writing and editing all of her content. Her mother taped all of Jaymee's shows, criticizing what needed improvement, and after some time, Jaymee worked her way to the top while bagging a few awards along the way. The unfortunate layoff at ESPN in 2017 only helped her pursue her other two loves: traveling and food. Here is everything else you need to know about Jaymee.
1. Her love for food and cooking began with household chores
When Jaymee was much younger, she and her sister were tasked with cooking meals once a week, so they each had their turn. While in sixth grade, Jaymee challenged herself to cook lemon chicken by following a recipe she found in a Chinese book. Since to her, it was the most challenging recipe in the book, when she managed to do it, Jaymee knew she was capable of so much more; hence her love for cooking grew by the day. Besides, since she was in Europe for her senior year, she was exposed to various dishes which she loved to sample.
2. She was president of a sorority while in college
When Jaymee was at Washington State University, she was president of Kappa Delta in her junior and senior years. At the time, she was in charge of 130 girls, and she believes it helped hone her leadership skills. Despite the negativity that surrounds fraternities and sororities, Jaymee is quick to say that she formed long-lasting friendships with girls from the sorority. Moreover, she added that some of the executives of Fortune 500 companies were in sororities and fraternities; therefore, it cannot be that bad.
3. Why she holds food in high regard
In one episode of "Leverage," Eliot Spencer tells students that food is life as he helps them acquire some culinary skills. Jaymee shares this opinion, reasoning that food is nourishing and affects not just your health but your mood, skin, hair, energy levels, and so much more. Additionally, she loves that cooking enables her to take on new challenges and learn new things. Finally, it is her way of connecting with cultures and people since, to her, there is no greater feeling than that of sharing a home-cooked meal with friends.
4. She is a travel addict
Ever since Jaymee went to Barcelona in her senior year, traveling has become like a drug to her. The experience of meeting new people and knowing foreign cultures drives her to keep on traveling to various parts of the world. So far, she has been to South Africa, Peru, Thailand, and of course, the list would not be complete without France, which she has visited twice. As she told Athleisure Magazine, Jaymee wants to go to Cuba before it is modernized.
5. Her love life
Jaymee does not like to talk much about her romantic life, but it is rumored that she was once married to Jeff Keppinger. It is not clear when they were married and how long the marriage lasted, but she has been spotted with Justin Aharoni, who is the new man in her life. As per reports, the two met in February 2017 during a farewell lunch with Dana Carrow. With a shared passion for food, it is no secret that the Jaymee and Justin immediately hit it off and have been moving on steadily since they are about to celebrate their third anniversary.
6. What food she hates most
Jaymee may love cooking and has sampled all kinds of dishes, but one thing she cannot stand is a bell pepper. She likes oregano in moderation but hates everything about the bell peppers: the smell, texture, and taste. To prove how much she cannot stand to be near bell peppers, she said that she can eat any spicy pepper but do not try to serve her a bell pepper.
7. Her favorite champagne
Choosing between sparkling wine and champagne was tough until Jaymee tasted Jean Josselin & Fils Champagne Brut and fell in love with it. While you will find executives saving expensive wine bottles for special occasions such as landing a lucrative contract with a client, Jaymee will only sip on champagne if she is enjoying great company over or celebrating a milestone. For her, champagne does not go hand in hand with success or romance as she told Glass of Bubbly.
8. Why she likes supporting small businesses
Jaymee feels that supporting local businesses runs in her blood thanks to her maternal grandfather, Leon, who operated a locker plant and store at Denton in the 1970s. However, her grandfather gave up the business to pursue his interest in dancing in the 1980s, thus moved to Billings. Leon ran a small butcher shop, and when Jaymee discovered a meat shop in her locality, she wanted to support it. However, it is beyond her genes because also her upbringing makes Jaymee wishes to partner with local businesses. Having grown up in a cattle ranch and with her father still being a wheat farmer, Jaymee appreciates high-quality foods thus does anything to acknowledge those who put their effort into it.
9. She likes to carry herself with dignity
Women in the media have, for a long time, been expected to sell themselves as more than just a pretty face but also as sexual beings. However, this ideology is now outdated, and people like Jaymee want to be taken for the smart women that they are. Therefore even her dress code represents how she views herself. When she talked to Jeff Pearlman, Jaymee said she is not comfortable in mini-skirts or other revealing clothes but enjoys being feminine and has a good fashion sense.
10. Why she gave up on sports in school
At five years old, Jaymee wanted to grow up to be a cheerleader for the NFL. She was interested in sports, but standing at only 5ft 4″, Jaymee realized she needed to focus her attention in other areas. Therefore she took acting classes since the theater was also on her mind. With her love for photography, participating in journalism and working on the yearbooks helped Jaymee determine that she wanted to be on television in whatever capacity.