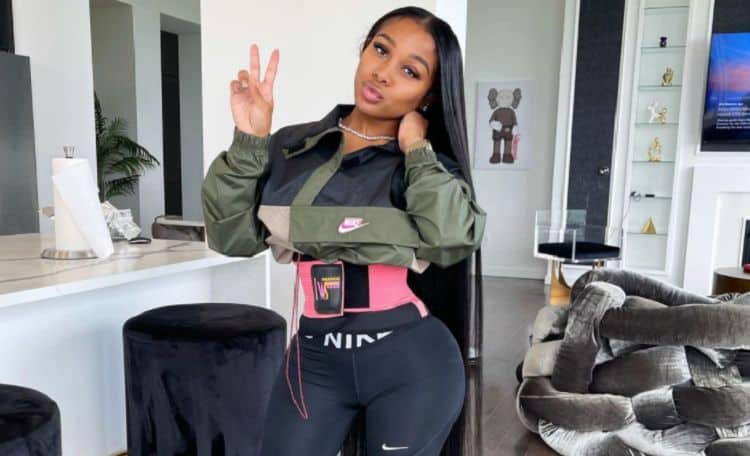 Jayda Cheaves is not a household name. Most people who know of her know who she is because she is the long-time girlfriend of rapper Lil Baby. However, she has done well for herself outside of her relationship. She's an entrepreneur and music video star as well as a social media influencer. She has a book, too. She's someone who is not slowing down, and she doesn't use her relationship to get her further along in life. She's a fascinating woman, and the world wants to know more about her.
1. She Got her Start on Poshmark
When she was young, she began selling her clothes on Poshmark. They'd sell in moments, and that's when she realized she could do more than just sell her clothes. She could start her own clothing line and work on that. It's the beginning of the beginning for her, and she's grown substantially since.
2. She Loves Travel
It is one of the biggest perks of her job and her life. She gets to travel the world, she gets to meet new people, she gets to go new places and try new things, and she feels that is such a wonderful way to live her life. We cannot argue with that one, either.
3. She Likes a Challenge
Jayda Cheaves doesn't like to feel too comfortable for too long. She likes to challenge herself and to step outside the box to make her life what it is. She likes to do things that bring her joy and make her feel good about her life. She's ambitious, and she doesn't have any intention on slowing down.
4. She's Never Been Single
She once said that she's been in a relationship nonstop since she was in high school. She does not specify if that means she and Lil Baby have been together that long, but she's never single. She alluded to the fact that she might currently be single for the first time in her life in spring 2021, however, and now fans are sure that she and Lil Baby are no longer together.
5. She Has a Son
She and her on-again, off-again boyfriend, Lil Baby, have a son together. There is one thing we can say about them, too, and that is that they are good co-parents. Even when they are on their off-again status, they appear to work together to be sure their son knows he is loved and that they support him through and through.
6. Her Baby's Father Spoiled her For Mother's Day
The internet is sure that he is sucking up to her and trying to make things right after allegedly cheating on her, but we like to think that whether they are together or not, he was just doing lovely things for the mother of his son. After all, she gave birth to his child; that's a big deal and it's worth celebrating. He allegedly got her a new car, a few Birkin bags, flowers, champagne, and more. We maintain that we want to see this a sweet gesture to the woman who made him a father buying gifts for his son's mother from his son.
7. Someone Accused Lil Baby of Paying for Sex
At the end of 2020, just a year after their son was born, an adult film star came out and made an announcement that Lil Baby offered her nearly $6,000 to have sex with her. That appeared to be the end of things with his baby's mother, and she didn't seem interested in dealing with his drama.
8. She Wants People to Mind their Business
She's made it very clear that she doesn't want the world talking about Lil Baby and his personal life. She's also made it very clear that even when she's not with him romantically, they are not in a fight with one another. They are raising a son, and she would like the world to stop creating drama where she says there is no drama. They will always be a part of one another's life, and she'd like everyone else to just mind their business.
9. She's Doing Well
Jayda Cheaves is a woman who is doing well for herself, and she's not in the market to need anyone to take care of her. Her business has allowed her to amass a net worth of around $2 million so far, and she's not slowing down or giving up on her business.
10. She is a Proud Mom
Of all the things that she's done in her life, she's most proud of her son. She loves being a mother, and she makes it a priority in her life to be the best one she can be. Her son is the light of her life, and she's happy to share that with her millions of social media followers.
Tell us what's wrong with this post? How could we improve it? :)
Let us improve this post!