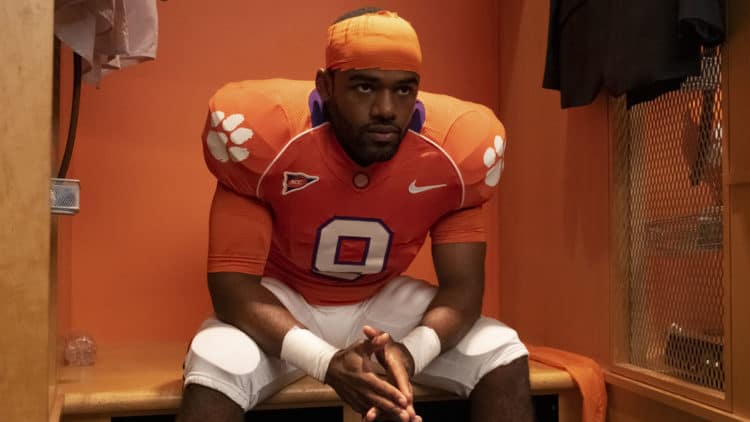 In a year that has been full of chaos, Jay Reeves has managed to find a few bright spots. 2020 has proven to be a breakout year for the young star and he hopes to keep the momentum going. He began the year with a role in the successful Apple TV original movie, The Tax Collector. He is finishing out the year with starring role in the Disney + movie, Safety. Not only do these roles exhibit Jay's versatility as an actor, but they also speak to how hard he has been working to make a name for himself. His fans will be pleased to know that he has some other projects in the works and we'll likely be seeing a lot more from him. Keep reading to learn 10 things you didn't know about Jay Reeves.
1. He's A New Jersey Native
Jay has played characters who are from all over the country, but in real life he was born in Newark, NJ. His family's roots trace back to Liberia although we weren't able to find any information on his parents. Jay was raised primarily in North Carolina and Los Angeles. He currently lives in the Los Angeles area.
2. He's A Musician
At this point in his career, most people are familiar with Jay as an actor, but he's also a talented musician. Although he has yet to release a full length project, he has released several singles. In addition to SoundCloud, his music can also be found on his YouTube channel.
3. He Played Football In Real Life
Jay has always loved sports and he played several of them growing up. During his time at time at Fairfax Senior High School, Jay played football and was the captain of the team. His experience with the sport likely came in handy for his roles on All American and Safety.
4. He's Done Some Behind The Scenes Work
Being in front of the camera isn't the only part of the production process that Jay is interested in. He also has experience as a writer, producer, and director. He directed and produced a short film called Debra's Attic and he wrote and produced another short project called South Central.
5. He's Done Several Commercials
Commercials certainly aren't the most glamorous jobs an actor can have, but they can truly be beneficial. Doing commercials allows actors to work with major brands which can lead to bigger opportunities in the future. Jay has been working with Dr. Pepper for several years and has done commercials and other advertisements for the brand.
6. He Wasn't Familiar With Ray Ray's Story Prior To Safety
Before being cast in Safety, Jay admits that he wasn't too familiar with Ray's story. He told TV Insider, "I didn't know much of anything, but to prepare I dove into it and did my homework. I researched him, I watched all his videos, I looked at his highlights, I found him on Instagram. I did everything I possibly could to have as much information about the role going into the audition process."
7. He Was In An Episode Of K.C. Undercover
In the early days of his career, Jay appeared in an episode of K.C. Undercover where he got the chance to work with Zendaya. During an interview with Collider he said, "With Disney, I did K.C. Undercover. I had a really quick scene with Zendaya where I ran up to her, and she owned that set."
8. He Hopes To Play A Villain Some Day
Every actor has at least one type of role that they hope to get the chance to play before it's all said and done. For Jay, one of those roles is a villain in a super hero story. On the other hand, he would also like to play a superhero some day. With his range of talent, it wouldn't be surprising if both of those dreams came true.
9. He Has Theater Experience
We weren't able to find any information on whether or not Jay has had any formal acting training, but we do know that he has some theater experience. He played the role of Cory in a 2018 production of August Wilson's Fences which ran at the Lone Tree Arts Center in Colorado.
10. He's Fairly Private
Although Jay has been in the industry for more than five years and has built up a strong following along the way, he doesn't seem to have any interest in sharing his personal life with the world. Instead, he prefers to keep the spotlight focused on his work as an artist.