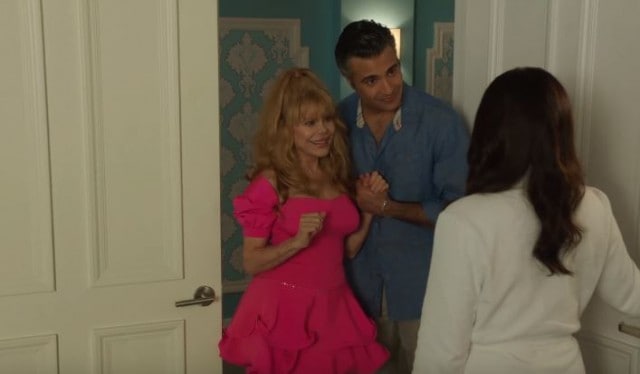 Rogelio is hoping that Jane will decide to have a big wedding, and he's bringing in some celebrity reinforcements to help convince her in tonight's episode of Jane the Virgin. In the all-new hour, titled "Chapter Thirty-Eight," Charo guest stars as herself and works with Rogelio to try to get Jane to change her mind.
However, even though the two of them are searching for Jane in the sneak peek below, they run into Xiomora instead. Xo knows that Rogelio and Jane have conflicting opinions on what her wedding should be like, so she tries to offer her ex some advice about how he can handle the situation with their daughter in the best way possible.
"I know you and Jane haven't exactly been seeing eye to eye with all this wedding  stuff," Xo tells Rogelio. "I just want you to know that I'm here in case you need help navigating."
But even though Xo has nothing but good intentions, Rogelio doesn't want her help, and it's not because he doesn't trust her or want to talk with her. He needs space from her after their break-up, even when it comes to dealing with family matters.
"But my heart is also still broken," Rogelio says. "And repeating that over and over is getting a little embarrassing."
Jane the Virgin airs Mondays at 9 p.m. on The CW. Check out the sneak peek from "Chapter Thirty-Eight" below:
WEDDING PLANS — Jane (Gina Rodriguez) and Michael's (Brett Dier) wedding plans are side tracked when the Villanueva house is ruined by a flood. Jane is looking to have a small wedding, but Rogelio (Jaime Camil) wants nothing more than to throw Jane a big blow out wedding so he can invite all his celebrity friends including guest star Charo. Jane and Michael are also looking for the perfect home to move into and when they find a place 45 minutes away, Rafael (Justin Baldoni) has an issue being that far from Mateo. Petra (Yael Grobglas) is still having trouble adjusting to motherhood. Andrea Navedo and Ivonne Coll also star. Georgina Garcia Reidel directed the episode written by Micah Schraft.
[Photo via YouTube]