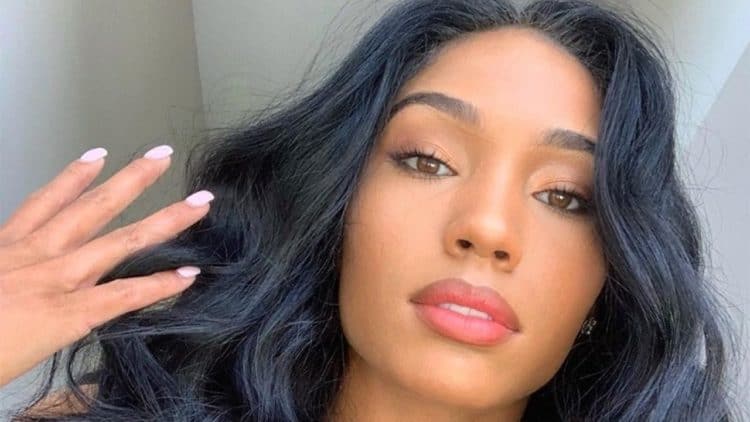 Dating a celebrity is one way of becoming a celebrity too. Jamira Haines is one who is at the spotlight because of her relationship with one of the famous rappers. 50 Cent has been through a lot as far as dating is concerned. He has dated over eight ladies, but Jamira could be the one he has been searching for all his life. Time will tell since love is also complicated but knows no age since the two have an age difference of twenty years. You must be curious about Jamira and here are some facts to keep you updated about her.
1. She is currently in a relationship with the famous 50 Cent
50 Cent might be one of the lucky men. Many people have been admiring Jamira for long, but it seems 50 Cent is the lucky one to win her heart. They were in the "Power" premiere together. According to Capital Xtra, the two confirmed their romance at the backstage and Jamira later sent thank you messages to her fans on Instagram. There is something intimate between the two, but it remains an unconfirmed rumor. Most of the people started spreading the news on social media that the two are dating and term 50 Cent as the lucky one.
2. She kissed 50 Cent in public
Kissing in public is one indication of love, and 50 Cent and Jamira have proven their love with their public display of affection. It was a good day for the two, and according to the famous superstar, the two were out for a charitable event before they hinted to the world that they were an item. They gave out all the donations to the children for the start of their first day in school, marking their noble hearts. To celebrate the success of the day, the two ended up kissing in public.
3. She has no children yet
Jamira has no children yet. She seems to be planning to settle with 50 Cent and have children together. Although her relationships have not yielded to any kids, if she decides to get married to 50 Cent, she will play step mum to his two sons, Sire and Marquise. Well, mostly to Sire because 50 Cent has publicly declared that Marquise is not his biological son as per a quote on Urban Islandz.
4. She quit modeling to focus on fitness
Jamira was initially into modeling but later left to focus on business in fitness. Although she decided to quit modeling, Jamira seems to be missing it as she told her fans that she is soon returning to her roots. According to her, modeling was okay and well-paying, but she was not happy doing it. Even though Jamira quickly lost interest in modeling, she wants to go back to it since she feels she has potential in it.
5. She is a fitness guru
Before Jamira got to the limelight for dating the famous rapper, most of us knew her as a fitness guru. She is renowned in the business as it seems it is the side hustle while she pursues her degree in law. She has been interested in keeping fit as she spends most of her time in the gym, as seen in most of her Instagram photos. To get something out of her visits to the gym, she decided to open a business in fitness. Jamira used to spend most of her time in the gym business before meeting the famous rapper.
6. She is aspiring to become a lawyer
Jamira is currently doing a law degree at Rutgers University. She is yet to graduate and become a corporate lawyer. 50 Cent is pleased with this as he tells his fans to be careful as he is having a new lawyer around him soon. 50 Cent even posted the photo of Jamira with a caption cautioning fans to return his money by Monday since he will have a lawyer to deal with them if they don't. Jamira is also passionate about the law profession and wants to make many people proud after qualifying to be a lawyer.
7. She designs her own activewear
Jamira creates her activewear for her clients. According to her website, the activewear is described as fashionable and within the budget of the interested clients. The clothes are out only after a lot of testing to make sure that they are comfortable and durable. She is working to ensure continuous improvement in their brands to ensure that people get the best of their brands.
8. She wishes always to help others
Giving back to society is one thing that makes someone more special than they think. Jamira is not a self-centered type of person, and her wish is to help anyone who needs assistance. She starts by supporting the children from her community in their academic journey by paying school fees to some of them as evidenced by that donation she attended with her boyfriend. Given the opportunity to help others, she is willing to do more than she has done already.
9. She is a Christian
Jamira is a Christian by religion proven by one of her posts in Instagram. She defines prayer to her fans by saying that it is a way of communicating with the Creator. She finds that prayer is a way to increase our success in life as it has helped many people. Jamira even quotes various bible verses to teach her fans about praying. As a Christian, she always asks Christ for help when she is in desperate situations. Most of her fans were happy with the post, and they showed their support by commenting on how God is great.
10. Her relationship with 50 Cent has increased her popularity
After it became known that 50 Cent and Jamira are dating, her fans on social media have increased. Most people were curious to know more about the new girlfriend to the famous musician. She currently has 250 k followers on Twitter, where she describes her fitness business in the bio. She is more active on Instagram than Twitter, where she has 2062 followers on Twitter. If the relationship is cemented by marriage, then her followers on Twitter and Instagram are probably going to increase with time.