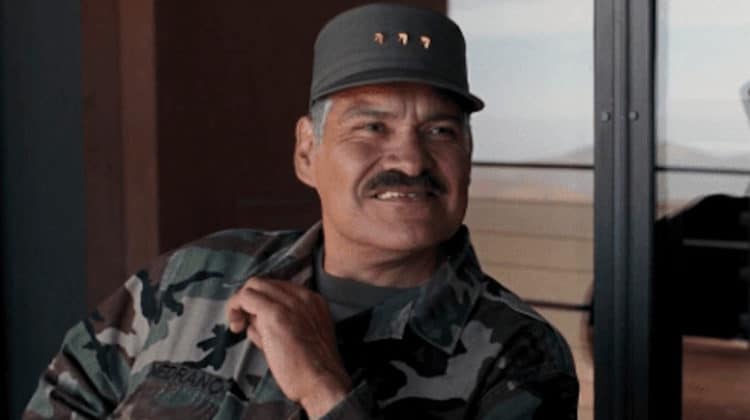 Joaquin Cosio has entertained countless people over the course of his career and he isn't finished yet. The talented actor has lit up the big and small screens and his versatility is nearly unmatched. No matter what kind of character he's tasked with playing, Joaquin brings a high level of professionalism and authenticity. At this point in his career, he is known for several different roles including General Medran in the movie Quantum of Solace. On top of having a host of successful projects under his belt, Joaquin has a handful of things in the works that are sure to add to his already impressive legacy. Keep reading for 10 things you didn't know about Joaquin Cosio.
1. He's Always Loved Acting
There are plenty of people who do their jobs simply because it's what they need to do to get by. There are also lots of people who do their job is because it's what they were called to do. Joaquin is definitely a part of the second group. He's always loved performing and it's the only thing he's ever wanted to do.
2. He Has Theater Experience
Joaquin's on-screen work is what most people know him for, but it's the stage that truly has his heart. He told Suavv, "I am 100% a stage actor. I've always been a theater actor, since I was young, it has always been my passion. It's cathartic, therapeutic, it has a conscience and a key role in our history. And, it's fun! I got involved in film and TV very late in life, at age 38 was my first movie, which came out of people knowing I was a stage actor. I said yes just out of curiosity, and then suddenly, years later I've been in over 40 films and tv shows."
3. He Loves Being At The Beach
Joaquin works very hard, but he also makes time for fun. When he isn't busy working, he enjoys being outdoors and soaking up the sun. He particularly loves hanging out by the water and the beach is one of his favorite places to hang out. Luckily for him, Mexico has no shortage of beautiful beaches.
4. He Has Almost 100 On-Screen Credits
Even though Joaquin got a late start to his on-screen career, he has certainly made up for lost time. Since making his on-screen debut in 2002 he has managed to get 90 credits. At the rate he's going, there's a very good chance he'll reach 100 in just a few short years.
5. He Loves A Good Script
Every actor has something different that they look for when deciding whether or not a role is right for them. For Joaquin Cosio, it's the script that really grabs his attention. With a good script, Joaquin believes that he can get a clear understanding about whether a project is right for him.
6. He's A Fairly Private Person
Being a well-known actor often means that your personal life will eventually find its way into the spotlight. Joaquin, however, has managed to maintain a high level of privacy over the years and he seems to prefer it that way. Outside of his career, there isn't much information floating around about him.
7. He's A Voice Actor
If you thought live action work was all that Joaquin was capable of doing, you might want to think again. He has also done some voice acting. Most notably, he voiced Scorpion in the 2018 animated movie, Spider-Man: Into the Spider-Verse. One of his upcoming projects is also a voice role.
8. He Looks Forward To Roles That Don't Perpetuate Stereotypes
When most actors think of their dream role, they automatically envision a specific character or genre. For Joaquin, his dream opportunity looks a little bit different. During his interview with Suavv he said, "I do look forward to a meaningful role from Hollywood that breaks away entirely from stereotypes. A role that transcends any pre-conceived notions about Mexicans and Latinos and is valued for its story and complexities, not for what it contributes to a narrow view of what being a Mexican is. I have had those in Mexico, but in the US I would love to be a part of a film that tells a fascinating story about a character that just so happens to be Mexican and is treated with respect and without stereotypes."
9. His Feet Have An Almost 5 -Star Rating
By now we all know that the internet can be a very weird place, and the online celebrity feet database, Wikifeet, is a prime example. As of now, Joaquin's feet have a 4.3 rating on Wikifeet. As more pictures of his feet begin to circulate around the internet, there is a chance that his rating could get even higher.
10. He's Active On Social Media
Despite almost being in his 60s, Joaquin is no stranger to using social media. While he may not be as invested in his online presence as some younger stars, Joaquin is pretty active on Instagram and he's built a decent size following that includes more than 96,000 people.