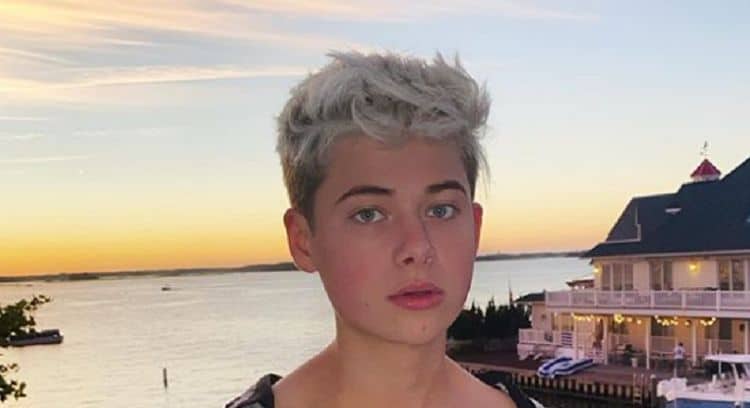 Jake Warden is only a teenager, but he's already making a six figure income – all thanks to YouTube. He is well-known for his makeup skills which he has used to create dozens of makeup tutorials. To date, his YouTube channel has 1.25 million subscribers and he's gotten more than 73 million total views. In addition to makeup, Jake also uploads vlogs and challenge videos with his boyfriend, Mickey. The popularity Jake has achieved on YouTube has also resulted in success on Instagram and TikTok. Even though he's already accomplished so much, Jake is hoping to do even bigger things in the future. Keep reading for 10 things you didn't know about Jake Warden.
1. He Started On YouTube When He Was In Eight Grade
When Jake first created his YouTube channel he was only in 8th grade. He never planned on becoming a YouTube star, but his channel started seeing large amounts of growth once he started uploading makeup tutorials. At first he was nervous due to the stigma surrounding boys and makeup, but he felt motivated after receiving lots of positive responses.
2. He's A Denver Native
These days it seems like almost every social media influencer lives in Los Angeles, but Jake doesn't live on the west coast at all. He was born and raised in the Denver, CO area and still lives there today. Jake's career is proof that you don't necessarily need to be in a huge city in order to build a successful career in social media.
3. He's Signed To A Talent Agency
Long gone are the days when social media is seen as a casual way to keep in touch with loved ones. These days, social media is a full fledged job and influencers have the ability to get lots of great opportunities in real life. As a result, many influencers, including Jake, have chosen to work with talent and management companies. Jake is currently affiliated with the a talent management company called Addition.
4. He Owns A Home
Jake is only 18-years-old, but he has already made some very major moves. One of the biggest ones he's made so far is purchasing his own home. In 2020, Jake bought a house and he gave his fans a glimpse at the inside during an "empty house tour" video on his YouTube channel.
5. YouTube Is His Comfort Zone
For some people, thought of sitting and recording videos of themselves and sharing them with the internet sounds terrifying, but Jake Warden feels the opposite. During an interview with News 9 he said, "I feel like YouTube is a platform where I can feel safe," he said. "You can kind of be and do whatever you want."
6. His Parents Have Always Been Supportive
There are a lot of parents out there who wouldn't be okay with their child making a career out of social media, especially at such a young age. Jake's parents, however, have been very supportive of his creativity from day one and they have been a big part of what has allowed him to become so successful.
7. He's Worked With Several Major Brands
In the influencer world, you know you've made it when companies start reaching out to you for collaborations. Jake is no stranger to collaborations and he's gotten the chance to work with some of the biggest names in the beauty/skincare industry including Murad and Boxycharm.
8. He's Struggled With Anxiety
It's easy to look at Jake's videos and assume that he's full of confidence and self assurance, but he's had his struggles just like everyone else. During one of his YouTube videos he shared that he has deal with anxiety that has been so crippling that it's caused him not to leave the house. Fortunately, his dog, Bailey, has been able to help him overcome some of his fears.
9. He's A Katy Perry Fan
To say that Jake is a huge Katy Perry fan would be an understatement. He told Paper Magazine, "The pop star I relate the most is Katy Perry; I grew up listening to her and I feel like we've both been through similar experiences. Like, we both grew up in conservative households where we weren't able to be ourselves and now we're both living our best lives! One day we'll be besties!"
10. He Watched Every Episode Of Keeping Up With The Kardashians
Like most of us, Jake can't resist the pull of reality TV and he's a huge fan of Keeping Up with the Kardashians. During his interview with Paper Magazine he referred to it as "the best show ever made" and added that he re-watched all 17 seasons during the pandemic.
Tell us what's wrong with this post? How could we improve it? :)
Let us improve this post!