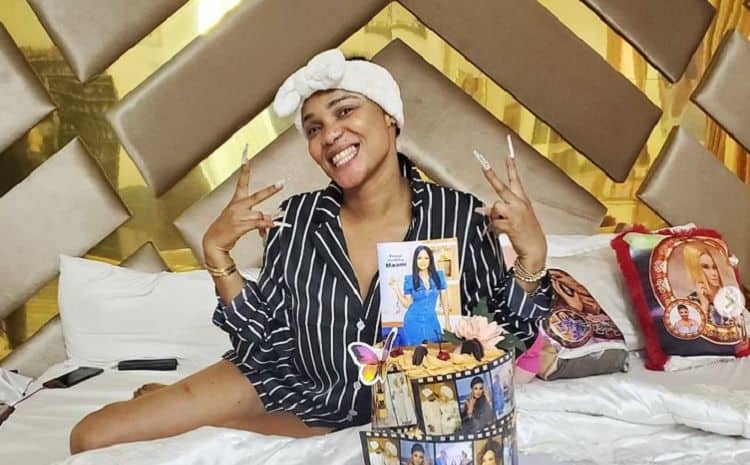 There are some people who were simply born to be in the spotlight, and Iyabo Ojo is one of them. The Nigerian actress has become known to countless people and her resume is one of the most impressive in the country. Since beginning her acting career she has been in more than 150 films and she has also done some work from the other side of the camera. Through her work, she has touched many people's lives, and she has been praised for her ability to consistently give great performances. Not only has she already accomplished a lot, but Iyabo still has a lot more to offer the world. Keep reading to learn 10 things you didn't know about Iyabo Ojo.
1. She's A Brand Ambassador
Thanks to the success Iyabo has had in the entertainment industry, she has been able to build a large social media following. She currently has more than 5 million followers on Instagram which has made her an attractive partner for companies looking to market their products or services. She is currently a brand ambassador for several businesses including Spedy Weightloss. As her career continues to grow, she will probably get even more opportunities to work with other companies.
2. Her Last Name Probably Won't Be Ojo For Much Longer
Iyabo was born Alice Iyabo Ogunro. She changed her last name after getting married. However, since she and her ex-husband are no longer together, she has expressed interest in going back to using her maiden name. At the moment, though, it's unclear when she plans to officially make this change.
3. She Loves Giving Back To Others
Helping the community has always been a very important part of Iyabo's life. She is the founder of an organization called the Pinkies Foundation which aimed to help underprivileged children and children with special needs. Unfortunately, however, it's unclear whether or not the foundation is still active.
4. She's A TikToker
When most people think of the average TikTok user, Generation Z is probably the first thing that comes to mind. However, lots of older people have also found success on the platform and Iyabo Ojo is one of them. She has more than 1 million followers on TikTok and her content has gotten almost 8 million likes. She posts a wide variety of content like comedic skits and dance videos.
5. Family Is Important To Her
No matter what you do in life, it's always nice to have a strong support system full of people who will always have you back. Iyabo has been fortunate to find that in her family. She has very close relationships with her loved ones, especially her children, and she loves spending as much time with them as she can.
6. She Isn't Afraid To Stand Up For What She Believes In
There are lots of people in the world who are nervous about speaking their minds because they're scared of how other people will respond. That isn't something Iyabo is worried about, however. She isn't afraid to use her platform to stand up for the things she believes in and she doesn't hesitate to call things out when necessary.
7. She Loves Fashion
Iyabo fell in love with performing at an early age, but that isn't the only way she likes to express herself. Fashion is another way that Iyabo shares her personality with the world and she has a great eye for putting outfits together. No matter the occasion, you can bet that she is going to show up and show out.
8. She Doesn't Let Haters Bring Her Down
Even though there are lots of people who really love Iyabo, she has also had to deal with lots of negativity during her time in the spotlight. But despite the fact that she's received many negative comments, she has never been the kind of person who lets haters get to her. Instead, she uses their comments as motivation.
9. She Has A YouTube Channel
If you're a fan of Iyabo's, watching her movies isn't the only way that you can see her do her thing. She also has a YouTube channel where she regularly posts vlogs. Her channel currently has more than 8,800 subscribers and her videos have gotten over 411,000 total views.
10. She Studied Estate Management
Performing is a major part of who Iyabo is, but it isn't the only thing she's focused her attention on over the years. On top of studying acting, she also attended Lagos State Polytechnic where she studied estate management. We weren't able to find any information on whether she ever actually worked in that field.
Tell us what's wrong with this post? How could we improve it? :)
Let us improve this post!