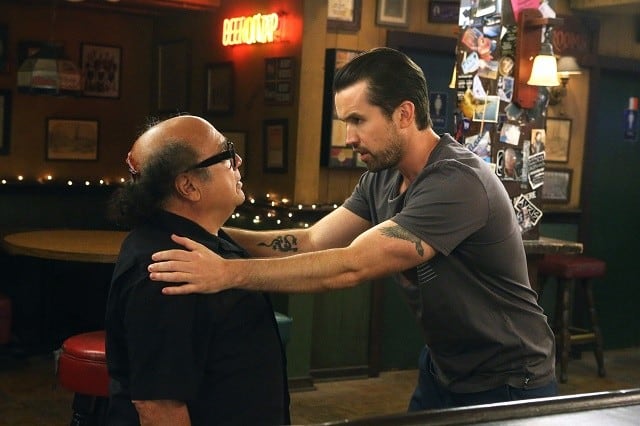 After ten amazing seasons, it's a miracle that It's Always Sunny in Philadelphia is still able to produce new and hilarious content, each season somehow getting better than the last. Every episode is centered around the same idea, that no one in the gang is a good person and all of them are insane to at least some degree, and yet there's so much material that can come from that premise that it never gets old. In last night's episode, they took another step towards brilliance, revisiting episodes from ten years ago after Frank lost his memory and couldn't remember anything past 2006, when he first joined the gang. While on the surface it sounds like they were simply rehashing old episodes, this proved to be another hit, proving that the gang really hasn't grown or changed over the past ten years.
Like so many other It's Always Sunny in Philadelphia episodes, this one was driven by the fact that rum ham causes Frank to be quite gassy. Because of this, Charlie forced him to sit hanging outside the window so that he didn't make the apartment smell. When this ended with Frank falling out the window and hitting his head, it quickly became clear that he had lost his memories of the last ten years, entering the bar in the exact same way he did when he joined the show at the beginning of Season 2. From there, things continued to play out the same way they did ten years ago, with Frank wanting to reconnect with Dennis and Dee.
The siblings realized that this was the second chance they didn't know they'd been waiting for. Last time, they had blown their chance at getting Frank's money by introducing him to Mac and Charlie and letting him go to the strip club with them, getting a taste of the life of filth and squalor that he never looked back from. Proving that they truly haven't changed at all, Dee and Dennis were determined to put aside any kind of attachment you might expect to form with someone over ten years, seeing this purely as an opportunity for another chance at Frank's money. They made a plan to keep Frank as far away from Mac and Charlie as possible, instead using his loss of memory as an attempt to get a new start with him and impress him with their goals and accomplishments to get him to hand over the money.
In one of the funniest episodes in recent memory, Dee and Dennis managed to convince Frank that they had invented modern cellphones and were actually quite successful. They also used this opportunity to be honest with each other, making sure the other knew how much they had failed at reaching the goals they had actually set out to achieve ten years ago. One thing these people know how to do is put each other down, and we saw quite a bit of that from Dee and Dennis before they decided to be more mature about the situation and work together to get the money. Of course for them, that meant getting wasted and then buying cocaine, reverting to their addiction that they had in the episode Dee and Dennis Go On Welfare, which aired only two weeks after Frank's first episode. They once again found themselves trying to get on welfare to feed their crack addiction, declaring that after Frank gave them the money they would use it to go into rehab.
Paralleling what happened in the season two episode, Mac and Charlie ran into Dee and Dennis while they were filling out the forms to get welfare. These two had been trying to stay away from Frank, no matter how unhappy Charlie was to lose him as a friend. They were in the process of trying to find Charlie a new roommate when they crossed paths with the siblings. But some things are just meant to be, and it became evident in this episode that Charlie and Frank were always meant to be together. In a repeat of Frank's first episode, he found himself at the strip club with Mac and Charlie, taking two strippers home with them (this time it was Frank's head injury instead of the wheelchair that gained him sympathy). And once again, he locked Mac and Charlie out of the apartment to keep both strippers for himself.
In a twist of fate that showed that Frank was always going to be Frank, head injury or not, he showed up at Charlie's while interviews were taking place for a new roommate. It was Frank's acceptance of the toe knife and his response to a question about eating cat food that proved that he would always be the same person. Throughout the episode, he had been having fuzzy memories of events from the past ten years, but it was smelling the rum ham in Charlie's apartment that brought him fully back to the present, all of his memory coming back to him. But before this happened, he had written an eight million dollar check for Dee and Dennis to use to pursue their inventions such as the modern-day cellphone. Things were finally looking up for the siblings, but there was one catch. When they got to the bank to deposit the check, the teller wouldn't take it because the date was for 2006, the year Frank had spent the whole episode thinking it was.
All in all, this episode posed the question, what would happen if you were forced to go back ten years and think about the person you were then? Would you be able to look back knowing that you've accomplished what you always dreamed of or, like the gang, would you realize that you really haven't changed at all? Dee and Dennis easily fell back into their addictive ways and spent the episode lying to Frank, selfishly only thinking about themselves just like they always have. And despite their attempts to not let the same events play out, Charlie and Mac found themselves at the strip club with Frank, where he became enthralled by the life of filth and squalor again. Despite the gangs best efforts, fate took over and proved that some things just can't be changed. It's Always Sunny in Philadelphia took the idea of revisiting the past and put some great twists on it, proving that even an episode that repeats events from past episodes can be new and innovative. And as a side note, the callback to the episode "Charlie Work," where Mac was convinced he had come up with the contaminated steaks scheme, is one of my favorite things It's Always Sunny in Philadelphia has ever done.
[Photo credit: Patrick McElhenney/FX]
Tell us what's wrong with this post? How could we improve it? :)
Let us improve this post!