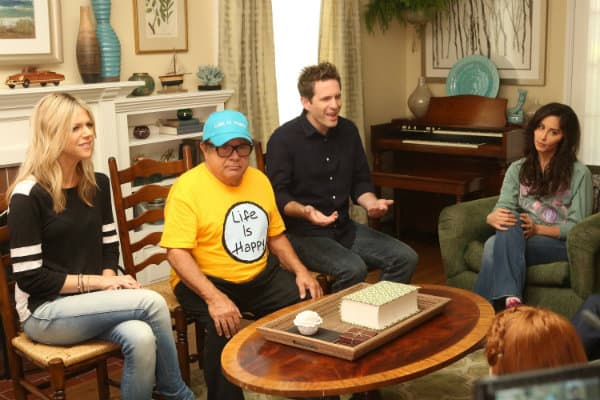 This week's episode of It's Always Sunny in Philadelphia provided further illumination into why the gang is as damaged as they are. When you grow up with parents like theirs, it's almost impossible to not take some of that with you into adulthood. Charlie grew up with no father and a mother who loved him, but had a tendency to sleep around a lot. Neither of Mac's parents were emotionally available, no matter how much he needed them to be. And while Dennis and Dee's biological father was normal, they never knew him. Instead, they grew up with a selfish mom and Frank as their father. No wonder they're all so messed up.
The gang's less than conventional upbringing was evident once again in last night's episode, as Mac's father was suspected of murder. Despite how little his father seems to care about him, Mac has always felt a need to win Luther's approval and love. After all, every kid just wants their parents to love them. In Mac's case, this leads to constantly trying to get his father out of trouble, no matter how little his father wants that help. If it were up to his dad, Mac would leave him alone for the rest of his life. But Mac can't do that because despite everything, he loves his father and needs to be loved back, and this is the only way he can think of to show that.
All of this leads to Mac dragging Charlie to the prison, so that they can attempt to clear Luther's name. Charlie doesn't believe for a second that Luther is innocent, but he jumps at the chance to use his bird law knowledge and agrees to help. They follow clues that lead them to Charlie's mom, who had been letting Luther and a second man stay at her house. Charlie is once again forced to face the fact that his mother is not who he thought she was, as she has been sleeping with both men. However, her promiscuous ways do pay off when she is able to tell them that it wasn't Luther who killed the man, but instead Eduardo, the other man who had been staying with her. Mac, excited that he will be able to clear his father's name and hopefully win his love, doesn't realize that by ratting out the other man, he will essentially be signing Luther's death certificate.
While Mac and Charlie dealt with their parent issues, Frank was attempting to show Dennis and Dee a new way of life, one in which positivity and helping people were most important. They take this new approach, which is a complete divergence from how they usually act, and try to stop Bill Ponderosa from committing suicide. For quite possibly the first time ever, they attempt to do something for someone else with no selfish motivations. But when it becomes apparent that their efforts have accomplished nothing, they're quick to return to their old ways, deciding that if he's going to kill himself, they should at least benefit from it by taking out a life insurance policy.
There's a reason why the group is the way they are, and it's simply because they don't know any better. They were raised by people who were cruel, selfish, emotionally unavailable, and neurotic. No matter how hard they try to shake that, Mac by attempting to win his father's approval, or Dennis and Dee by attempting to help someone, they will always end up back at square one. Even if Mac did clear his father's name, his dad still doesn't love him and instead was angry with him for making it look like he ratted on his partner. And even if Dennis and Dee did end up stopping Bill from committing suicide, it wasn't until after they had given up on him that he'd had an epiphany.
Last week's episode of It's Always Sunny in Philadelphia explored what the group might have been like without each other's toxicity. This week posed the question of how much of who they are is because of their parents and how they were raised. In another universe, where they had different parents and never met each other, maybe they would all be normal, functioning members of society. But where would the fun be in that?
[Photo via FXX]