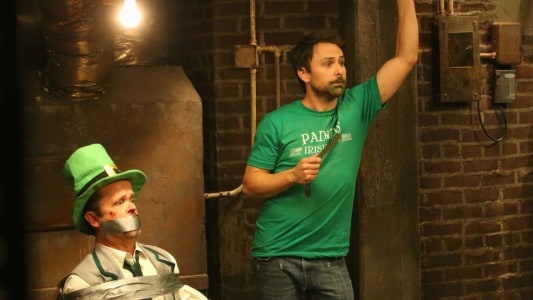 Considering Paddy's is an Irish pub, it's surprising that It's Always Sunny in Philadelphia has never done a St. Patrick's Day episode before. Saving this idea for their eleventh season wasn't a bad idea though, as it provided for many laugh, helping keep the show great after all this time. Between Charlie and Mac attempting to catch a leprechaun and Dennis, Dee, and Frank creating a mobile Paddy's Pub experience, this episode was firing on all the comedy cylinders tonight, resulting in one of the overall funniest episodes of the season. As each member of the gang focused on their own agenda, the episode once again showed how narcissistic they can all be as well as the hilarious results of that narcissism.
From the start, Dennis' agenda was very clear. He wanted to create a mobile Paddy's experience where they drove customers around, having them interact with social media and advertisements in order to purchase a beer. Complete with a business plan and a misguided attempt at a presentation in front of the gang, Dennis thought he had it all figured out. Out of everyone in the group, he's always been the one who yearns the most for control. He wants to be the one calling the shots which is coincidentally what makes his friendship with Mac work so well. Though he likes to pave his own way sometimes, Mac desperately seeks Dennis' approval and is most willing out of everyone to go along with whatever he wants.
In this episode, however, Mac wasn't around to go along with Dennis. Instead he was facing Dee, who was focused on her own plan to create an authentic experience for customers by taking on different Irish personas, each one more funny than the last. She was also convinced that the best way to make the Paddy's mobile experience profitable was to drive their customers places, acting as sort of an Uber service. Of course, Dee was right like she usually is and of course no one was willing to listen to her logic, instead focused on their own plans.
Because at their core, that's who the group is. They'll come together and work on various schemes as a group but at the end of the day, for them it's always about who's idea it was or who gets the credit. They're only looking out for themselves which is why it's so easy for them to do things like strand customers in the middle of nowhere, taking away their cell phones and wallets. And it's why it's so easy for them to abandon each other, as evidenced by Frank leaving Dee and Dennis behind in pursuit of whatever his goal with Paddy's Wagon was (we never actually found this out because it crashed and burned before we could). They genuinely don't care who they leave behind or who they hurt in pursuit of their own goals and that's what makes them such damaged people. And it's also a large part of what makes this show so funny.
We saw this to a lesser extent as Charlie and Mac set out to catch a leprechaun. Originally, it was just Charlie on the pursuit, something he's apparently done every year much to everyone else's annoyance. But again, it's Charlie's own personal goal and he won't let anything stop him. This time, he managed to drag Mac in after catching a little person in a glue trap who he was convinced was an actual leprechaun. Mac went his own way, convinced that he needed to go to the gay bar, "Rainbow," to find the alleged pot of gold while Charlie went about getting the pot of gold the best way he knew how: drinking paint and threatening to torture the leprechaun. Throughout all the interactions between the two, it was fairly obvious that they weren't really listening to each other's ideas, instead focused on what they were thinking. Charlie's repetition of "I'm not really sure where we landed on that" proved that it truly didn't matter where they landed, he was going to do his own thing regardless.
All of this resulted in an incredibly funny episode of It's Always Sunny because the show shines when the gang is simply being themselves. When Dennis is a control freak, when Dee is actually right despite no one taking her seriously, when Frank is off in his own world, when Mac is not so successfully attempting to hide that he might be gay, and when Charlie is for some reason drinking and sniffing weird things, that's when the show is at its best. While overall the concept for this episode was simple, it proved to be one of the best this season for exactly that reason.
Favorite Moments:
-Dennis trying to present his idea to the gang, who kept interrupting him.
-Mac's belief that the "Irish Honors System" would work.
-Charlie dancing to "Stuck in the Middle With You."
-Dee and Dennis ironically having to take an over-priced Uber to get back to the pub.
-The gang's ultimate conclusion that the stolen wallets should be kept by them because of simple "Irish luck."
Summary
The gang embraced St Patrick's Day in one of the funniest episode of It's Always Sunny in Philadelphia this season.