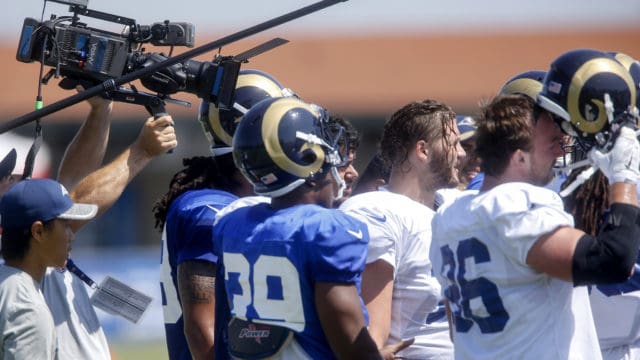 When you think about hard knocks the old idiom the school of hard knocks comes racing to mind doesn't it? You think of a tough upbringing, of a hard and demanding series of life lessons that leave the recipient either broken and wanting to quit or toughened and ready to face whatever comes their way. This is why the NFL and HBO have teamed together to bring forth the show Hard Knocks. The show features the transition of young players into the NFL and everything they must go through in order to make in the league. It's not an easy task by any means and it's meant to be hard to make the new players as tough as they can possibly be. This begs the question though, why aren't sports like the NBA, MLB, and NHL offered a show like Hard Knocks? Each sport is demanding in its own right and carries the same pitfalls when trying to get in. So why give another sport the spotlight?
So why is football such a media darling as opposed to the other sports? Here are a few reasons that might shed some light on the subject.
More people watch football on a regular basis.
Per year the fan turnout for the NFL is much, much greater than any other sport. Each sport has a healthy fan base, but during the NFL regular season the numbers of fans that attend and those that watch on TV skyrocket to massive levels that the other sports can't compete with. There have been arguments over which sport is the most popular for years. In March basketball is the sport to turn to, in the fall hockey becomes a favorite of many, and baseball has of course always been America's favorite pastime for as long as anyone can remember. The stark truth however is that the NFL draws more of a crowd and as such is seen as far more lucrative to focus on.
The caliber of the athletes is just that much greater.
There's no offense meant to any athlete by this statement, but the NFL tends to produce athletes that are almost on par with Olympians more often than not. They're stronger and faster than many other athletes out of necessity, and the sport is that much harder on their bodies. The term "hard knocks" is not just a cute euphemism to use for the show. While many athletes suffer injuries throughout their career, football injuries are often far more prevalent and have a much greater chance of putting a player on the shelf for a very long period of time. This is why Hard Knocks is focused on football, or at least one reason. The athletes must go through hell to get where they're at, and even then they must continue to punish their bodies relentlessly to keep their spot. This is true of any athlete, but in football the punishment is just that much more severe.
The NBA, MLB, and NHL are all popular sports and deserve their accolades, but they're not football. They don't get the attention and their athletes aren't heavily-conditioned machines.
Save