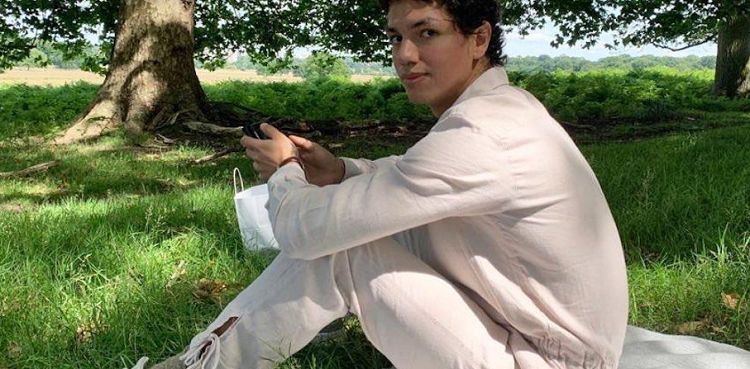 Isaac Hernandez is no stranger to entertaining large audience. He is a trained ballet dancer who has been performing all over the world for several years, and there's no denying the fact that he knows how to put on a good show. Now he is switching gears and taking his talents to the TV screen. He has a main role in the new Netflix mini-series, Someone Has to Die. The role is a big change of pace from what he normally does, but Isaac has risen to the occasion and it's clear that he has what it takes to be a successful actor. With a vast pool of talent, it's starting to seem like Isaac can do anything. Keep reading for 10 things you didn't know about Isaac Hernandez.
1. His Dad Introduced Him To Ballet
Ballet is typically seen as a feminine style of dance, but thankfully for Isaac, his father didn't see it that way. Isaac's father is the person who got him involved in ballet and encouraged him to keep going. The two have developed a very close blond over the years and Isaac things of his father as a mentor.
2. He Has Another Acting Job In The Works
Making the move from ballet to on screen work probably hasn't been an easy jump, but Isaac doesn't plan on being one and done. According to IMDB, he will also be appearing in the upcoming Mexican film, El Rey de todo el mundo which translates to "The King of the Whole World".
3. Ballet Makes Him Feel Free
The love that Isaac has for ballet is almost indescribable. He told Cos, "Discovering ballet was a moment of freedom. I'd never felt that in anything else that I did before. At first, I saw ballet as a way to test the limits of my body: to jump higher, do more turns, get stronger. It wasn't until a few years later I really fell in love with it as an art form. It started occupying a space in my mind, heart and emotions that I could only access when I was on a stage performing. I kept chasing that feeling of freedom at any chance I could get."
4. He Trained In The United States
Isaac was born and raised in Mexico but he did much of his ballet training in the United States when he attended The Rock School for Dance Education in Philadelphia. The school has been training dancers for more than 50 years and has a reputation for producing high quality talent.
5. He Has Worked With Several Major Brands
Ballet has turned Isaac into an international star and there are millions of people who marvel at his talent. The success he's had in his career has allowed him to have opportunities outside of dance. He is currently an ambassador for the luxury brand Mont Blanc.
6. His Brother Passed Away In A Tragic Accident
Even though Isaac has had a lot of high moments in his life, things haven't always been good. In 2005, he experienced a tragic loss when his brother, Albi, passed away in a car accident. Isaac fell into a dark period while dealing with his grief. To make matters even worse, he suffered a serious spinal injury shortly after.
7. He's A Big Advocate For Sustainability
Entertainment isn't the only thing Isaac wants to use his platform for. He is also a strong advocate for environmental sustainability. During his interview with Cos, he said, "There is a lot of work that needs to be done everywhere, from fashion to the food industry. We need to think of better ways to consume – and it's not just the responsibility of big industries and companies. We all have to re-program ourselves and be more conscious about our daily efforts on an individual level too."
8. He Received An Award From The Mexican President
The type of talent that Isaac has is something that doesn't come around very often. He is an arts and tourism ambassador of Mexico which has earned him outstanding artist award from the president of Mexico. Isaac is the youngest person to have ever earned this honor.
9. He Wanted To Be A Martial Artist
Ballet wasn't always the thing at the top of Isaac's list of dream jobs. When he was younger he was very interested in martial arts and had dreams of competing on a professional level. However, once he started dancing he couldn't see himself doing anything else.
10. He Hopes To Change The Perception Of The Arts
Sometimes being an artist isn't seen as a viable profession. After all, we've all heard of the starving artist stereotype, and that is genuinely what some people think of when they think of artists. However, this is something that Isaac hopes to change. He wants to show the world that there is value in pursuing the creative arts