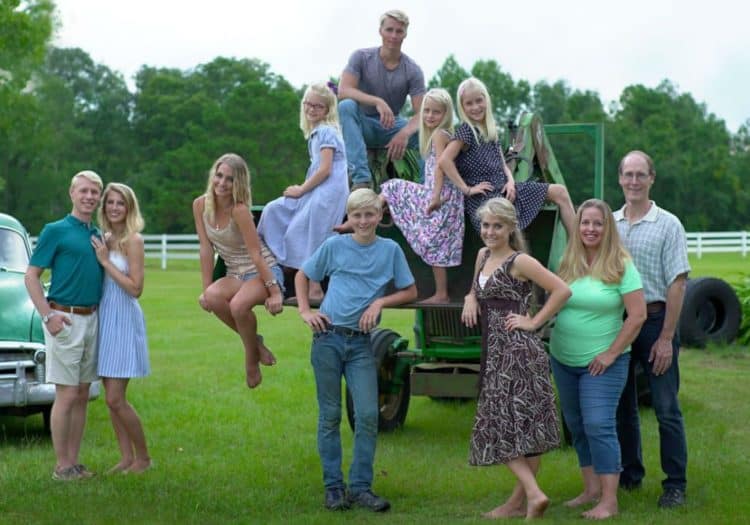 In a perfect world, kids would listen to their parents, follow the rules, and never question what their parents require of them. You know, get good grades, treat one another with respect, think before you speak, be a good person, and other things that seem like they'd make you a pretty cool person overall. However, that's not always reality. Kids are born ready to test the waters and the limits and the boundaries their parents have in place. Experience is, after all, the very best teacher. With that in mind, let's talk about the Plath family. You might know them from their TLC reality show, "Welcome to Plathville," but it's all right if you have no clue.
It's a show about a family of nine – mom and dad and their seven kids – living in rural Georgia. It might not sound like a big, exciting deal. Many reality television families have far more kids than that, right? Well, this is a family who helicopter parent their kids by shielding them from every single thing the world has to offer. The Plath kids do not attend school outside the home. They do not use the internet or have television or anything that the outside world has to offer. They don't know what pro sports are. They don't know what a soda tastes like (I'm a fan of that one. We don't drink soda and none of our kids has ever had one – and our oldest is 12). They know next to nothing about what is going on in the world. But, some fans question whether or not this is really real or if the authenticity of this show is anything but. Let's find out.
Living Without
They have clothes and food and running water and all the things a normal household needs to survive, but they simply have no access to the outside world. Imagine not knowing what the Cheesecake Factory is or what Nordstrom is, or achieving Rouge Status at Sephora in the first three months of the year every year. It sounds awful, but it's more than that. Some people can live without materialistic things in life, but what happens when these kids grow up and realize they want to live in the real world? They are ill-prepared for it without any knowledge of anything. They'll never be able to interview for a basic job position. They won't know what is what or how things work, or even what they are looking at when they get to the outside world.
Is anyone else imagining Will Ferrell's character in Elf when he gets to the city and realizes he has no idea what anything is? It seems pretty on par for the kind of lives these kids are living. However, what other kinds of detriment are they living? We simply cannot even begin to go there.
Is This Real?
Right now, the world is wondering if this is even real. There are some inconsistencies that have fans wondering if it is all a lie. Reportedly, as we go into the second season of the show, some of the kids have moved out of the house and they are now living in three households. The family home is listed as a vacation rental on the Airbnb website, and some outlets have reported that the family bought a new home on a major highway – down the street from things like Walmart.
Other fans want to know how Moriah – one of the Plath girls – is so good at applying her makeup and how she knows what clothes are in style at the moment when she has no access to the outside world. They want to know why one of the Plath boys mentioned that his favorite thing to do is take a ride in his truck with his friends present. If you're not associated with the outside world or any of its influences, how do you have outside friends and the ability to do things like this?
Additionally, mom Plath is on social media. Their farmhouse – the one that is listed on Airbnb – boasts WiFi and a television, and there is some question about why the kids sleep in bunkbeds in the hallway. The simple question is this: Is this show real? We all know that many reality television shows are not anything close to reality. Rather, they are manufactured realities of the world that many people want to see, things that make it all interesting. Imagine being part of a family isolated from the entire world. That's pretty interesting, and you might tune in to see how people live like this. We don't know if it's real or not – though we suspect it isn't as realistic as TLC wants us to believe. Tell us what you think.