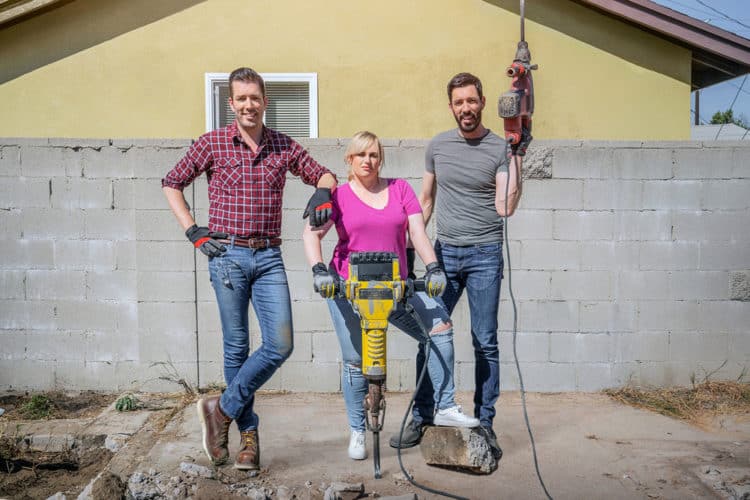 There's something about real estate and home design TV shows that people just can't get enough of. Every time it seems like there couldn't possibly be any other new ideas for these genres, HGTV reveals they have a new show in the works. That exactly what happened in 2020 when a new series called Celebrity IOU debuted on the network. During each episode, Drew and Jonathan Scott (the Property Brothers) work with a well-known celebrity to help surprise someone important in their life with unbelievable home renovations. Some celebrities choose to gift the renovations to an old mentor while others choose a family member.
Officially in its second season, the show has become quite popular among viewers, but there are lots of people who can't help but wonder if what you see is really what you get. After all, reality TV is known for being everything but real. Plus, since so many high-profile celebrities have been on the show, people are even more skeptical than usual. Now, it's time to get down to the nitty-gritty. Is Celebrity IOU fake? Keep reading to find out.
Is The Show Scripted?
When people ask if reality TV shows are fake, what they really want to know is whether or not the show is scripted. This question is even easier to ask when you know that a lot of the people on the show are professional actors. However, there is no legitimate information to suggest that Celebrity IOU is scripted. Still, it's a little hard to believe that people who are used to acting are okay with doing any kind of TV appearance without some sort of heads up. Either way, the show not being scripted doesn't mean that everything is as it seems. As with all other reality shows, Celebrity IOU is probably heavily edited for entertainment value.
In reality, though, if the show really is scripted, that information would be guarded so closely that regular people like us would never find out.
How Are Jonathan And Drew Able To Get Such Big Stars On The Show
Let's be real, usually, when a reality TV show claims to have celebrities, it's mostly people who aren't very well known or are past their prime. That isn't the case with Celebrity IOU, however. The show has featured some of the biggest names in the entertainment industry such as Brad Pitt, Viola Davis, and Drew Berrymore. And evidently, getting people to agree to do the show is easier than some people might assume. Most of the time, the stars come to them.
During an interview with Entertainment Weekly, Jonathan Scott said, "…around five years ago, we were at the Emmys and Viola Davis came over to us to say hi, and we told her about our idea for the show. On the spot, she said she had someone in mind and that we could count her in. We had the same reaction from all the celebrities participating in the show…" As the show continues, it'll be interesting to see how many other major celebrities they're able to bring in.
Who Pays For The Renovations?
Unlike several other shows on HGTV, budgets aren't something that get discuseed on Celebrity IOU. Apparently, there's some mixed information when it comes down to who foots the bill. According to Reality Titbit, the Property Brothers have stated that they always pay the costs for the renovations on their shows. However, the source also added that Brad Pitt allegedly paid for the renovations when he was on the show. There's a chance that other celebrities may have contributed during their episodes as well.
How Fans Feel About The Show
As with lots of other shows, viewers have mixed feelings about Celebrity IOU. While some people find the show entertaining on a surface level, others find it to be "cringe". In a Reddit thread about the series, a user named Poetryisalive1 said, "The interactions with the celebrities seem so unnatural and forced. I watched the rebel episode and they seemed so awkward, anyone else feel like this?"
Another user, thepastiestcanadian, added, "Anything that values surprise over ensuring the recipients of the gift actually like the finished product makes me cringe. A 3 minute tv reveal for ratings doesn't make up for wrong taste and having to look at a house you wish was different for the next 20 years. A tv show that actually goes over design with the recipient and figures out the exact styles they like before they start spending hundreds of thousands is much less cringy to watch."