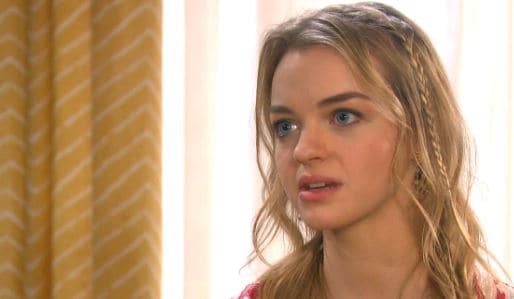 Days of Our Lives fans are 100 percent not upset that there was something going on that Chloe felt she had to address. We all watched as she made the decision to put Bonnie on notice, and we aren't mad about it. She's got to get this woman in her place before she messes too much with Lucas, and it's not good news for anyone. He's already a mess about whatever she's got going on in her life and what she's got going on in his life, and it's not good news for any of them. There's a lot of drama that might come from this, but there is also a lot of bad news that can be stopped by Chloe stepping in and getting territorial for him. She's not always willing to be that woman, but this is the day that she's going to let this all slide and let it all happen for herself.
And then there is Marlena and her sudden waking. She's up and alive, and she's not well. There is nothing about her that seems herself. There is so much joy that she's woken up from her coma and that pulling the plug on her machines was not a sudden death sentence for her, but this is too much for even some people to handle. She's unwell, and that is not something that she can handle with her family. Is there a chance she might not be herself anymore, or is there a chance that she might have a chance to ever be herself in the future? We are not entirely possible she's going to overcome what's happening to her, but there is a chance she might just work through whatever it is. In the meantime, their family has to deal with this added stress.
What's Happening on Days of Our Lives
Join me in wishing @kristianalfonso a VERRRRRRRY happy birthday 🎂🎁🎉🎈🎊 😘😘😘❌⭕️👯‍♀️ pic.twitter.com/EUleJ7ZwXJ

— Lauren Koslow (@laurenkoslow) September 5, 2018
It seems today is a very happy birthday day, and that sounds like one of those days we love the most. Are you in this game to see if you can get anyone to enjoy their special day? If you are, it's time to head over to the show's social media pages and start wishing your favorite police officer a very happy day. It's special to her, so it's special to us.
What's Next on Days of Our Lives
Marlena comes out of her coma, but she's definitely not herself. Watch Days of our Lives, weekdays on NBC. pic.twitter.com/DqLbOXJqJa

— Days of our Lives (@nbcdays) September 17, 2018
Gabi is legitimately off her rocker. She's losing her mind as far as Abigail is concerned, and she will do any and everything in her power to make sure this woman doesn't get her way in life. She wants to be entirely certain that she is able to get her man back into her life and cause this young woman to suffer the way she feels she mad her suffer. We hear that part of her plan this week is to drug her to make her do something awful or at least to feel as if her life is spinning out of her control. We suspect her main plan is to cause Abby to believe that her personality problems are returning. If we are not incorrect, we suspect that her sudden desire to drug Abby is to get her to lose time in her memories.
She will then tell her that perhaps her other personality is back or lead her to believe it is. This is a big problem for her, and she will not handle it well. We do suspect that Gabi is aware of this, and she's using that to her advantage. If she can get this young woman to believe that she's been overtaken by this again, she can get her to want to go back to the hospital where she was and leave Chad alone — again. And he might also decide he cannot handle whatever is going on. And that will be the final demise of their troubled marriage at this point. Could she make it work?
Stay tuned for more Days of Our Lives and be sure to check out TVOvermind daily for the latest Days of Our Lives spoilers, news, and updates.