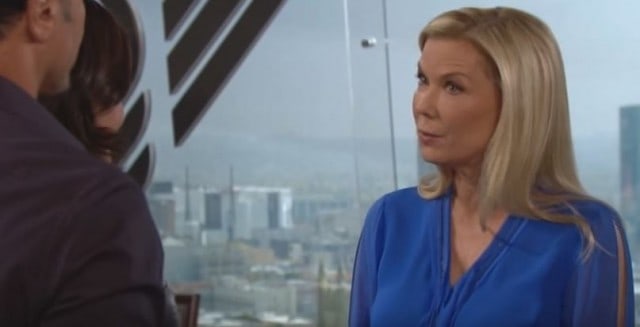 On Thursday's episode of The Bold and the Beautiful, the love triangles that plague this little community continue. Only this time it turns into something far worse; something far more sinister and something far darker. We say Wednesday that Liam is still so upset over finding Steffy asleep in Wyatt's arms when he returned from Australia that he ended their engagement. He has not told Steffy why he ended things, only telling her that she ruined it all for them. She is begging him in his office this week to stay, not to leave. He's packing up and quitting his job. He's so hung up on Steffy that he cannot even stand to be near her at this point because the pain is just too much. While this is going on, Quinn is in Wyatt's office telling him he needs to get it together and make his move. He will not make any moves, however. He will only be there for Steffy as a friend until he feels it is more appropriate. He rightly believes that as much as he loves Steffy, he can't make her love him if she's still in love with Liam. Right now he will simply be everything that he knows Steffy wants in a man so that perhaps she will begin to see him in another light. Quinn isn't overly satisfied with this, and it seems that we will see on Thursday and a bit of an encounter between her and Liam in the parking lot.
We've heard rumors in the past week that this encounter might begin as an off chance, the two running into one another and Quinn using an opportunity that presents itself to make things go her way for her son. Is this finally the episode in which Liam collapses in the parking lot and Quinn leaves him there to die so that he's out of the way? If this is not the time it happens, it is the time we will see Liam meet Quinn in the parking lot and the rest will come on Friday. However, we do know that he is suffering from some health issues. Some suggest that perhaps he is suffering from a head trauma from falling in the bathroom on his flight, others suggest that he might actually have some undiagnosed medical issue that is posing problems for him at the moment. Either way, though, he is not in his right mind and Quinn is going to go out of her way to make sure that this stays her little secret. She doesn't need some medical issue keeping Liam and Steffy together when Wyatt wants her so badly.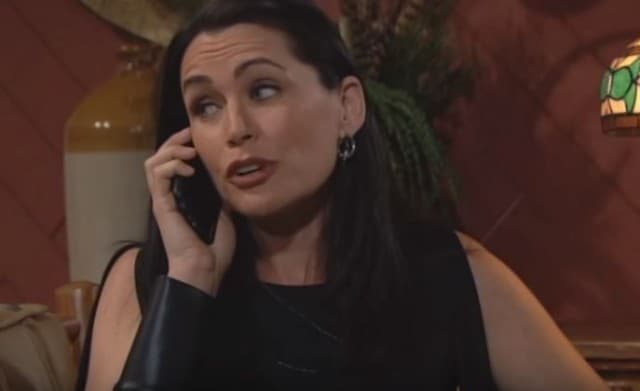 Even Katie is getting in on the action with Steffy and Wyatt, pondering whether or not they might make a nice couple now that Liam no longer wants her. However, she might want to be careful what she wishes for since she is living the same love triangle that has been going on for almost everyone in this town. Beside the fact that Wyatt is doing everything in his power to be the person that completes the triangle with Steffy and Liam, Katie is smack in the center of her own little love triangle, only she has nothing of a hint of an idea that this is happening. Her sister is in love with Bill, she's invited her sister to work with them, and now they've shared a romantic and very passionate kiss in Bill's office. It's still awkward between everyone but Katie, and it's not getting any better. It seems there is a chance she might begin to suspect there is something going on.
Zende is just as confused as he was when Sasha first approached him about the fact that Nicole had them fired. He's confronted her, she admitted her jealousy and now we will see if Zende reaches a conclusion. He's not sure how he feels about his girlfriend anymore, and it looks like Thursday might just be the day he decides the no longer has time for her petty drama and her immature behavior. Since he and Sasha worked together, he's seen a side of Nicole he didn't know existed and he does not like it. Sasha is going to be very pleased about this turn of events, too, as she is using this little love triangle to get her way and destroy that Avants.
Photo Credit — YouTube