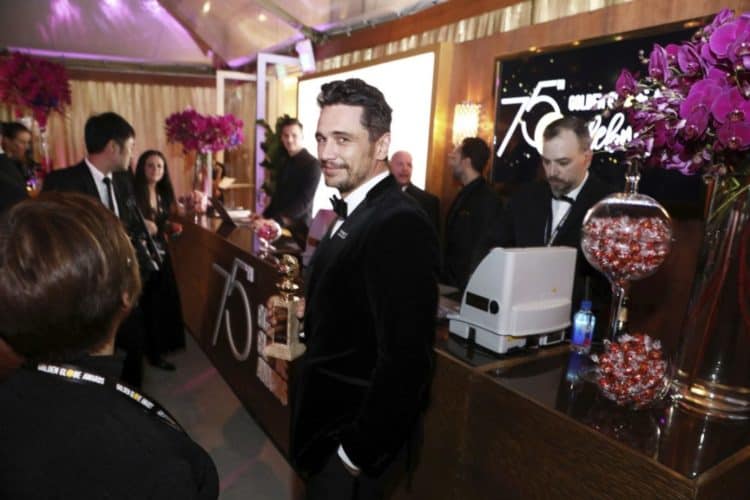 It has certainly been a while since we have seen former Hollywood superstar James Franco in a leading role. I still remember in the early 2000s when I only knew him as Harry Osborn, better known as Peter Parker's best friend. He would eventually become the new Green Goblin, but that didn't really pan out the way we wanted it to. Still, becoming Harry Osborn would help catapult him into stardom and would eventually make him a household name. As we approached the 2010s, the popularity of James Franco would only grow. Eventually, he would earn an Academy Award nomination for Best Actor for 2010's 127 Hours. That is arguably his best performance, but then again, there are many to choose from.
For instance, the last time we saw James Franco in a leading role, it was actually kind of hard to recognize him. By the end of 2017, the actor/director would play the role of a lifetime: the infamous actor/director, at least in his mind, best known to the B-movie fan community as Tommy Wiseau. Who is this man? Oh, nobody too famous, except he's responsible for making the greatest bad movie you will ever see. It was once labeled as the Citizen Kane of bad movies, the 2003 cult classic known as The Room, is Tommy Wiseau's crowning achievement.
If you haven't seen The Room, you're missing out. About ten minutes in, you'll probably think it was meant to be some kind of bad parody movie. I assure you, it was intended to be anything but. Despite what Tommy Wiseau may say nowadays, The Room was always meant to be a serious movie. Now a serious movie about what specifically remains a mystery to this day. What inspired Tommy Wiseau to make this movie? Honestly, the only person who really knows the answer to that question is Tommy Wiseau himself. James Franco actually never figured it out, but he didn't care. He saw the movie, read the book that inspired the movie, and decided he should write, direct, and star in the adaptation known as The Disaster Artist. Now if you want to talk about the best James Franco performances, Tommy Wiseau ranks at the top.
Playing Tommy Wiseau in 2017's The Disaster Artist earned him a Golden Globe for Best Actor in a Comedy or Musical, as well as a nomination for a Screen Actor's Guild Award. And to top it all off, The Disaster Artist received an Academy Award nomination for Best Adapted Screenplay. Without a doubt, the success of The Disaster Artist is one of James Franco's most crowning achievements. Unfortunately, the success of The Disaster Artist was soon overshadowed by the string of controversies that subsequently came out about James Franco following the movie's release.
The Disaster Artist came out shortly after the MeToo movement gained its footing. Shortly after James Franco announced his support of the movement, a handful of women accused him of sexual misconduct. After that, his career seemed to have just taken a big pause. Ever since The Disaster Artist, he hasn't really been in anything too big and hasn't had a leading role, with the exception of 2019's Zeroville. That was hardly a comeback, however, given that it wasn't well received. At that point, it seemed like his career would never get back on track. Well, it looks like that's all about to change. For the first time in five years, James Franco will once again play a leading role in an upcoming crime thriller called Mace.
The details on this movie feels like a remake of the 2001 film Training Day. James Franco will be playing the titular character Mace, a deeply corrupt cop who will be at odds with his more well-intentioned partner. While his partner believes in the system and works to be an ideal police officer, Mace will pit rival gangs against each other in order to conceal his corruption. Yeah, that sounds a lot like Training Day. Not that I'm complaining, because Training Day is one of the best cop movies ever made. This movie does excite me, and it should be interesting to see James Franco play a villain again. He hasn't done it much in his career, but he certainly has the talent to pull this off.
This was unexpected news, given that James Franco's career did take a serious blow due to the allegations made against him in 2017. While he hasn't faced any serious charges as of now, it still hasn't helped his reputation, which will likely never fully recover. I have to admit, however, this news about the upcoming Mace thriller does give him some momentum. Granted, it's far too early to call this a comeback for James Franco. The point is, having him in a leading role once again could help him revitalize his career. Could it ever reach the same heights as it was before? Maybe not, but at least this is a chance for him to get back in the saddle again.
What do you think, James Franco fans? Could this be a real comeback for the actor/director? Again, it's too early to say, but the premise of Mace does sound intriguing to me. Let's hope that this does at least put James Franco back into the public eye. And after that, who knows? This can go either way.
Tell us what's wrong with this post? How could we improve it? :)
Let us improve this post!