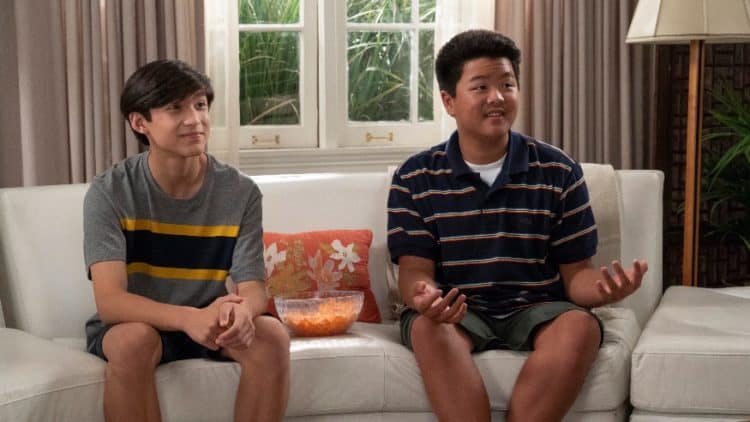 Fresh Off the Boat is an ABC sitcom centered on a Taiwanese-American family called the Huangs. The name of the show comes from a phrase used to indicate people who haven't assimilated into the host nation's culture. Under certain circumstances, calling someone a FOB can be a serious insult. However, there are also groups of people who will use it to refer to themselves with a sense of pride. As such, the use of FOB can be pretty complicated, though to be perfectly fair, that is true for most things when it comes to immigration.
Was Fresh Off the Boat Based on a True Story?
Regardless, Fresh Off the Boat was based on a book called Fresh Off the Boat: A Memoir, which was written by the food personality Eddie Huang. Chronologically, the book covered everything from his childhood to his rise in the food scene of New York City. Topic-wise, it was very much focused on Huang's experience as a Taiwanese-American, his relationship with his heritage, and his relationship with his cooking. On the whole, Fresh Off the Boat: A Memoir was an excellent example of a book about the immigrant experience, though rougher and rowdier than a lot of those because Huang wasn't shy about revealing the less pleasant side of things.
What Happened?
Unfortunately, that is the cause of the divergence between Fresh Off the Boat and Fresh Off the Boat: A Memoir. Essentially, what ABC wanted was something that would appeal to the biggest and broadest viewer base possible, meaning that it wasn't particularly interested in making an authentic adaptation of Huang's book. As a result, while there are certainly strong similarities when it comes to the broadest strokes, the finer details are so different from Huang has literally stated that he couldn't recognize what was supposed to have been a representation of his own life.
Examples are a useful way to get a general idea of the similarities and differences between Fresh Off the Boat and Fresh Off the Boat: A Memoir. For starters, the Huang family still moves from Washington, D.C. to the state of Florida. Similarly, the Eddie Huang of the show likes hip-hop, which is something that the real life Eddie Huang likes as well. However, the show is a sitcom through and through, meaning that it has removed pretty much everything that might have going against that. This can be seen in how it includes none of the uglier elements of Huang's life, with examples ranging from how his grandmother had bound feet to how incidents of domestic violence came very close to tearing his family apart. On top of this, it should be noted that there is a significant difference in emphasis, seeing as how Fresh Off the Boat isn't concerned with authenticity so much as sitcom humor.
The best example of this might be a scene involving macaroni that was in the book but was cut from the show. In short, it is based on Huang's surprise when he came upon macaroni and cheese for the first time, which was so completely and utterly foreign to him that he thought that it might have been cut-up pig intestines served in an orange sauce. However, when the scene came up in the show, Huang objected on the basis that the humor lied in the macaroni and cheese being bad macaroni and cheese rather than it being something completely and utterly foreign to who he was, which would have served as a great way to provide some insight into the immigrant experience for people with no understanding of it. Unfortunately, the people behind the show eventually made the choice to just cut out the scene altogether.
Eventually, Huang became so disillusioned with Fresh Off the Boat that he stopped being involved with it in more than a very perfunctory sense. As a result, the show went through further changes, with an excellent example being how it shifted focus to the rest of the family instead of presenting things from the perspective of the show's version of Eddie Huang. Nowadays, Huang remains less than enthused about how Fresh Off the Boat has turned out, though he has expressed sentiments that it can be seen as a stepping stone to more accurate depictions of underrepresented cultures in the future.
Tell us what's wrong with this post? How could we improve it? :)
Let us improve this post!