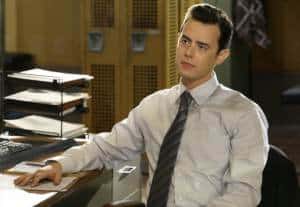 As FOX's cop comedy The Good Guys prepares to resume its first season this Friday, star Colin Hanks (Det. Jack Bailey) was kind enough to join us for a chat about not just life in the Dallas Police Department, but the show's new time slot, his Twitter account, and being tased (but not really). Also, he makes a really awesome Internet friend, even though he's a San Francisco Giants fan. I'm just saying.
I have to say this is kind of cool because I also follow you on Twitter. I was just tweeting about getting to interview you.

I sort of started twittering or whatever you want to call it to sort of get more personally involved. Normally, conversations like these and TV appearances were all that I was doing, so I sort of took to the Twitter as a form to sort of personalizing things a little bit.
I will say that it's definitely been interesting from my perspective, having made sort of direct contact with people and direct feedback from people in terms of people who really liked the show or people who really hate me. That's what happens when you get that direct line. But I like it. It's been a lot of fun. We've definitely been using it quite a bit on the show. It's been a fun experience of what is now officially the new era of social interaction.
As a Padres fan, though, I have to give you grief about being a Giants fan.
I'm sorry about your Padres fandom, but we can still be Internet friends.
You're coming back with a pretty great premiere episode ("Vacation") as well. Did you have a favorite moment from the new season so far?
To be honest, we're still so much very in the thick of it in terms of filming the show. Everything blurs together. People say, "Oh, the premiere is 'Vacation." I go, "I have no idea what that means."
"It was episode 107."
"I have no idea what that means."
"It's the one where you guys get suspended."
"I think I kind of remember which one you're talking about."
So for me, it all sort of blurs together. What I really love is I love the show. I love the relationship that Dan and Jack are sort of growing. More than anything, I love just making the show. There's not really a specific scene that pops to my mind because that's like a Sophie's Choice. There's scenes in every episode. I can't pick one more than the other.
How much improvisation goes on with this show? It seems like you would be in the perfect position with this show, to really have some fun with it.
Well, quite honestly, there's not a whole lot of improv. I've really got to tip my hat to the writers. They really set things up so perfectly that we're able to pretty much do what's on the page, and that's fine. We'll add little variables every now and again. We'll never straight up improv anything. We'll always have the base–the script, the text, whatever you want to call it–and that will always be sort of set in stone, but then we can extrapolate off that and sort of play with things.
Bradley's very, very good at sort of throwing out random phrases and saying random things that end up making everybody laugh. Every now and again, I'm able to throw in something that I think is the button to a scene and then Brad comes in and puts a button on top of my button. I always call him the one-upper because he always tends to one-up me somehow. The show and the characters are so well written and the banter between them that we're able to just sort of play off that and do that. Luckily even with the most of fine-tuned precisely chosen words, we're still able to deliver in a vein of feeling like improv.
It might be the hardest thing in comedy to play the straight man because you have to kind of keep everything in line. How has that been for you, having to play the straight man off of some of the more quirky characters on the show?
There are times that it's been a little bit of a challenge. There are times where you sort of wish you could also chew all of the scenery as well. But more than anything else, I think this job is really made me appreciate the art of the set-up and the really just trying to set things up for Bradley [Whitford] as much as I can or for any of our guest stars as much as I can. Some of it is just in the delivery of a joke. Sometimes it's in the suggestion of what a joke is. Talking with the writers and saying, "Well, what if Dan sort of came and said this or this guest star said that." Sort of being involved in the set-up.
What I've realized is it's not so much who gets to say the joke but how the joke is delivered. I have as much fun if not more fun setting someone up for a joke than I do delivering one.
What appealed to you about the role of Jack Bailey? Because being the straight man isn't necessarily the fun role.
I like that he was a character that talked back. He wasn't a passive character that was constantly exacerbated by crazy people, zany people. So much of comedy sort of ends up being one guy who's really over the top and then the other guy that just simply reacts over the top to the zany guy. This was an open relationship.
Jack is a character that talks back to Dan and lets Dan know how he's feeling and comments on Dan's stupid ideas and perceptions of the world. He's active in expressing himself, and it's not just "Why is the world so crazy?" Jack is very much trying to make the world less crazy, while also maybe sometimes showing little bits of his crazier side. So, Jack sort of seemed like a well-rounded character in comparison to a lot of other stuff that was available to me.
Yet you've had your fair share of zany moments on the show as well. Having to see Bradley Whitford mostly naked in "Silvio's Way" comes to mind. How was that?
Yes, Bradley's attire was sort of an issue. I was actually gone the first day he shot in his green manny panties. I was actually going and getting married. So I came back and had no idea what idea he was wearing. Apparently somewhere it exists on film- we just decided to roll on the first take, and he strips down to his green underwear and there's a big, fat close-up of me and I just sort of take him in and then just start laughing uncontrollably. So yes, that was a very fun, funny episode, an arduous episode to shoot. Most of them are. The episodes can be pretty grueling just in terms of hours and stunt work, particularly reacting to the fake punches. I threw my neck out.
As with all things, filming of The Good Guys, it's a lot of fun but there's always a lot of pain mixed in and you can only really appreciate it once you're counting the bruises. But when you're getting them it's really hard. It's also another lesson I've learned. It's like it's really, really difficult to put on a good face when you're hurting yourself and you're in pain, and people come up to you and say, "It's really funny." I always want to say, "No, just tell me it's really good." Because I don't want to be in pain and have you laugh at me. That is like a cruel joke.
My favorite moment has to be from the last episode, "Don't Tase Me, Bro." You got tased by Bradley, and as someone who has experience with Tasers, that was classic. Can you talk about filming that?
There was a video I saw that was actually really funny of a guy getting tased, who when he was getting tased, he sounded like Chewbacca. I remember going up to Jonathan Frakes, who was directing. I said, "Look, I would like them to do something with my voice. I think that would be really funny, but I know that that will never happen because I have no control over sound or anything like that once we're finished making the episode. So, I want to try and do something here that's kind of like that.'But I also needed to make sure that whatever action I did was extremely identifiable since so many other people in the episode then copied whatever Jack did. So I just sort of put the hands up and did the little back and forth and the tase and there you went. Ironically, the entire crew did the tasing for me on the last day of the episode, which was very funny.
For some reason–I don't know why–but when my wife saw the episode, she laughed a laugh that I'd never heard before and laughed hard. That was a little disconcerting when your wife laughs really hard at you getting tased. She had to watch that like three or four times, and I was just like, "What? What does this mean? What does this mean to our relationship? You're enjoying this a little too much." Never seen her laugh like that before, but it was great because then I realized, "Oh, we sort of did something right there."
I had the chance to talk to Coby Bell from Burn Notice last month, and he had said that he had read for your show, which made me think if the opportunity came up, would you want to do a spot on Burn Notice?
Oh, yes. I'll do a spot on Burn Notice, but only if Good Guys is still going on.

To conclude, I was wondering if you had any thoughts on the new Friday time slot, especially being paired up with Human Target, because that seems like a really interesting combination.
I think wherever Fox would like to have us, we would be happy to be in that slot and to hopefully entertain as many people as humanly possible.
Our thanks to Colin for a wonderful interview. The Good Guys comes back tomorrow, Friday, September 23 at 9 PM on FOX, and we'll return with a review of "Vacation" that night!