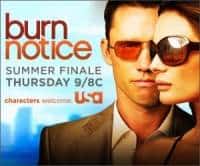 The first half of Burn Notice's third season has been funny, gripping, action-packed…can I just say its been awesome and call it good? Its amazing how this series seems to get better and better every season, and I'm not the only one who thinks so. This summer Burn Notice has been breaking USA Network's ratings records left and right, and has been out performing network television shows in certain demographics as well, a feat that should never be taken lightly for a cable television series. Tonight, the first half of season three comes to a close, and we'll be forced to wait until the spring before we see Michael, Fiona, and Sam again. TVOvermind got an opportunity to talk with both Bruce Campbell and Sharon Gless on a recent conference call where they discussed fake blood, how long they'd be willing to stick around on this show, and just what we might be seeing tonight on the mid-season finale.
When asked how their character's would react if Michael did manage to rejoin the company as a spy, Bruce said,
"Sam was in the same boat, and I think he'd be happy for Mike to get back in, even though it looks like it's borderline not worth it based on what he has to go through and I think Sam is a little bit of a canary in the coal mine. He doesn't like it when Mike puts himself into very dangerous situations with really sleazy people in order to try and do this and in the episode we're shooting right now that comes to a head where Sam refuses to help him because he's doing stuff that is too questionable. So Michael's going to get in pretty deep. We'll see how deep he gets in. And if he winds up going back in, I think Sam would miss him because I think Sam has enjoyed getting back to work instead of just drinking and hanging out with rich Miami women. I think he's enjoyed tailing people and pulling up some of the old skills again. It kind of gets the cobwebs out, gives him a reason to get out of bed."
Michael and Sam's friendship has certainly evolved since the first season of the show, when Sam informed for the FBI behind Michael's back for a short time. I think its safe to say that Sam would never do something like that again, at this point, without Michael's knowledge beforehand.
Sam is a very upbeat, humorous, ex-military man who loves to have a few drinks, at almost anytime of day. This goes against some of the dark stereotypes we're used to seeing in shows like this, where the ex-military guy is usually more straight-faced and uptight, for lack of a better word. When asked why Sam is such a fun-loving guy, going against this stereotype Bruce had this to say,
"I think my character is actually more accurate. I think I run into some of these guys. My first wife remarried a police officer, and I'll tell you these guys like having a good time when they're not working. They don't sit around mopey dope, they sit around and crack gallows humor, lots of gallows humor, dark humor. Frankly, I think they're happy that they're alive most of these guys after going through all of this and they have a good joie de vivre that the average executive might not have. So I should think Sam is very indicative of the real guys, you know guys who are my age who have mustered out in their 50's. Believe me, most of them are drinking beer and sitting around a pool cracking jokes about the old days."
Sharon Gless, who plays Michael's mother, Madeline, added, "these guys who see so much really do have a very macabre sense of humor. And I do think that's how they stay sane."
Bruce was also asked about the fighting styles used on the show. About how they differ and whether or not the technical advisers use any specific martial arts.
"I can say that Artie Malesci is mostly responsible because he's the stunt coordinator who has just been nominated by the way for an Emmy. Basically Artie and Jeffrey Donovan are very involved in any of their fights. Jeffrey is equally as involved in his fights, because he does have training, he does have background in martial arts. So those guys will work out something and they knew it was not going to be the John Wayne punch, punch break a chair over somebody's head, which is much more like a Sam Axe. And my job has been to differentiate between old school fighting and new school. Sam Axe would break things. He would use things as props and weapons. He'd be a little more old school. Michael and Sam got into a fight and I think Michael went easy on him. So we try to make the martial arts different because as a spy you are going to use more advanced techniques. He's had to fight Russian guys who knew a certain type of technique. So I think that's the best I can explain it. We are actually trying to be slightly different, using cool quick moves, not the standard fight scenes."
Sharon Gless is most known for her seven seasons on Cagney and Lacey, which began in 1982. In tonight's episode Gless is reunited with her Cagney and Lacey partner, and friend Tyne Daly. Gless was asked if the reunion, of sorts, was a good experience or not.
"It was wonderful. And I'm not just saying that. Tyne Daly is one of the finest actresses I've ever met or ever had the pleasure of working with. It was just like old times. I mean they were different characters, but we know each other now and her mother had a great expression. Okay, her mom said, 'Sweat makes a great cement.'And she and I sweat together for six years and we just know each other's timing, we know, and we love, we love to rehearse, we love to work, and it was a real treat for me and I think for all of us to have her on the show."
Bruce Campbell also confirmed that the experience was fantastic to watch for himself and the rest of the cast and crew. Gless also said that she'd love to see Tyne Daly return again, and that Tyne definitely wanted to return as a bad guy on the show.
But that brings to mind, just how long does Daly have to reappear on the show? Burn Notice was recently picked up for a forth season that will begin next summer, but how many more years can we expect to enjoy this fantastic series, and will the stars be around for the whole ride?
Sharon responded first saying,
"I don't know. I mean the show — it used to be in the old days when you signed a contract, it was for seven years. But in this day and age, I don't know. I do think it has some longevity."
Bruce pushed her to give a number and she finally went with seven seasons. Bruce went with eight saying,
"The reason I say that is because Monk went eight and we're outpacing Monk in the ratings. And so we're kind of the new tent pole for USA, and I think we're going to be around for the long haul and mentally, I have to say, I'm not looking over my shoulder. I'm fully prepared to ride this show to the bitter end because it's — why, what am I looking for? Actors always seem like they're looking for a better gig. This time I can't, there is no better gig. This is a good gig, and I'm happy to ride it until it ends."
Sharon finally agreed and added,
"Yes, right. So I'm just playing myself and I hope they let me stay the whole time."
And naturally, no interview with Bruce Campbell would be complete without some kind of horror related question, and this one was no different. In one episode this season Sam gets to help make some fake blood for a mission, and with all the personal experience Bruce has with making homemade blood, the question came up to whether this was done on purpose, and if, in fact, the recipe used during the episode was the ultra-super-secret Evil Dead recipe. While Bruce wouldn't divulge his recipe, he did give us all one of our very own to try out.
"I don't know if that was assigned to me. It just sort of fell in. Every week we make stuff, so we have different things where you hold this and someone does this. It made sense that I made the blood, certainly. It wasn't the exact Evil Dead recipe since I wouldn't want to give it all away. It's far too secret, just like military secrets, … this shows you how in this show you really can make an incredible amount of different things in your kitchen and fake blood is certainly one of them. It's one of the cheapest, for anyone making a horror film, it's probably the cheapest prop you can get. It's mostly Karo syrup, red food coloring, a little bit of cremora, and a drop of blue to make it not get too pink, you know, too bright."
Thanks Bruce, that'll certainly come in handy when making our next TVOvermind horror film.
Below is a preview gallery with a few promotional images from tonight's episode of Burn Notice. The mid-season finale of Burn Notice airs tonight at 9pm EST on USA Network.
[imagebrowser id=47 template=flipped]
[nggallery id=47]