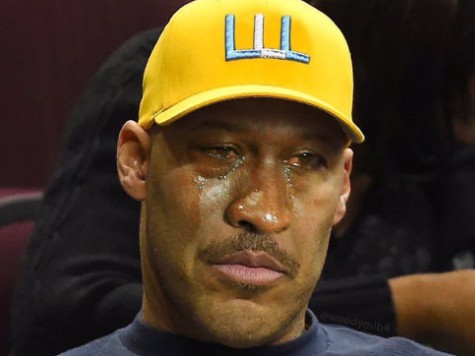 Normally a photo like this is devastating. It's the picture of a father whose son just lost one of the biggest games of his basketball life. After UCLA lost to Kentucky last night, LaVar Ball wept for his son Lonzo Ball who he's been touting as being one of the best NBA prospects of all-time. The press that LaVar Ball has been receiving has mostly been bad. Many people, including myself think that his ludicrous statements like his sons being better than Steph Curry or that he himself would beat Michael Jordan in a game of one on one, are absurd, dangerous and just flat out bad for basketball.
So while the photo above would normally be a moment of empathy for most people, most people weren't even remotely empathetic to a man that's developed a tremendous amount of backlash because of his outlandish comments. Oh and he also "guaranteed" that UCLA would win the NCAA Championship because of his son's skills. Whoops. As soon as the game was over, the internet really let LaVar have it after UCLA got knocked out of the sweet 16.
Here are some tweets that popped up.
LaVar Ball guaranteeing UCLA will win the NCAA Championship #NeverForget #ComeSeeMe pic.twitter.com/vqeLh3i6Nc

— gifdsports (@gifdsports) March 25, 2017
"If I was coaching we would have beat Kentucky." – LaVar Ball pic.twitter.com/sUhOl6oPdI

— Bryce Wood (@woodymlb4) March 25, 2017
Lavar Ball: Lonzo Ball is better than Steph Curry right now!

Us: Lonzo Ball ain't better than Deandre Fox RIGHT NOW! pic.twitter.com/fpP9YWVm4U

— IG: BDahtTV (@BDAHT) March 25, 2017
Lavar Ball looking at Lonzo like pic.twitter.com/7T2u2DHDP9

— KC McBadBad (@kcgasaway) March 25, 2017
The irony that LaVar Ball is about to be photoshopped onto crying Jordan @DrewFranklinKSR @KySportsRadio pic.twitter.com/F2SzS3xqiC

— Stephen Sharp (@stephenissharp) March 25, 2017
@KingJames @ColemanESPN @KentuckyMBB live look in at lavar ball pic.twitter.com/Jh0RXs1abG

— Harley D. Z. (@Ezekiel21Mvp) March 25, 2017
Um, Mr. Lavar Bell..i DID try and tell ya. I most certainly did. You cut checks your son couldn't cash. I did warn you sir. I really did.

— Stephen A Smith (@stephenasmith) March 25, 2017
Anyone seen the Ball family tonight? #MissingPersonReport #MilkCarton #bbn @LavarBall pic.twitter.com/mjK5KH9Gw9

— Paul Wall (@Paul_Wall10) March 25, 2017
"Lonzo better then Steph, Lebron, and Westbrook, I could've beaten MJ 1 on 1" Yoo Lavar Ball WYA ? 😂#UCLAvsKENTUCKY pic.twitter.com/5fVN57ucHa

— Oscar (@notoscarwolfy) March 25, 2017
"Who is: LaVar Ball?"#JeopardySports #Sweet16 pic.twitter.com/iWiSEM90Hz

— Jeopardy! Sports (@JeopardySports) March 25, 2017