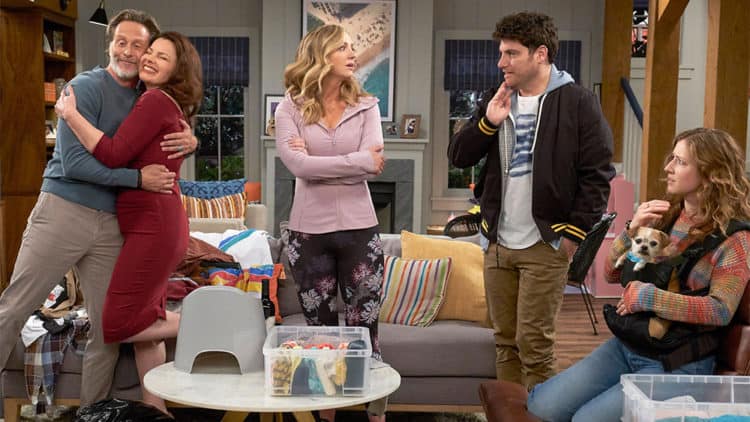 In the world of television programming, sitcoms have been a standard stay, and they bring the much-needed humor as well as impressive storylines. There have been several sitcoms decorating our programming and looking at their success; we are sure that they will continue to push the comedy genre. One of the latest shows in this genre is NBC's Indebted. It premiered on the 6th of February 2020. At the moment, it is getting so much hype and is sure one of the programs to keep up with. If you have not yet watched the show an are curious to find more about it, let us give you a brief spoiler with 10 things you did not know about Indebted.
1. The Show's Plot
When it comes to series, the plot is essential and ensures a smooth transition from one episode to another. It also builds a strong foundation for succeeding seasons. When it comes to Indebted, the plot is fascinating. As from IMDb, the show focuses on young parents who want to take a break from parenting for a while. However, their season of bliss is cut short when the husband's parents show up suddenly, and they are broke after misusing their finances. They then realize they have another parenting task at hand.
2. The Cast
The cast is critical in sitcom programming, and they help bring the various characters to life. For the new show on NBC, the cast is awe-inspiring, and they give the show the immense star power it deserves. For the main cast, we have stars such as Adam Pally, who takes on the role of Dave, and Abby Elliot takes the part of Rebecca. The two are the couple seeking a break from parenting for a while. Steven Weber and Fran Drescher take on the role of Dave's broke parents. Jessy Hodges is Dave's sister.
3. Comeback for Fran Drescher?
When the show came through, one of the key points was Fran Drescher, whose comeback to television programming has been quite anticipated. If you do not know who she is, then go back to two decades back and reminisce The Nanny. This was a popular sitcom show in the 1990s, and it brought Fran a ton of nominations for her starring role/. She took a break from television and mainly featured as a voice-over artist. Her stint in this show has been great and can be summed as an excellent comeback.
4. Critical Response
The critical response dwells on the views of critics after they go through the show and focus on aspects such as storyline, characterization, and many more. So far, the program does not have impressive critical ovation, with sites such as Rotten Tomatoes giving it a 20% rating. Most of the critics believe that the show has a lot of room for improvement, especially with such immense star power. Other critics also point out its humor as off-color. Hopefully, the show will improve on these aspects as it progresses to other episodes.
5. Viewership
Despite having the not-so-positive reviews from critics, the show has an excellent viewership figure. For its premiere, it had a 2.12 million viewership figure. The bad news is that the amount of viewers seems to be gradually dipping as at the moment it is almost 600000 less than its premier. Pointing to the critics' views, the show needs to maximize its star power to get the best numbers and make it a success.
6. The 'Everybody's Talking About' Tag
The development of the episodes is very important, as severally hinted, for the success of the new show on NBC. One area it seems to be bringing out its creativity is on the title of each episode. It takes on the Everybody's talking about tag, with the main subject following. This is a great approach that shows the uniqueness of Indebted.
7. Support to the LGBTQ Community
The LGBTQ community is one of the minorities in today's social landscape, and their difference comes courtesy of their sexual orientation. The show features lesbian characters, and one of them is Joanna, Dave's sister. It shows the acceptance aspect when it comes to such individuals. According to Wikipedia, Fran Drescher is a staunch supporter of LGBTQ rights, and she shows this side on the show. It is a great move to support this minority group, as it attracts support from its lobbyists.
8. It Is A Dan Levy Creation
You might be impressed to know that the show is a creation by Dan Levy. If you do not know who Dan levy is, he is an accomplished comedian who features heavily in the standup scene. He is also an actor and a writer, and Indebted is one of his creations. You can get a dose of his humor style from the sitcom.
9. Progression
At the moment, the show is only four episodes long and you can catch up with it on NBC if you want to keep up with its humor. Still on its first season, you can tread with it as it develops and brings more life to its characters.
10. Humor Style
One thing that sets Indebted apart from many sitcoms is the humor style. The style has satirical impression with a touch of sarcasm. If you love such humor then the show will impress you. Though, some critics point it as flat and at times being overdone to a point of being tasteless.
Final Thoughts
Indebted is the new kid on the block in sitcoms. The standout factor it brings, aside from its great tongue-in-cheek moments, is the star power. It has various accomplished stars who can bring their A-game in any project. The show is still in its baby steps though as it progresses we expect much from it both critically and also in numbers. Catch it on NBC to appreciate the creativity put into it .