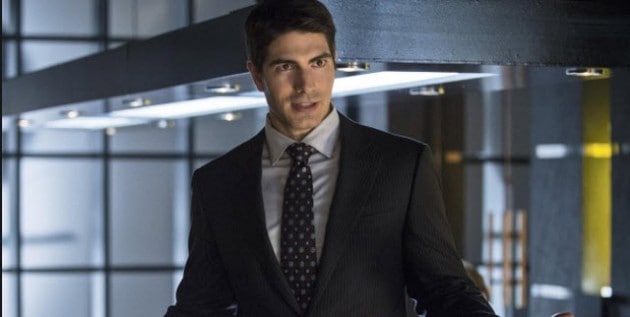 This weekend we got some news about the ever-expanding DC TV universe, now currently two shows deep with Arrow and The Flash, both having just been picked up for new seasons. The third show looking to join them is rumored to be an Atom series, another Arrow spin-off which would focus on Brandon Routh's Ray Palmer character.
"We're in very early talks in a very general idea that we haven't gone deeper on yet," Greg Berlanti told reporters yesterday at the Television Critics Association winter press tour, with Routh noting he would like to continue with the role.
The Atom is a DC character rarely seen in live action, but one that shares similarities with Marvel's upcoming Ant Man (played by Paul Rudd). He can shrink to microscopic size, yet retain his normal strength, very, very similar to Ant Man. Past that, however, he can control his atoms directly, which can do things like allow him to glide through the air by decreasing his mass, or punch through walls by increasing it.
So far, we've seen Routh's Palmer do none of this on Arrow yet. We only just started seeing Routh beginning to build the suit for The Atom, as he's mainly been focused on taking over Oliver Queen's company and flirting with Felicity. If he got his own show, that would mean poor Felicity Smoak would be romantically involved with all three CW DC heroes.
I really do like Routh's character on Arrow, but to me it doesn't seem like as natural of a fit as Grant Gustin's Barry Allen getting his own Flash TV series. Given that The Flash is now The CW's most-watched show, I understand why they're considering the idea of a new DC spin-off, but I'm not sure The Atom should be it.
With two white male leads anchoring both Arrow and The Flash, I have to admit that the prospect of yet another white male hero on a DC/CW show bores me. I was sad to learn Supergirl was being made on CBS, but I have hopes that it will be a part of the Flash/Arrow universe anyway. But past that, Arrow has been setting itself up for something like a Birds of Prey spin-off, which could feature Arrow characters like The Huntress and Black Canary. Perhaps that would be a bit risky now, since everyone seems as if they really don't like Laurel (I think she's given too much crap by fans), but I still think at its core it's a more interesting idea than a show about The Atom, which is getting into pretty obscure DC territory.
Granted, people would have once said that Green Arrow was also too obscure of a character to co-star so prominently in a Superman-centric show like Smallville, much less eventually be granted his own series in the form of Arrow. Yet here we are, and Arrow has spawned its own little mini DC universe against all odds.
But I just think there's a laundry list of about eight other DC heroes and heroines who would be more interesting to focus on other than The Atom. Birds of Prey seems like an easy lay-up, and I'm still waiting for someone to figure out how to properly make a Wonder Woman show. Supergirl is a good start, provided it is indeed in the universe.
And I'm not even against another male lead for a show outright. Now could be the time to bring a new version of Clark Kent back. I'd say that they could do the same with Bruce Wayne, but Gotham has ruined any notion of that happening, and given how Smallville never even mentioned Batman in ten years, I'm guessing there's some kind of rights issue there.
But The Atom? I just don't know, even though there's now denying how charming Routh's performance as Ray Palmer is on Arrow right now. Rather than a purposefully planned move like introducing and spinning-off Barry Allen onto his own show, it seems like an afterthought, and I just don't know how The Atom's powers will carry a series. Though perhaps Ant Man will give us some indication of that.
What do you think? Do you want to see an Atom show on The CW?
[Photos via The CW/DC]
Tell us what's wrong with this post? How could we improve it? :)
Let us improve this post!