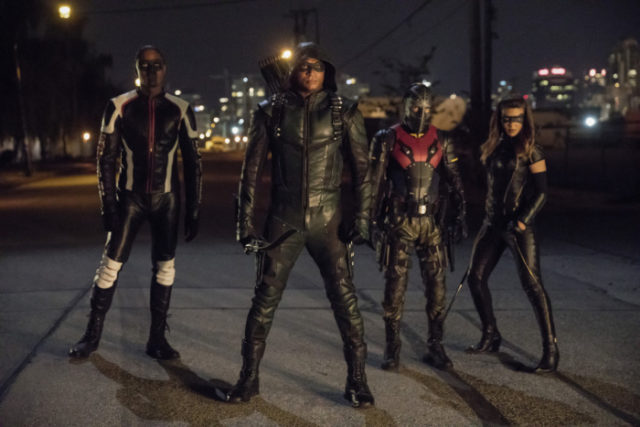 The twist at the end of last week's episode of Arrow, in which Oliver handed off the mantle of Green Arrow to Diggle in order to keep his promise to William, has been met with both positive and negative reactions from the show's fans, and I would be lying if I said that I wasn't a little uneasy about this turn of events going into tonight's episode. However, "Next Of Kin" addresses nearly every concern I had about this storyline throughout its running time, from how Diggle's physical condition would affect his new role to how the team would respond to him as the leader to how Oliver would second guess his decision to leave the team and ask so much of his best friend. If the end of "Tribute" was meant to shock and surprise viewers, then this week's episode is here to assuage the worries and fears they may have been left with, as it proves that this new status quo is not only functional from a storytelling perspective but also pretty damn satisfying from a character standpoint as well.
The character who undergoes the most growth throughout the hour is John Diggle himself, who struggles at times in the field during "Next Of Kin," not because of his tremor but because of his self-doubt. As Diggle explains to Dinah midway through the episode, he has never had to be the sole person on a mission (whether in Star City or overseas) calling all of the shots; in the past, he has always had someone by his side, someone to consult or listen to. The pressure that John feels to be absolutely perfect, to make the correct decision in every difficult situation, to know all the answers before the questions even get asked, is overwhelming, and it's understandable how and why this fear would cripple him.
Which is why it's so damn satisfying to see Oliver assume the typical Diggle role (which Arrow makes a little too obvious, with the jokes about the brooding that takes place in the Arrowcave) and encourage his best friend. Oliver believes in Diggle just as Dig has always believed in him, and Oliver reminds his teammate and friend of just how important that belief has been when he says that there would be no Green Arrow without John Diggle. Oliver explains how John was the person who convinced him to turn away from the names on Robert's list and focus on the actual criminals that were affecting Star City, a change of direction that put Oliver on the path of transformation that would lead to The Hood becoming The Arrow and, eventually, The Arrow becoming the Green Arrow.
In this moment, Oliver forces Diggle to remember the faith and trust he has put in him over the years and asks him to take that same faith and trust and put in himself because it will be the only way that he will ever be a good leader. As Oliver tells him, he's never completely sure about every decision he makes while he's out in the field, and sometimes, he has made costly mistakes, just like Diggle will as well. However, Oliver possesses the ability to make those decisions because he believes in himself and in his instincts; he trusts his gut and hopes for the best–that's what a true leader does. In Oliver's mind, Dig has an even better moral code and even better instincts than he has ever had in his life; therefore, if Dig can find the strength to believe in himself, he can become not just a better leader than Oliver but a better hero.
By the end of "Next Of Kin," Diggle makes some amazing strides as a leader, culminating in the thrilling sequence at the hotel, which features one of the most unique and entertaining fights that Arrow has produced in recent years (more of my thoughts on it below). But, unfortunately, Dig's moral compass turns out to be a little more askew than Oliver believes it to be, as the final scene of the hour reveals that Diggle is purchasing illegal drugs in order to control his tremor. While John's heart might be in the right place with this questionable behavior, as he's willing to do literally anything to help Team Arrow, there's no doubt in my mind that there's going to be some type of nasty side effects down the road that will physically disable John even more. Plus, the emotional fallout that will occur once Oliver, Dinah, and the rest of the team discover what Diggle has been up to will be enormous. However, at least these will be consequences from a secret that actually makes sense for Diggle to keep. This is a man who wants to not only be the best leader he can be for the team in the field but also to ensure that Oliver can maintain his promise to William and be more of a present dad now that the pre-teen has become a permanent fixture in the Star City mayor's life.
And speaking of Oliver's relationship with William, we see the former Green Arrow continue to make progress with his son in "Next Of Kin" thanks to a certain special someone who goes by the name Felicity Smoak. As Arrow has shown viewers countless times throughout its five-plus seasons, Felicity remains Oliver's best and most consistent sounding board, not only taking the time to listen to his problems but also give him advice. "You make things so simple," he tells her, after she recommends that he try to find a way to actually address William's concerns over his math test instead of just trying to wave them away. "Always have." And those words pack so much meaning, not only because they represent how incredibly helpful and caring Felicity has been for Oliver in the past but also because they illustrate that this bond between them, their relationship which has developed over these past five seasons of the show, has always made sense to him. Oliver Queen has always been in love with Felicity Smoak ever since he saw her with that red pen all the way back in Season 1; he might not have realized it in that instant, but when it clicked for him, it was simple–the two of them just fit, just like how Felicity also fits with William as Oliver watches her tutor him in math. As Oliver tells Felicity near the end of "Next Of Kin," she has continuously made his life better, and Oliver has made her life better as well (even though he's behaved like an idiot countless times over the past few seasons).
Furthermore, the key to Oliver's apartment that he gives to Felicity can actually be seen as a more significant gesture than the engagement ring he gave her back in Season 4. Why is that? Because this gift is not just an invitation to share in his life but also his son's. The Oliver of past seasons might not have been willing to open up William's life to Felicity. However, due to the remarkable evolution that the two of them went through last season (a great deal of it occurring thanks to the honest conversations that took place in "Underneath"), Oliver can no longer hide any part of himself from Felicity; he is fully vulnerable when it comes to her because he trusts her more than he trusts anyone else in this world.
Oliver understands that this apartment key is an important gift to Felicity, but even if he doesn't say it aloud, he knows that William is actually getting the greatest gift of all from this new development. And what's William's gift exactly? Well, William's getting more Felicity Smoak in his life, and as Oliver Queen can attest, that means things are only going to get better for him.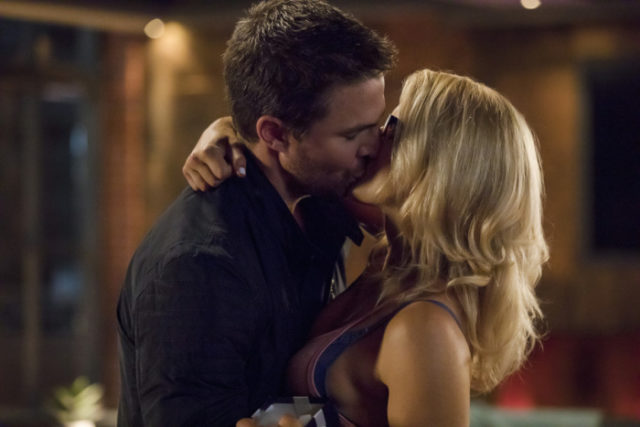 Other thoughts:
In addition to making moves in his personal life, Oliver also takes major action in his professional life in this week's episode by using his position as mayor to evoke Chapter 9 regarding Councilwoman Pollard's anti-vigilante bill. Oliver's choice to do this opens up the bill to a city-wide vote, so the public will finally get a chance to decide whether or not they want Team Arrow patrolling the streets and battling criminals.
Given the photos on the board in Watson's office, it looks like she has already figured out who the major players on Team Arrow are, but she hasn't put all the pieces together yet, as Diggle is the newest picture to join her group. If she's only just adding him to her list, she can't already suspect that he's the one donning the green hood, can she?
Let's take a moment to recognize how fantastic the fight scene between Diggle and Onyx is in tonight's episode. The cinematography throughout the sequence is wonderfully inventive, as we first watch the fight take place outside of the car from Reynolds' view inside of the car. Then, after Dig and Onyx keep trading punches, their battle actually moves into the car itself and the camera provides us with a much closer, more intimate perspective that still doesn't feel jarring. Terrific camerawork from the Arrow team throughout that entire sequence. It's easily a standout moment from the episode for me.
It's such a small moment, but I love that Oliver takes the time to consider if he's asking too much of John and that, when he talks to Dig about this, he brings up Lyla and JJ. Oliver recognizes that the opportunity he's been given with William is rare and special, and he doesn't want to take that chance away from his best friend. Such a wonderful character moment between the two men.
My one nitpick about this episode: I don't believe that Rene would run to Oliver without talking to Diggle first. Season 5 took a lot of time building up Rene and Diggle's bond, and his decision to go behind Dig's back in "Next Of Kin" doesn't ring true to Rene's character for me.
When Oliver stops by Felicity's apartment the first time in this episode, you can see a list of names she's already considered and crossed out for her and Curtis's new company, one of them being "Oracle." This made me laugh for two reason. First, it's a fun comics shout-out, as many fans had theorized in past seasons that Felicity could become the DC Comics character Oracle. Second, I also found it funny because it's the name of such a well-established, well-known technology company, a company that Felicity would obviously know the name of and a company that my dad actually works for.
Another terrifically funny moment: Diggle riding shotgun with the Kord Industries truck driver after the team takes over security of the truck. "You have terrible taste in music," he tells him, a statement that the guard in the truck definitely agrees with.
Why was Felicity Smoak Nevada's State Matheltics Champion only three times? I'll let her explain: "They wouldn't let freshmen enter. It was an ordeal. I got over it, but it still hurts."
The Green Monster, aka the crossbow that Felicity and Curtis create for Diggle, is AWESOME, and I want one.
"I know you, Rene. I know all of you. It's a leader's job to."
"Oh, I really hope he's not basing decisions off of animal code names."
"Can you believe he's your son?"
"She's pretty cool." "Yeah, she is."
What did everyone else think about this week's episode of Arrow? Did you enjoy seeing Diggle as the Green Arrow? What did you think about the big development for Oliver and Felicity? Comment below and let me know.
[Photo credit: Jack Rowand/The CW]
Arrow Season 6 Episode 3 Review: "Next Of Kin"
Summary
Diggle officially takes on the role of Green Arrow, and Felicity and William finally get a chance to connect in a terrific episode of Arrow.