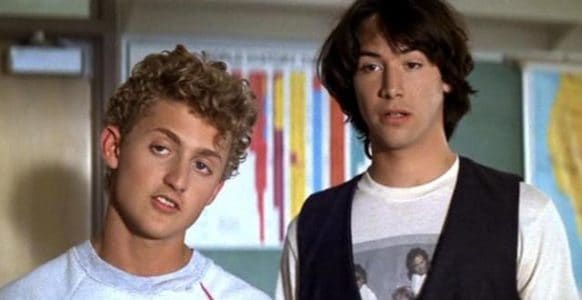 Just when you thought the Bill and Ted movie couldn't get any cooler they found a way to make it even better for the fans as according to Ryan Scott of MovieWeb, Bill and Ted Face the Music will be accepting submissions from fans to be included in the credits, kind of a way to say thanks for the support and for sticking with them for all these years. There are a few stipulations of course that people need to follow, as persons 18 and over are okay to submit, but anyone younger will need a parent's permission. Plus, the quality of the video does need to be up to snuff and the fans do need to be rocking out to the Wyld Stallyns since it's a big part of the movie after all. Plus, social distancing is still being stressed as a must for this project as the creators of the movie aren't willing to put anyone in harms way just to make this happen. But all in all it sounds like a very innovative way to make the fans realize that their support is appreciated and that without them it might not have happened in the first place. Alex Winter and Keanu Reeves have been wanting to make a third movie for years, but obviously the timing was never quite right and apart from that, the second movie was kind of a dud for various reasons as the whole time travel bit did wear a little thin after a while. In fact the best part of the movie remained Bill and Ted themselves since they were the ones that people went to see and as a result they were the ones that people wanted to see again.
The second movie did make it feel as though Bill and Ted had found a happy ending and that they'd finally found success, but the third movie gives the impression that they're kind of stuck in a rut and have yet to really find their place and where they fit into the grand scheme of things. Adam Chitwood of Collider talks more about the movie and the opportunity being given to the fans in his own words. In short, they haven't found the song yet that is bound to make them the saviors of the world and are in very serious danger of missing it altogether. So far from what we've heard about the movie it will be quite a bit different than the first two since obviously the guys are bit older and a little more worn down now and both of them have daughters and aren't really where they want to be in life. But as one might expect, a traveler from the future returns to remind them that without the song that they produce to shape the future that they've already seen, things are going to get very, very bad eventually. That will no doubt prompt another exciting adventure, one that might involve their daughters, and will also bring back William Sadler as the figure of Death, who was actually pretty entertaining in the second movie. Maybe this time he can avoid the Melvin.
There's still not a lot of other developments within the movie that have been shared other than what we've already heard about and disclosed, but with the reputation that Bill and Ted have earned one can imagine that the movie is going to be funny as well as touching in a lot of ways since the first two had a definite point to them apart from the fun and hilarity they brought to the fans. The fact that the movie is seeking to include the fans this time around though is even better since it's appealing to those that have stuck by the idea for so long and have never really forgotten why Bill and Ted are such an interesting and important part of pop culture. There might be those that will look at that line and wonder just how Bill and Ted could possibly be played off as important, but the truth of it is that they were necessary in a time when pop culture was going through a lot of changes, and despite the fact that the movies were pretty campy in a big way they were still fun and engaging in a manner that didn't challenge the audience too much but allowed them to have fun with a very skewed version of history and a few life lessons that were prevalent in the movies that some might go so far to call corny and kind of cheesy. But more than anything they touched a nerve that made the audience sit up and pay attention. Jennifer M. Wood of Mental Floss has more to say about the movie that might convince you.
At this time the third movie is set to release this summer, but we'll have to wait and see how things go since with the shutdown that's still in effect a lot of dates are still getting pushed back.