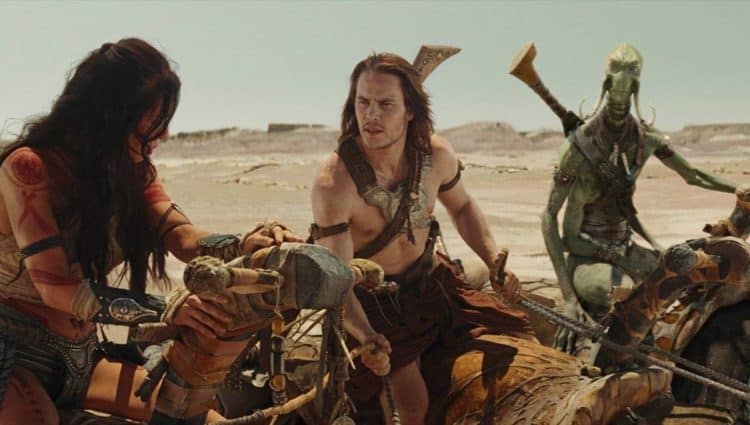 With all the possible difficulties that come from filming with a green screen one might wonder just why anyone still does it. But one of the answers of course is money, time restraints, and the simplicity of it. Of course the real problem here is that green screen technology isn't always the best, and when a green screen effect goes wrong you can usually tell something's up, even if you can't necessarily explain what it is. There are a number of things that can go wrong and the difference between an expert in green-screen filming and someone that doesn't necessarily think through every angle comes out on camera when the movie is finally finished, edited, and released to the public. One can only hope that with so many sets of eyes watching the movie take shape that any and all serious mistakes would be taken care of and rectified by the time the movie was given over to the theaters or streaming, or home release, but realistically humans do make mistakes, and unfortunately those mistakes can be compounded from time to time and delivered to a discerning public that might just let it go and figure that the director just didn't have it in them to be efficient and effective with their work, or will be brutal and tear the movie apart in online forums. Usually it's the latter that happens more often than not. There are ways to tell when the green screen just isn't working right though, and one would think that seasoned directors would know what to look for and avoid, and thankfully many do.
Lighting
Lighting is one of the key elements of filming since it helps when a setting looks natural and it's much more effective when the proper lighting is used. For instance, green screens are great for TV shows and even movies when the lighting isn't an issue, but far too often the lighting on a set and the lighting in the scenery used on the the green screen tend to be wildly different. On TV this can be allowed to happen largely because a lot of people don't expect their favorite shows to be filmed on location at all times. A great number of TV shows are filmed in a studio and as such green screens need to be used extensively if the show means to simulate an outdoor scene. TV shows can get away with this more often than not since their budget might not be great enough to film on scene at all times, or it could be that fans expect cheesy effects more often than not. When some shows are filmed primarily on well-rendered sets, using a green screen isn't a big deal for scenes that come so infrequently. In movies however, which a lot of people expect to be shot on location, the lighting needs to be tip top and it needs to match up with the lighting that will be placed on the actors, and vice versa. It doesn't help to make the actors appear to glow or darken in contrast to their surroundings, unless it has something to do with the story of course.
Color Balance
If the colors are out of whack in any production it's usually pretty obvious. There are a few ways to tell that something isn't right, but given the differences in how some filmmakers operate and the colors they decide to use it could be that it's their style that makes it all feel off, or it could be something else. The point however is that rendering specific colors is important to create a balancing effect in filming that will make the overall scene feel both realistic as well as even and well-ordered. Colors that are too dim or too bright might need to be balanced out in order to make other colors that might be just as important if not more so stand out as they need to. Lighting comes into play with this as well, as various methods of lighting can effect how various colors appear on camera.
Shutter Speed Match
Natural-looking movement is another important element to filming since if thing appear to have a blur it means that the shutter speed isn't quick enough and as a result the camera takes a while to catch up with the natural motion. This has been seen in green screen before, but in some cases it's been an intended effect, while in others it's not desired at all, and despite being short in duration it still happens. The quicker the shutter speed, the more natural the movement will look, and thereby the movie will appear to flow naturally as the actors will look as though they're really on location with the green screen behind them.
A lot of times it's VFX artists that can tell the difference, but when the average moviegoer sees an error they still know, they might simply lack the experience to say what's wrong.