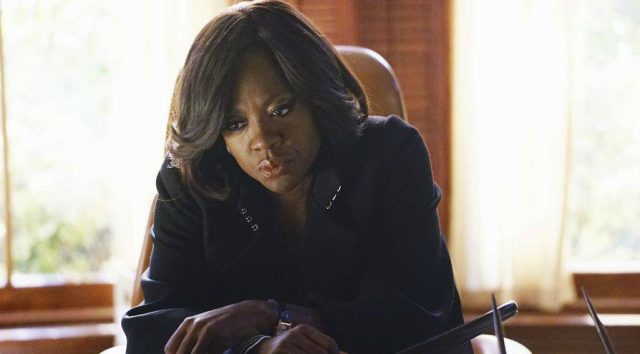 All season on How to Get Away with Murder, we've been teased through a series of flash-forwards that, mid-way through the season, one of our characters would die in a tragic series of events. Episodes have slowly revealed who isn't dead under the sheet, but we've had to wait until now to find out exactly who kicked the bucket. Admittedly, I'm surprised. Let's take a look at what happened in the fall finale, "Who's Dead?"
Let's start with the big news: Wes is the dead member of the cast. I'll admit that this threw me for a loop, because Wes has always been the heart of the show and the character that's held everyone together. Out of everyone not named Annalise Keating, I had assumed that he would always be the safe one. This development is going to change everything on the show, and I'm actually more excited than ever to see how things progress. We'll still get more of Alfred Enoch for the rest of the season through flashbacks that show us exactly what happened on that night (since so much is still a mystery), and I'm so happy to have him on the series for a little longer.
The second major development is that, no, Frank didn't kill himself. Bonnie managed to talk him out of it, and Annalise is left as the cold human she's turning into. All three performers (Viola Davis, Liza Weil, Charlie Weber) have done so good with this storyline, and their turns in this scene (just like in the ending of last week's episode) are incredible to watch. We may be down one of the best characters on the show now, but How to Get Away with Murder still has so much left in its tank that I don't think it'll be going anywhere anytime soon.
Outside of that scene, the performances in the episode, which saw midterms, alcohol, a lovers' quarrel between Wes (RIP) and Laurel, and so much more were absolutely on-point. When this show is good, it's so good, and this episode is the perfect example of it being at its best.
The craziest thing from the episode? The discovery of Rebecca's body, easily. Did you think that little story was done? Think again, friends, because that err in judgement will continue to haunt the team until the end of their days. It's great to have such a not-so-loose thread like that still come back into play in such a major way, and I continue to be impressed at the quality of writing.
In the end, we find out that Wes was actually dead before the fire, so we still have so much more to this mystery to uncover.
Overall, "Who's Dead?" was the perfect example of How to Get Away with Murder at its best, and the success it had with a season-long mystery is incredibly admirable. I'm going to be on the edge of my seat when this show returns in the spring, and I absolutely cannot wait.
What did you think of the fall finale of How to Get Away with Murder? Are you as surprised as I am by the death? Let us know your thoughts in the comments down below!
[Photo Credit: ABC]
Tell us what's wrong with this post? How could we improve it? :)
Let us improve this post!