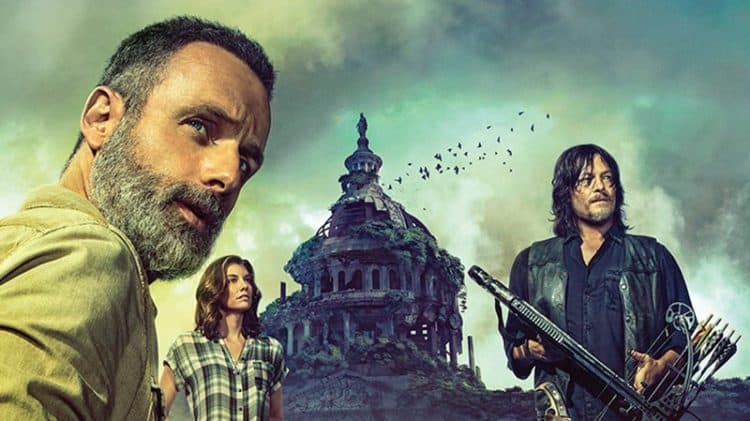 When AMC's "The Walking Dead" premiered in 2010, the series quickly caught on with a lot of fans. It wasn't just fans of the comic book series, but a whole new set of fans were drawn to the show. Who can forget in the first episode when small town police officer Rick Grimes (Andrew Lincoln) wakes up from a coma in a hospital to an entirely new world. While Rick was in a coma, the apocalypse began. Apparently, people died and turned into zombie like creatures. The world was a changed place. Unfortunately by about Season 7 and 8 ratings for "The Walking Dead" seriously went down. Now we see a resurgence in the ratings in Season 9 and the future of "The Walking Dead" once again looks promising. Here is how "The Walking Dead" made a huge comeback in Season 9.
The Early Seasons
What made "The Walking Dead" so appealing to so many fans in the first seasons. It was truly scary and anxiety inducing. We were like the characters in those first few years after the zombie apocalypse. We didn't know what to expect. There was fear and horror waiting around every corner as the survivors struggled to find a safe place to live and to trust other survivors.
Who can forget the first episode of "The Walking Dead?" and the fear it provoked. Poor Rick Grimes awakens to a world gone crazy. We witness him try to make sense of this new world disorder as he meets Morgan and his son, as he shoots a partial corpse that's still moving to put her out of her misery, and as he rides a horse into downtown Atlanta and sees the massive devastation brought to the city by the dead and by the United States military. Who can forget the tank in the middle of an Atlanta street and Glen saving Rick? It was exciting and scary.
As "The Walking Dead" progressed, we learned along with the survivors what happened to the world. We witnessed the survivors slowly adapt to this new life as they struggled to find food, shelter and safety. We grew attached to several survivors. Many of them died tragically and we felt as if we lost best friends. We also experienced with the survivors their struggles with other survivors who weren't all that great, but maybe they were just struggling to survive themselves.
Why Ratings Fell
It seams the turning point in lower ratings for "The Walking Dead" was between Season 7 and Season 8. Negan (Jeffrey Dean Morgan) was the new enemy and he was ruthless. When Negan horrifically beat Abraham (Michael Cudlitz) and then Ned (Stephen Yeun) to death with his barbed wire baseball bat, we all died a little. This coming on the heals of the few episodes where we thought Ned had died falling from a garbage bin into a pool of Walkers but survived was too much for some fans.
The death of Abraham and Negan on "The Walking Dead" could have been redeemed, but somehow, the show took a turn for the worse. Adding episodes to each season didn't help. Many seasons were full of filler episodes that deflected from the excitement and horror. Introducing Negan as the new enemy could have gone well, but it didn't. Negan was often so verbose and manic that we spent more time laughing at his lines than becoming afraid of him. Season 8 saw the "All Out War" with Negan and his community of Saviors. The season spent so much time introducing new communities that we couldn't keep track of all of the new characters. There were gun fights and disagreements among our favorite characters that kept us distracted as the war raged on to overthrow Negan. "The Walking Dead" wasn't really scary or anxiety provoking anymore. It was hard just to keep up with what person was good and who was evil to even notice the walking dead anymore.
Season 9 Game Changes
Fortunately after a couple of difficult seasons to get through, Season 9 has brought new hope to "The Walking Dead" fans. Season 9's first half premiered in October 2018 and the second half is set to begin in February 2019. Season 9 moves at a quick pace, and brings a whole new level of enemy to the show.
Episode 1 of Season 9 makes a must needed time jump of about a year and a half after the war with Negan. The communities have begun to rebuild themselves yet remain separate. Negan is imprisoned in Alexandria although Maggie (Lauren Cohen) and Darryl (Norman Reedus) would have preferred his execution. In Episode 1 we see the communities coming together in an effort to rebuild. There's an effort pioneer the land and work to trade with each other. The communities even try to rebuild a bridge to make trade easier.
In the first five episodes of Episode 1 of Season 9, the communities continue to work together, but there are tensions. For example, Maggie (who has given birth to baby Hershel) wants to be a strong leader of Hilltop despite Rick's insistence on mercy as justice. In the meantime, mysteries emerge like a mysterious helicopter and disappearing Saviors. We learn about people's motives. Yet, there's more fear in this season than previous seasons. Although we're all upset to see Rick Grimes go, his "death" was actually done well. He was doing what he's always done on "The Walking Dead", working for the better good. Rick tries to lead two walker herds from the bridge when his horse is spooked and he's thrown and impaled. Rick doesn't die, however. He's mysteriously airlifted by a helicopter.