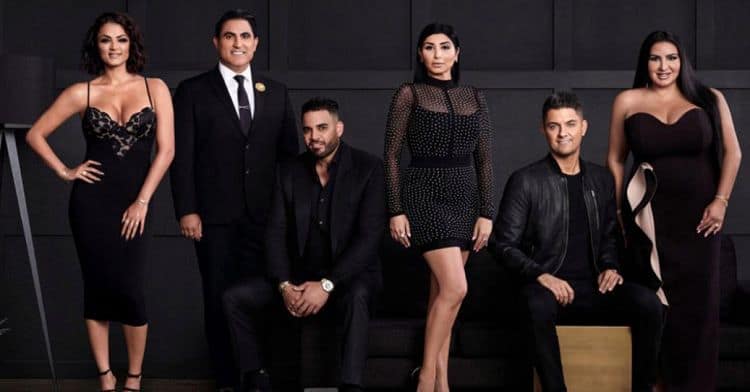 When Shahs of Sunset debuted, there were some people who doubted whether the show would be a success. After all, Bravo's Real Housewives franchise has been the network's frontrunner for years. However, nearly a decade later, the series is still going strong and the cast has built a massive fan base. The popularity of the show has changed the cast members' lives in more ways than one. Not only have they all become reality TV stars, but they've also been able to bring in some solid paychecks for their roles. However, many fans have wondered just how much the stars of the show make. As we all know, reality TV salaries can vary greatly based on a number of factors. Keep reading to find out how much the cast of Shahs of Sunset makes.
There's A Wide Range Of Salaries On The Show
As mentioned earlier, reality TV salaries can vary a lot from show to show. Even within the same show, there are people who make a lot more than other cast members. More often than none, salaries are determined by how long a person has been on the show, and how much value they bring. On top of that, the person's negotiation skills also come into play. People can often secure a bigger bag just be being willing to play a little bit of hardball. That said, the specific salary for each cast member on Shah's of Sunset has never been released. According to The Cinemaholic, however, cast members can make anywhere from $10,000 to $30,000 per episode. It's unclear if the cast gets a raise each season, but raises likely depend on the duration of each person's contract.
Since every season of the show (except for season one) has had at least 15 episodes, this means that the cast could be raking in at least $150,000 per season. This is more than the vast majority of Americans make in a year, the cast of Shahs of Sunset technically doesn't have to do any work in exchange for the money. Sure, they have to let a camera crew follow them around for a few months, but in many cases, they're being recorded doing things they would be doing anyway. Most people would probably agree that this is a pretty sweet gig.
The Cast Of Shahs Of Sunset Probably Doesn't Rely On Their Money From The Show
Like the cast of Bravo's other popular reality shows, the cast of Shahs of Sunset was already well-off before the series came along. According to The Thing, almost everyone on the show has a net worth of at least $ 1 million. As a result, whatever they get paid from Bravo is probably just something they see as extra income.
How The Shahs of Sunset Salaries Compare To Other Reality Shows On Bravo
Most of us would probably be jumping for joy if we were told we could make $150,000 a year to do a show like Shahs of Sunset. But while the money is certainly not chump change, it's not considered a lot in the world of reality TV. Stars of some of Bravo's other shows reportedly bring in seven-figure salaries each season. For example, Vulture reports that Kandi Burruss from The Real Housewives of Atlanta is the highest paid housewife in the entire franchise. She allegedly makes $2 million per season. Not only has Kandi been on the show since season two, but her years of experience in the entertainment industry probably helped her work out a great deal.
While the cast of Shahs of Sunset will likely never be able to command as much money as the Real Housewives, they're probably still pretty comfortable.
The Future Of Shahs Of Sunset
Shahs of Sunset has become incredibly popular during its time on the air, but it's also gotten its fair share of backlash. There are many people who feel that it paints Iranian-Americans in a negative light. At the same time, though, Bravo has made it clear that the show isn't intended to represent an entire culture but more so a subset of specific people.
Now in its ninth season, viewers have gotten the chance to see the cast of Shahs of Sunset change and grow a lot over the years. As of now, the show hasn't been renewed for a 10th season, but there's nothing to suggest that it will be canceled. With Bravo's track record of successful reality shows, there's a very good chance that Shahs of Sunset is going to be around for years to come.
Tell us what's wrong with this post? How could we improve it? :)
Let us improve this post!