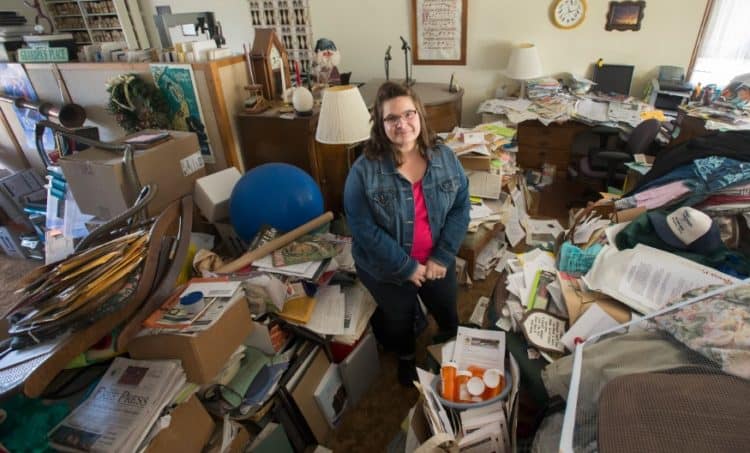 Since making its debut over 10 years ago, Hoarders has introduced viewers to a seemingly different world. While the show is simply entertainment for many people, but for those who know a hoarder in real life, the show is truly art imitating life. Knowing someone who suffers from a hoarding disorder can be very stressful, even if you don't live with or near them. Severe hoarding can cause health issues and also make a home unsafe. Some people have even lost their homes due to their hoarding habits. People who struggle with hoarding are often dealing with more than just homes full of junk. Other areas of their lives tend to suffer as well which shows just how debilitating hoarding can really be.
As we've seen from the show, getting a hoarder to admit that they have a problem is very difficult. Even if you are able to get them to admit it, actually starting the clean up process is nearly impossible. That's exactly why professional help can be beneficial to many people who suffer from a hoarding problem. However, that help isn't always easily accessible or affordable.If you have a hoarder in your life and have been hoping to have the issue properly addressed, bringing them on Hoarders might be the only way to do that. In fact, for many people, getting a loved oneHoarders is the only thing they haven't tried. But just how are people chosen for the show? Keep reading to learn how to get someone on Hoarders.
Getting Cast On Hoarders
As with all other reality show's Hoarders has a casting process for each season. If you have a loved one who needs professional cleaning help, you can apply to the show on their behalf. The good news is that apply for the show is very straight forward. All you need to do is fill out this firm that will ask some basic questions about you and the hoarder in your life. You'll also need to provide some photographs of the hoarding situation. Hoarders can also apply for the show themselves. However, since many hoarders are in denial about the severity of the issue, it's unlikely they'll reach out for help.
If filling out a form online isn't your thing is also a phone number that can be used to call the production team directly. Once you dial 1-833-462-7388, you'll be asked to leave your information so the producers can call you back. Unfortunately, there is no information on how long it typically takes to hear back or what the process is like if the show decides to move forward with your application. But judging by the simplicity of the initial application process, the next steps are probably pretty smooth.
One of the best things about being cast on Hoarders is the fact that the show focuses on more than just cleaning up the space. Hoarding is a legitimate disorders that must also be addressed on a psychological level. The therapists on the show can help people get to the root of their hoarding while also teaching them how to avoid the same pitfalls. It's unclear whether the the show is actively casting at the moment. Either way though, it can't hurt to apply. Just keep in mind that the producers probably won't be getting back to you right away.
What's Next For Hoarders?
True Hoarders fans may have noticed the show hasn't released any new episodes on over a year. Season 10 of the show, which has since been released on Netflix, ran from March to April 2019. The entire season consisted of just 5 episodes which makes it the shortest season in Hoarders history. This may mean that the show is coming to an end, but there have been no official announcements regarding cancellation. With that being said, Hoarders is definitely one of those shows that has a timeless quality. There will always be people who hoard and there will always be people who are intrigued by it.
In addition to being entertaining, Hoarders also has an educational component that can't be ignored. Prior to the show, many people probably thought that hoarders were just messy people with a quirk for being overly sentimental. However, now we know that hoarding is much deeper than that. Many people who struggle with hoarding have overcome many traumatic experiences in their lives and lean on hoarding as a way to cope. The good news is that being on Hoarders is a step in the right direction to overcoming many of those challenges.
Tell us what's wrong with this post? How could we improve it? :)
Let us improve this post!