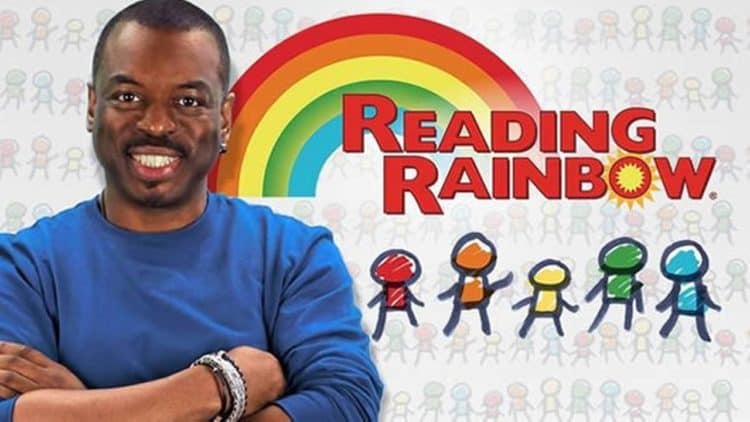 As the pandemic continues to disrupt the lives of many, many people some celebrities are still doing whatever they can to help alleviate this issue, especially considering that with kids out of school things have become stressful on more than one front. LeVar Burton, who many people will recognize from Star Trek and from Reading Rainbow, has decided to make a go at offering a streaming service that will allow him to read various stories to those that are interested, but the biggest snag he came up with was finding stories that wouldn't with a host of legal issues that would have to be sorted out before getting the program up and running. Thankfully, as Jeremy Dick of MovieWeb has mentioned, a few authors thus far have offered their books to Burton without any charge so that the host can make good use of said titles without worrying about any fees that might normally be expected when using another person's work. Neil Gaiman is just one of the few that have so far given permission to the LeVar to utilize his books so that the host will have enough material to begin the program and start entertaining and perhaps inspiring others with the various stories he'll be reading to viewers.
There are a lot of us that likely remember the Reading Rainbow from our younger years since it's been around for a while now. But back in the day, while it was seen as beneficial but maybe not absolutely needed, the show was something that people might watch if they had the time or they wanted to get their kids away from the regular, mindless cartoons that didn't broaden their horizons so much as occupy their time. The Reading Rainbow has been a benefit for kids for a while now as various stories and tales are often far more capable of inspiring young minds to think for themselves, think outside the box, and possibly use their imaginations to an extent that allows them to stimulate creativity and a love for the written word that at times feels as though it might be in decline. Thankfully shows like this have been there for many of us since it does help in a big way and no matter how corny it might appear to an adult the show has entertained a good number of children over the years. If anyone remembers the show did go off the air in 2009 after 21 seasons, proving that it was a loved show for quite some time. Burton however is attempting to bring it back at this point and couldn't be attempting this at a better time since with so many schools closed down thanks to the pandemic things are becoming difficult for parents and teachers alike as children need a great deal of stimulation per day to stay active and to keep their mental focus strong.
Several programs exist across the nation that are allowing teachers to continue lessons with students, but as anyone could possibly guess this is still a taxing process that can easily frustrate the teacher and the student. Apart from being a program that is designed to teach kids the joy of reading and allow them to enjoy a pleasing story, Reading Rainbow is also a show that can help parents and teachers by taking some of the burden off of their shoulders as Burton and the narrators that are brought on to read various books manage to capture the attention of kids in a way that, back in the day, was pretty easy and entertained children with various stories that were designed to be family-friendly. At this point the authors that are stepping up to the plate and offering their titles to LeVar to put on the show are showing that they too are ready to get in on the act when it comes to helping others out and allowing people to experience some sort of reprieve during the lock down that many places are experiencing and others might have to endure for a while as the pandemic worsens just a bit depending on where it's hit the hardest. Thankfully though this means that those who have the ability to help are doing so and are showing their generosity at the same time.
It's hard to say just when the pandemic is going to be behind us since each new day bring news of more cases of people contracting the virus, but the upside is that if one pays close attention there are reports of people recovering from COVID-19 as well, meaning that there is a chance that in a couple of months we'll be seeing the tail end of the lock downs and other procedures, hopefully. Until then the programs currently being put in place and the efforts of many celebrities are appreciated and should be seen as a gesture of both kindness and a willingness to help others in a time of need.
Tell us what's wrong with this post? How could we improve it? :)
Let us improve this post!